Bobcat adds V723 to telescopic tool carrier family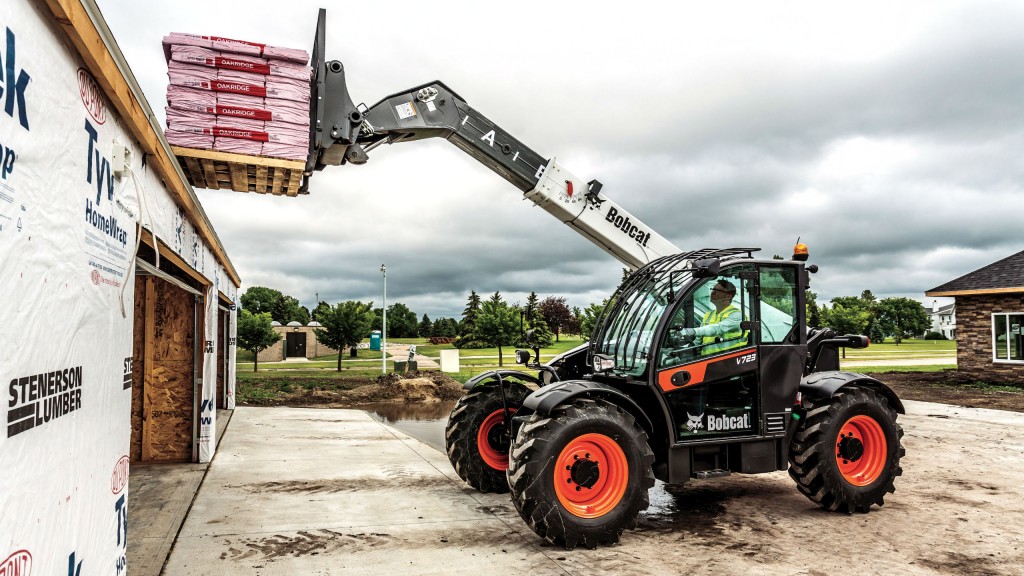 The new V723 expands the Bobcat family of VersaHANDLER telescopic tool carriers, also known as telehandlers, making it ideal for operators who need extended reach and greater lift capacity. The durable V723 is in the 7,000- to 8,000-pound size class, and it can confidently handle heavy loads. Its low profile fits on more farms and construction jobsites while easy maneuverability provides operators with enhanced comfort throughout the day. Plus, the new V723 features the Power Quick-Tach attachment mounting system to increase utilization.
Add strength to handle heavy loads with new V723 boom pivot and enclosed frame welds. The machine's boom pivot has a thick steel reinforcement for enhanced durability and long life. Protection for vital parts, such as the lift cylinder, and brackets designed to support maximum loads, reduces stress on the machine's boom, pivot point and chassis. For additional support, heavy-duty, enclosed frame welds offer extra reinforcement throughout the frame.
For greater productivity, the V723 is designed with an enclosed engine compartment that helps keep out dust and debris, ensuring long component life. A side-by-side cooling package design improves the machine's efficiency. The radiator, oil cooler and intake air coolers are mounted side by side, carefully located to receive the same quality and temperature of air, which provides efficient, consistent cooling ability, even in the most severe, dusty and dirty conditions.
In addition, an automatic reversing fan helps keep the radiator area cleaner, longer - extending productivity and uptime while reducing the immediate need to clean debris by hand. Just press a button to reverse the cooling fan or set it to automatically reverse at 30-, 45-, 60- or 90-minute intervals to purge the system of dust and debris.
Bobcat engines have a specially designed combustion chamber that minimizes the amount of particulate matter (PM) the engine creates. The amounts are low enough that a diesel particulate filter (DPF) isn't needed for Tier 4 compliance, which simplifies maintenance as well as operation.
A turbo-charged, 100-horsepower Bobcat diesel engine provides superior power to help operators complete just about any job. It is side mounted for better visibility and easier maintenance access. Both sides and the bottom of the engine are protected with a thick steel frame, while rubber-engine mounts reduce shock during all-terrain use.
The versatility of the V723 is endless with three steering modes to give operators application-matched maneuverability. Select from three travel modes that provide more precise movement in numerous applications.
The V723 features cab efficiencies, and creature comforts ensure operators are productive all day. A boom cushioning suspension system makes it easier for operators to handle the load, providing a smoother motion as the attachment angles to its minimum or maximum pitch, or when the boom reaches full retraction. Plus, a ride control cushioning suspension system allows for more comfort on rough terrain and uneven surfaces, allowing operators to work longer with less fatigue.
With the standard Power Quick-Tach system, V723 operators push a button to retract the pins and release to quickly secure the attachment. Operators can change non-hydraulic attachments, such as buckets and pallet forks, without even leaving the V723 cab.
Company info
Related products
Related Articles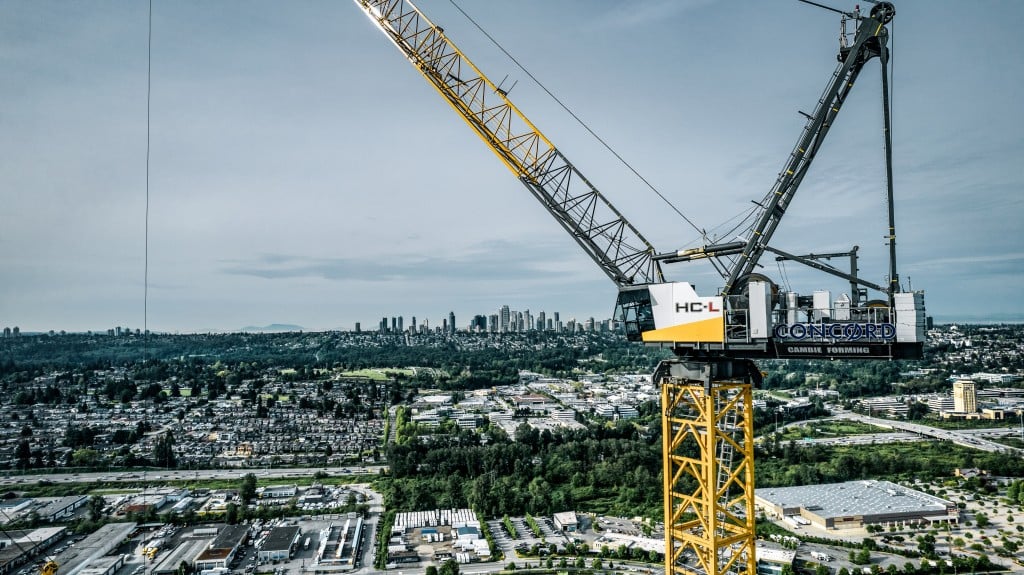 Cambie Forming to build 56-storey Burnaby residential building using newly bought Liebherr tower crane