SBM hosts successful and spectacular Expert Days 2017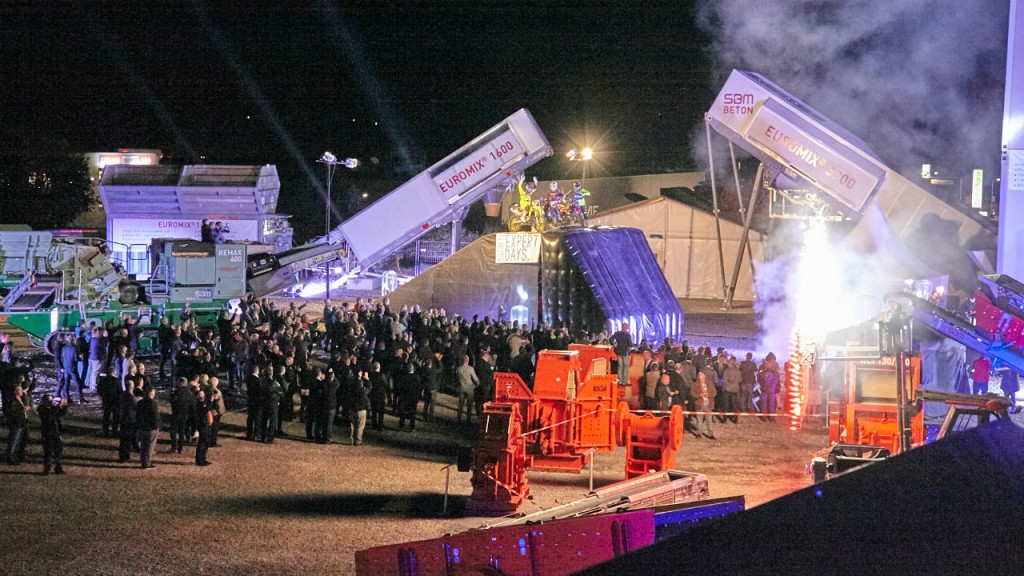 About 700 guests from all over the world came to see the first SBM Expert Days on September 14 and 15 in Liezen/Styria. 51 exhibits with a total value of some 20 million Euros demonstrated the unique product portfolio of the Upper Austrian company most spectacularly.
Clients, distributors and affiliated companies from all over the world accepted the invitation issued by SBM Mineral Processing to come to the first in-house fair at the manufacturing site in Liezen/Styria. The exhibition area with 16,000 m² offered compact information on concrete mixing and mineral processing technology, live demos, and several pioneering technological novelties.
Almost all SBM systems to process mineral raw materials as well as recycling materials have recently been newly developed or redesigned from top to bottom. And all visitors could experience this up close in Liezen. One mobile novelty is the entry-class model REMAX 300 with diesel-electric drive, a 1100-crusher and discharge chute below the crusher offering a capacity of up to 300 t/h at a total weight of 30 tons without secondary screen. Or the new middle-class model REMAX 400 convincing clients thanks to highlights such as new crushing, drive and transport characteristics incl. Dolly system. All novelties such as e.g. the transport height of 3.60 m only and the optimised total weight of 40 tons without secondary screen are convincing features providing immediately tangible benefits for SBM customers.
The two mobile concrete mixing plants VARIOMIX and MINIMIX with their towers rising about 22 m high were already visible from afar, but they were not only an optical highlight during the SBM Expert Days. All interested persons could inspect the plants from the inside and from the outside thus assuring themselves of the compact build and the practical operation of the individual systems. Amazing qualities of these plants are e.g. their modular design and the small setting up area required in very confined building sites. Two EUROMIX plants types 1600 and 3300 represented the supermobile stars of the SBM concrete mixing branch that is already the market leader in Europe due to its international know-how.
Proud of the successful event and the complete SBM team, SBM Managing Director Erwin Schneller is pleased to say: "Our product portfolio and the new plants exhibited for the raw material and recycling industries as well as for the concrete mixing technology to produce high-quality concrete make the SBM EXPERT DAYS a unique big-impact show. We plan to host this event every three years from now on."