Bouchier's Cats Have Multiple Lives
Getting longer life from motor graders with up to three rebuilds lowers cost of ownership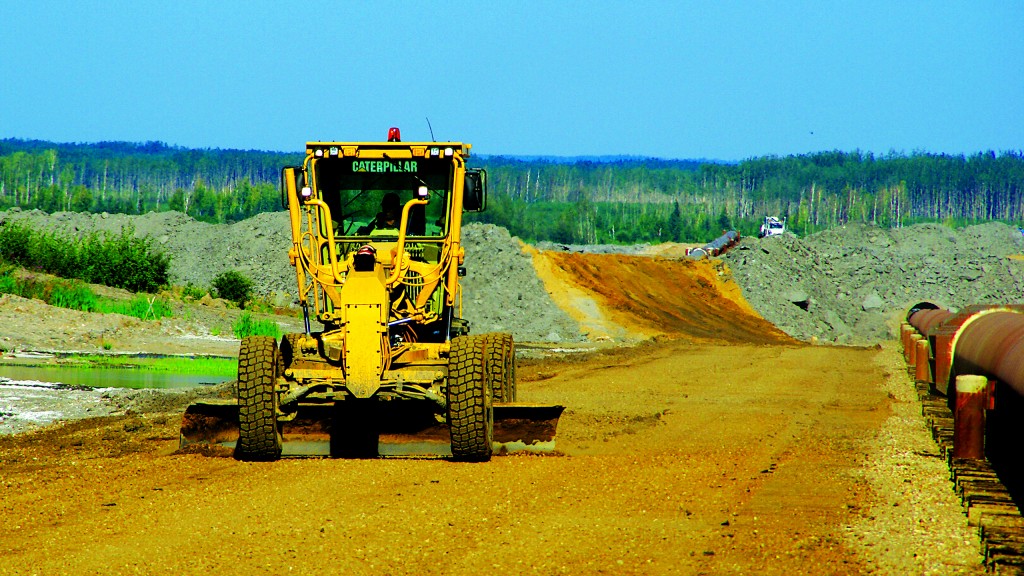 A key business strategy for Bouchier, an Alberta-based contracting and site services company, is to have an equipment fleet last beyond its first life. This is especially important for high-utilization pieces like motor graders.

Starting in 1998 with a single used Cat D6T dozer, the family-owned First Nations (FN) business now employs more than 700 team members and operates a fleet of approximately 200 pieces of heavy equipment.

"Another First Nations company was selling its dozer, and Finning (the Cat dealer headquartered in Edmonton) helped me with the acquisition, even though I didn't have established credit," says David Bouchier, president of Bouchier. "My wife, Nicole Bourque-Bouchier, and I steadily grew the company, and it was a four-year contract in 2004 that significantly sped up our growth and expanded our motor grader fleet."

The contract required Bouchier to build and maintain ice roads to move heavy equipment and drills for an energy producer. Muskeg covers much of the region and there's a very short four-month window from November to March when ice roads can be constructed from snow and water to increase the land's load-bearing capacity to support heavy equipment. "Building the roads in this fashion minimizes the environmental impact," says David Bouchier.

The motor grader is the central piece of equipment for ice road construction and Bouchier's motor grader fleet has been expanded to 21 units. "We run various Cat motor grader models, including 14M and 160M," comments David Bouchier.

Ice roads aren't the only task for this equipment. These flexible machines are used for building and maintaining rural roads, snow removal, plant pad construction, ditching and tailings pond work.
With no shortage of work and a tight window for ice road projects, Bouchier's motor graders see high utilization rates, often logging close to 3,000 hours in a season.

Their Cat 160M motor graders, with a 3.7-m (12-foot) moldboard width, and 159-kW (213-hp) Cat C9 ACERT engine, get a hefty workout. Typically, they work day and night building and maintaining ice roads during the winter as well as for other grading projects. "The 160M is a very flexible machine and is the right size for our projects," mentions David Bouchier. "It's not too heavy or big, so we can use it on congested sites as well as its main duty of ice road construction."

He further comments that it is a very sturdy machine that gives Bouchier the power, torque and traction they need for the specialized winter application. "We never use chains because that increases wear, and the 160M works well without chains."

Maintenance
It is this attention to detail concerning wear and strict adherence to the maintenance program that has these graders delivering reliable operation in the field over multiple lives.

Working in winter temperatures hovering at or below -17 degrees Celsius (0 degrees Fahrenheit) and heavy snows take their toll on construction equipment. "Our service department has to pay close attention to the equipment's scheduled maintenance intervals to keep the machine running reliably in this climate," says Dallas Clarke, maintenance manager for Bouchier.

"In this part of the country," says Travis Drake, general construction sales representative for Finning, "if a machine has to be fixed in the field at -30 degrees C (-22 F) hundreds of kilometres away from the nearest city, it has to be fixed." To avoid unscheduled downtime in these conditions, Clarke and Bouchier faithfully stick to the motor graders' scheduled maintenance plans. They also partner with Finning on warranty items and machine monitoring.

Each day starts with Bouchier's operators checking the machine's critical fluids - hydraulic, engine and transmission - and lubricating the pinion gear, circle and drawbar slide rails to reduce wear. "At every 100 operating hours, we also recommend a full machine lubrication of all the grease zerks," advises Wade Porter, motor grader product specialist, Americas North Region, for Caterpillar Global Construction and Infrastructure.

Every 250 hours, Clarke schedules period maintenance to review the machine's condition and thoroughly check fluid levels. The 500-hour scheduled maintenance interval signals the time for oil sampling, and Bouchier partners with Finning for analysis. "Initially, we sample every 500 hours," says Clarke, "but if we see something start to trend, we will do more frequent sampling. We want to catch the issue and schedule a fix before it becomes a costly breakdown repair."

While Bouchier does much of its own motor grader servicing, warranty work and major repair is left to Finning's service department. The Cat dealer also uses the machines' Product Link operating data reported through VisionLink to keep tabs on the condition of Bouchier's fleet. "We'll get emails to our phones about machine issues, and we'll receive alarms for items like high temperature and low oil levels," says Clarke.

This helps the equipment to run reliably, even during the brutal winters. An appreciative David Bouchier explains the importance of uptime reliability in his region. "We face major competition and have to do the job on time and on budget, or we will be quickly replaced," he says. "The key to getting the job finished on time and on budget is having reliable, productive equipment that lasts."

Multiple lives
Bouchier targets getting three to four lives out of its motor graders. "Our Cat 14H motor grader purchased in 2001 has more than 40,000 hours and is on its third life," says Clarke. He explains that through the company's strict adherence to a preventive maintenance program, oil sampling and VisionLink monitoring by Finning, the company tries to push out a rebuild as long as possible. "We target 15,000 hours before a rebuild, but it just depends on what our samples tell us."

In its CONEXPO-CON/AGG outdoor exhibit, Caterpillar featured one of Bouchier's 160M motor graders, purchased in 2010. The machine has operated nearly 24,000 hours and is on its second life. "We rebuilt the engine and transmission at just over 13,000 hours, and it works as good as new," says Clarke. David Bouchier adds, "To get 24,000 hours out of an engine in our application is amazing."

When Clarke's service team rebuilds a motor grader, they start with the major components, such as the engine and transmission. The crew also inspects the final drive, brakes, bearings, cylinders, circle drive and cab components for signs of wear. "On the 160M rebuild, we completely replaced all the hoses on the machine," says Clarke. "Additionally, we looked at upgrades for our operators to keep them happy."

"Rebuilding versus replacing a machine depends on the customer's target for owning a piece of equipment and the life of the machine," says Porter. "It comes down to what the company can get for resale value and the cost of a new machine compared to the rebuild cost."

Porter cautions contractors that not all brands of equipment are built for multiple lives. "The structure has to be manufactured for multiple lives, like it is with Cat motor graders. Caterpillar focuses on designing structures and systems that maximize the total lifecycle value to minimize the customer's cost of ownership."

A rebuild is definitely the right time to tighten up the machine, Porter explains, even though it is designed to keep tight through periodic adjustments leading up to the rebuild. Common items include checking and shimming the drawbar draft ball, if there's excessive play, and looking at the blade lift and centre shift cylinder sockets. "Inspect the wear cups and replace them to avoid wear on the cylinder ball," he recommends.

Link bar bushings protect the link bar casting and are meant to wear and be replaced at a far lower cost than the casting. Also, adjust the shims between the drawbar plate and the circle, the circle itself, and make adjustments to the pinion gear that turns the circle. The moldboard slide rail inserts are also designed for easy adjustment in the field, so they should be maintained as needed. "On the show machine, Caterpillar installed its Circle Saver greasing system, which improves the ease of greasing the circle and increases the service life," says Drake.

Adding technology
Caterpillar also showcased Bouchier's 160M motor grader to remind contractors about an often overlooked upgrade - technology. Cat equipment is designed to be backward compatible with technology. "Technology is the future for sure," says Clarke. "Anything we can do to adapt and grow with it, we will put on our machinery."

The show machine included upgrades like Advanced Control Joysticks. When Bouchier purchased its 160M, the controls for Cat AccuGrade and Grade with Cross Slope options were rocker switches and buttons located on the control panel. "We found that operators didn't like removing their hand from the joystick, so in late 2014 we moved control of these options to the inside of the Advanced Control Joysticks handle for use with the thumb," comments Porter.

Also part of the performance upgrades to the grader was Cat AccuGrade Dual GPS, Auto Articulation and Stable Blade technology. "These technologies boost operator efficiency, allowing more material to be moved in a shorter period of time with more accuracy," adds Porter.

The upgrades to the show 160M have Clarke thinking about technology upgrades to the rest of the company's fleet. "We are looking at adding AccuGrade to the motor graders, so we are not wasting material," he says.

David Bouchier says he is very impressed with the results. "It's great for our business and our clients to have a reliable machine that runs steadily and can be rebuilt with the latest technology to help us be more efficient."
Company info
Related products
More from Earthmoving
A bottleneck of haulers waiting to be loaded is inefficient. Idle machines burn unnecessary fuel, increase maintenance costs and decrease resale values when you're ready to trade them in.
When you pair the new Volvo EC950F crawler excavator and A60H articulated hauler, you can load trucks faster. The EC950F can utilize a 10-yard bucket to fill a 60-ton capacity A60H in only four passes — reducing passes lowers fuel consumption and drastically speeds up cycle times to keep your haulers moving. See how the massive EC950F and A60H improve cycle times and more to boost your profitability.