Mack launches next-generation highway truck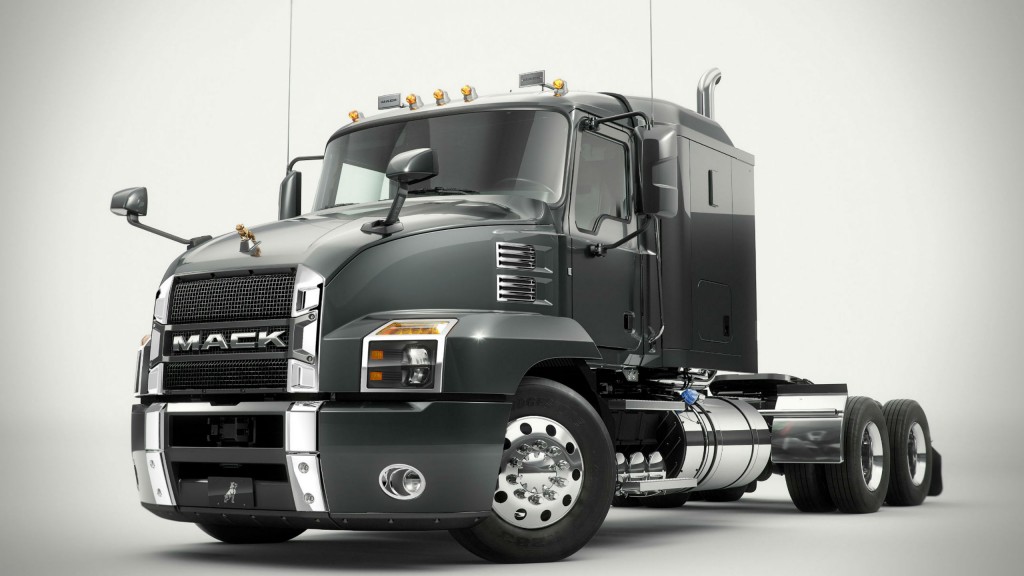 Mack Trucks introduced its new, next-generation highway hero, the Mack Anthem, during the Mack Global Dealer Summit in Allentown, Pennsylvania. The Mack Anthem is a re-engineered, redesigned and reimagined interpretation of what today's highway truck should be - aerodynamic, comfortable and connected, all with a distinctively bold Mack look.
"As one of the most significant new trucks in Mack's 117-year history, the Anthem combines our latest innovations with more than a century of truck-building know-how," said Dennis Slagle, president, Mack Trucks. "The incredible result is a truck that's been built for our customers' business and designed for drivers, all while delivering the power and presence that only a Mack truck can deliver."
The Mack Anthem gives drivers and businesses the tools they need to command the road. With a bold grille and prominent Mack wordmark, the Anthem features an all-new exterior design with optimized aerodynamics for improved fuel efficiency. New driving and sleeping environments were crafted with an emphasis on increasing driver comfort and productivity. The Anthem is available in several configurations, including a Day Cab, an all-new 48-inch Flat Top Sleeper, and an all-new 70-inch Stand-Up Sleeper.
"Every detail on the Anthem was designed with purpose," said Jonathan Randall, senior vice president, sales, Mack Trucks North America. "We surveyed thousands of drivers and incorporated their feedback to deliver a functional, strong, efficient highway truck with an authentic design unlike anything on the road today."
With its chiseled, muscular looks, the Mack Anthem makes a clear statement. Yet despite its chiseled appearance, the Mack Anthem's new aerodynamic enhancements improve fuel efficiency by up to 3 percent. In addition to a new hood and grille, Mack engineers redesigned the roof and chassis fairings, mirror covers, and front bumper and air dam to more easily cut through the wind.
"Looking at the new Anthem for the first time, most people are struck by its strong, distinctively Mack design," said John Walsh, Mack vice president of global marketing and brand management. "But it's also incredibly aerodynamic. Using advanced computer modeling together with coast-down testing at Kennedy Space Center, our designers and engineers developed an extremely efficient design that cuts drag and saves fuel, helping boost customers' bottom lines."
The Anthem's redesigned hood and bumper not only improve aerodynamics, they also help cut service time. Both feature three-piece construction for improved serviceability in the event of damage. A new hood latch and release system also saves drivers' time during pre-trip inspections. A central latch release below the grille eliminates the need for drivers to walk from side to side to tilt the hood. The hood also requires 50 percent less effort to raise than before.
All exterior lighting on the Anthem is now exclusively LED, meaning brighter, longer-lasting lights that draw less energy. The change to LED is most noticeable on the Anthem's headlights, which are 66 percent brighter than today's bulb. The new LED headlights improve nighttime safety by casting a wider beam down the road and producing a whiter light to better illuminate objects.
The Mack Anthem features an all-new driving environment that incorporates driver feedback for improved functionality, ergonomics and convenience. Gauges on the instrument panel have been positioned higher for better driver visibility, while HVAC controls and the Mack mDRIVE automated manual transmission (AMT) shift pad have been relocated closer to the driver's fingertips. All switches for additional truck functions like cruise control, PTOs and traction control now feature laser etching to help maintain markings over the long life of the vehicle.
Company info
Related products