LiuGong excavators and wheel loaders help get recycler top of the heap
Quebec's SMR chooses LiuGong equipment for cost-effectiveness, quality and fuel savings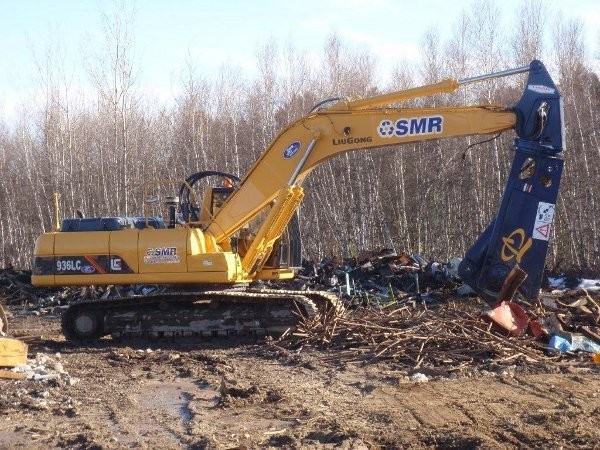 When it comes to recycling steel, aluminum, copper and other metals, David Dallavalle, Director of the Quebec-based recycler, Société Des Métaux Recycles (SMR), says his company needs hard-working equipment that is durable, reliable and easy to maintain. Recently, the company completed the purchase of its fifth LiuGong machine in just over a year.
"LiuGong equipment is better than what I have had before, very reliable and cost-effective. And I've gotten nothing but good service from both LiuGong and my dealer, Groupe Gymdex," said Dallavalle, SMR's Director.
SMR was founded in 2000 by Massimo Dimenna and the company has grown from a two-man operation with just a few customers into one of Quebec's top metal recyclers. SMR recycles more than 15,000 tons of scrap metal each year from customers throughout Northeastern Canada, employing 25 people and a 20-strong fleet of trucks and machines. Located in Terrebonne, near Montreal, they have two facilities approximately half a kilometre apart.
"I worked with David to help SMR buy four excavators; three we delivered in 2011 and another they were ready for in February of 2012," said Yannick Charbonneau, President of LiuGong dealer Groupe Gymdex. "SMR has been so pleased that they also bought a wheel loader from the company in March – and are looking to buy more LiuGong equipment in the near future."
In 2011, Dallavalle took possession of a LiuGong (pronounced "loo-gong") 936LC hydraulic excavator and a smaller 922LC model that were both outfitted with Labounty shears for cutting through oversized pieces of steel, rebar and other metals. The shears help get the piles of metal into a more manageable size. SMR also started using a second 936LC that has a magnet attachment for hoisting and sorting scrap into various piles. The magnet on this excavator can be changed out and fitted with a five-finger grapple to move bulky items such as refrigerators, bicycles and appliances. A bucket attachment is also sometimes used on this 936LC for handling bulk metal materials.
"These machines are great for getting the materials sorted, cut to size and moved where they need to go in the yard," Dallavalle said.
In 2012, SMR added to its LiuGong fleet with a 906C hydraulic excavator. The smaller, more nimble machine has been outfitted with a five-finger grapple for the lifting of non-ferrous metals such as aluminum, copper and stainless steel. The 906C also uses a smaller bucket attachment to move materials. The company's latest purchase, completed in the Spring, was a LiuGong 842III Z-Bar wheel loader for use in moving materials around the yard. Charbonneau said it made sense for SMR to purchase the wheel loader from LiuGong. With more than 50,000 units sold each year, LiuGong is one of the world's largest manufacturer of wheel loaders.
"We have had absolutely no problems with our LiuGong equipment," said Dallavalle. "When you stack it up to what I was using before, there is really no comparison."
He said the machines have only needed routine maintenance at this point, but that he appreciated the easy access to the interior components in case quick, on-site work needs to be done. The LiuGong 936LC excavator has extremely quick cycle times, a responsive nie rpm swing, a powerful 4,830 psi main hydraulic pressure with a 148 gallon-per-minute pump, 70 percent gradability for climbing and a strong counterweight for exceptional balance and stability when working atop large piles of debris. The air intake is on top of rather than on the side of the machine, making it easier to access and less susceptible to damage.
"We're going to be buying more LiuGong equipment, believe me," said Dallavalle. "In addition to their cost and quality advantages, their fuel consumption is excellent."
The LiuGong 922LC excavator offers a world-class pilot control system with a computer-aided power control system. The machine is powered by a Cummins QSB6.7-C155 Diesel Tier 3 engine. The machine has a standard 48-inch wide, 1.25 cubic yard heavy duty bucket with a maximum bucket digging force of 31,743 lb-ft.
The LiuGong 906C excavator has a 49-hp Yanmar 4TNV-94L four-cylinder diesel engine. Easy control pattern changes from ISO to BHL for your preference and for maximum productivity. An ergonomically designed cab and the placement of instruments provide ultimate operator comfort.
In March, SMR finalized the purchase of the LiuGong 842III Z-Bar wheel loader. The 33,601-pound machine is powered by a 193-hp Cummins QSB6.7 engine and features a 4-cubic yard bucket. SMR can get to work with the unit's 30,574 pounds of breakout force and static tip load capabilities of up to 26,455 pounds.
LiuGong in North America
"Our progress has been good," says Fred Ridenour, General Manager of Business Operations for LiuGong North America. "Our machinery today is ready for North America, with Tier III engines, and meets OSHA requirements.
"The thing that sets LiuGong apart is that LiuGong builds over 50,000 wheel loaders a year. So we are one of the largest wheel loader manufacturers in the world."
"Right now, the scrap and recycling industries are hot markets," he says. "I would say currently, these markets are one of our top three."
"Recycling is strong for us. Our excavators, with magnets and grapples and shears, have done very well. Especially in Quebec, and on the east coast, especially over in New Jersey and New York area."
LiuGong North America currently offers wheel loaders, excavators, mini-excavators, skid steer loaders, backhoe loaders and vibratory soil compactors in the United States and Canada. www.LiuGongNA.com or 281-579-8882.
According to LiuGong, a company more than 50 years old, and headquartered in Liuzhou, China, they have among the most expansive array of product lines of any Chinese manufacturer, including wheel loaders, bulldozers, skid steers, backhoe loaders, forklifts, motor graders, excavators, rollers, drilling machines, truck mounted and crawler cranes, pavers, cold planers, concrete equipment and mining dump trucks. The company also says it is among the world's fastest growing CE firms, with US$2.76 billion in sales in 2011, when the company sold 61,700 machines.
LiuGong is ranked 17th among the world's top machine manufacturers.
According to LiuGong, as a leading exporter of machines from China, the company has one of the largest global dealer networks of any of its Chinese competitors. The network consists of more than 380 dealers in over 115 countries, backed by 10 subsidiary offices with technical staff, and parts depots that deliver items within 48 hours. The company also says its strong dealers, subsidiaries, and customer focused organization within headquarters give it a distinct advantage in providing the 24/7 support required by customers anywhere in the world.
LiuGong goes on to say their machines are uniquely suited to rapidly emerging markets, and that the environment in China which nurtures their design is known to be the toughest in the world in terms of run times between maintenance, harsh work environments, cost demands, and rough operators. www.liugong.com.