JLG Raises the Bar for Lift Equipment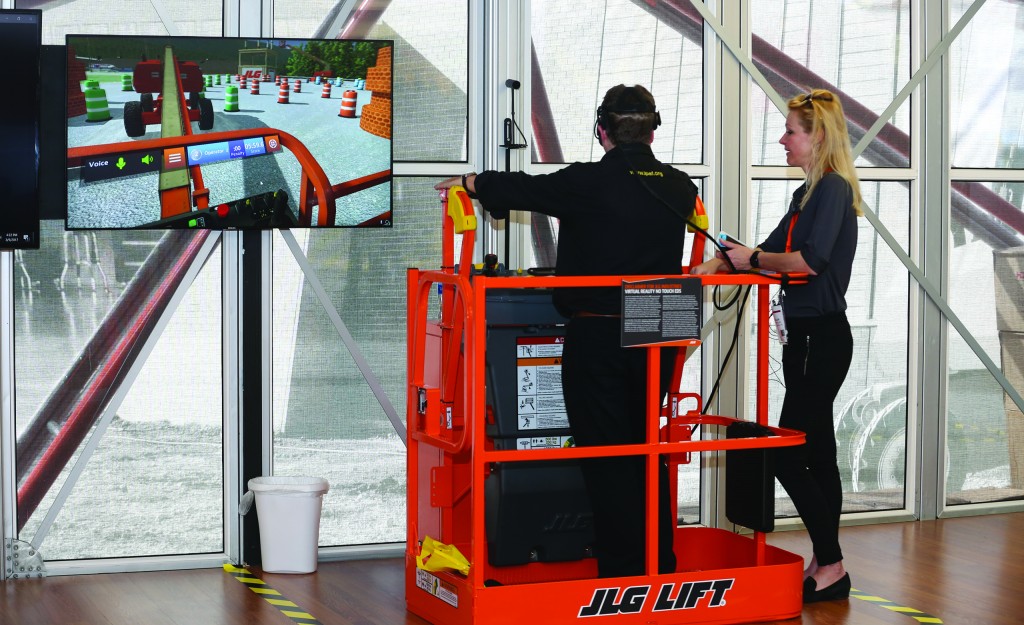 JLG wowed the crowds at CONEXPO-CON/AGG 2017 with the world's tallest articulating boom lift. They also showcased technological advancements such as SmartLoad attachment recognition, No Touch Enhanced Detection System and self-levelling chassis.
To get an idea of where technology is heading for the worksite of the future, JLG hosted an interactive display using augmented reality. Several animated scenarios played out before visitors on a large screen, featuring multiple pieces of intelligent equipment that communicated and interacted with one another. Participants used this display to test and explore a variety of current and future technologies, including a self-levelling chassis, autonomous equipment, enhanced detection systems, robotics and more, showcasing how machines will work smarter and more efficiently in the future.
JLG also demonstrated the future of training with its lift and access equipment simulator, which uses advanced learning, similar to a video game experience, to familiarize operators with the controls and operation of boom lifts and telehandlers. A multi-player version of the simulator enabled two operators in the booth to interact with an operator in the Tech Experience Pavilion and experience real scenarios as they completed specific tasks in the same computer-simulated environment.
"Through the JLG booth experience, we have given show attendees a sense of where technology is headed," said Frank Nerenhausen, executive vice president of Oshkosh Corporation and JLG Industries president.
"We wanted visitors to understand that many of the technologies on display are already in development at JLG and close to jobsite deployment," he explained. "We listen to our customers' needs and pioneer technology to meet their requirements."
This is also the 20th anniversary of JLG's hybrid technology, which was capped with the launch of a new parallel articulating boom lift and a comment from Paul Kreutzwiser, JLG Industries, Global Category Director, Aerial Work Platforms: "These parallel hybrids are just the beginning. As demand increases across the access equipment industry for eco-friendly products, we are proudly assuming a leadership role in hybrid innovation and expansion, pioneering new technologies for different applications, product categories and fuel types."
1500AJP - the world's tallest articulating boom lift
Initially launched at the bauma international trade show in Germany last year, the 1500AJP was introduced to the North American market for the first time at CONEXPO 2017.
The 1500AJP has a maximum reach of 75 feet, lift height of 150 feet and working envelope of more than 2.6 million cubic feet, allowing operators to reach further on the jobsite - an additional 60 percent or one million more cubic feet - than the next closest articulated boom. As a result, the machine can be positioned in one place to accomplish more work without repositioning the base for enhanced productivity. In addition, the unit's platform capacity of 1,000 pounds restricted and 600 pounds unrestricted means workers can take more materials with them than any other articulating boom lift, JLG states.
As if that isn't enough reach, it also features a 7.9-foot jib that raises and lowers 135 degrees to provide additional reach, up-and-over capability, and the ability to position the platform independent of the main boom. In addition, the jib pivots horizontally 125 degrees to provide extra maneuverability at elevated worksites.
JLG says that the 1500AJP leads the industry in lift speed, allowing operators to spend more time working and less time positioning the machine. The boom's QuikStik feature enables the lift to move from the ground to maximum platform height in three minutes, then back to ground level in the same amount of time.
Operators will appreciate the LCD panel that clearly communicates the position of the boom within the work envelope and the status of its operating systems. They can also be assured of a smooth, comfortable transition from full function speed to full stop, thanks to end of stroke cylinder dampening.
"The 1500AJP was designed from the ground up, taking into consideration all of our customers' concerns and requirements," said Kreutzwiser. He is clearly proud of JLG's accomplishment, adding that this "is another one-of-a-kind, industry-leading boom lift, demonstrating JLG's long history of innovation in machine design and manufacturing."

The 1500AJP offers improved serviceability, thanks to a swing-out engine tray that provides easy access to key service components, and a hydraulic system that simplifies hose routings and reduces leak points. An LCD panel located at the ground control panel uses text and fault codes to improve troubleshooting and reduce the number and duration of service calls.
The 1500AJP is easy to transport as it fits on a standard flatbed trailer and does not require an oversized load permit. This reduces wait time, costs associated with transporting the machine and total cost of ownership. 50/50 weight distribution on the axles also contributes to its ease of transport, as the lift is easier to load while offering improved balance on the jobsite.
Other time-saving features when positioning the lift include: 40-percent gradeability; 360-degree continuous turntable rotation; four-wheel drive; and hydraulically powered pivoting axles that expand quickly for fast setup time.
Advanced technologies
JLG also showcased three new, advanced technologies at CONEXPO that are designed to make equipment more productive and profitable.
SmartLoad provides attachment recognition to ensure the proper load chart is used with the selected attachment; a load management indicator system (LMIS) that visually indicates the current load on the load chart and the weight on the attachment; and a load stability indicator (LSI), which indicates forward stability and balance.
"Combining attachment recognition with real-time load data gives operators greater confidence during operation. It also protects fleets by giving operators clear guidance on load capabilities," said Nerenhausen.
No Touch Enhanced Detection System (EDS) is an advancement of JLG's existing Soft Touch System, which uses whisker proximity to stop a machine when it makes contact with an object or structure. No Touch uses advanced infrared technology to sense an object or structure is nearby, first slowing, then stopping the machine before it makes contact. A visual and auditory warning alerts the operator when a boom or scissor approaches a structure.
No Touch EDS then stops the machine, limiting its operation to reverse mode, unless the operator overrides the system to inch closer to complete the work at hand. If the operator doesn't override the system, the machine remains in reverse mode until it is safely clear of the obstruction, when it will return to normal operation. No Touch EDS is ideal for industries where operation near costly structures requires extra care.
Self-levelling chassis A static demonstration of a JLG concept boom positioned on uneven terrain demonstrated the third technology. The machine's self-levelling chassis will automatically level itself in a longitudinal and/or horizontal direction depending on the demands of the terrain. It reduces three-wheeling, allowing the machine to maintain traction on sloped or uneven ground. Machines equipped with a self-levelling chassis can traverse slopes up to 10 degrees with the boom elevated, which means greater uptime and less repositioning.
This feature enables easier loading, unloading and transport, as the chassis can be lowered to reduce the total height of the machine.
Inside the JLG booth, a transparent organic light emitting diode (OLED) screen showed the self-levelling chassis working through several jobsite scenarios, including traversing uneven terrain, offloading from a flatbed truck and working at height on uneven ground.
Hybrid technology and new H800AJ
JLG is expanding its line of hybrids with a new parallel H800AJ 80-foot articulating boom lift and by identifying its M Series booms and scissors as a unified H Series to clearly identify them as Hybrid models. The H Series rebrand will be complete in summer 2017. The machines will not only feature a new nomenclature but also new decals, easily identifying them as "eco-friendly" machines. The H Series will be one of the broadest hybrid offerings in the access equipment industry, the company says.
"The company has taken a measured and purposeful approach to hybrid technology," said Kreutzwiser. "Our engineers carefully consider specific equipment scenarios or applications and the power they require. Then, match the hybrid technology that best meets these requirements. We do not take a one-size-fits-all approach."
Operators will feel at home with the H800AJ. With the exception of its power plant, the machine is virtually the same as JLG's popular 800AJ model, with common parts for ease of operation and servicing. The H800AJ will be available in late 2017 and can be used for indoor or outdoor applications, boasting diesel-like performance with reduced or zero emissions, excellent fuel economy and reduced noise.
JLG also showcased an H600AJ concept machine to show the transferability and scalability of its Hybrid technology across a range of products.
"These parallel hybrids are just the beginning," said Kreutzwiser. "As demand increases across the access equipment industry for eco-friendly products, we are proudly assuming a leadership role in hybrid innovation and expansion, pioneering new technologies for different applications, product categories, and fuel types."
Company info
Related products