High Tech Crushing
New technology and remote monitoring can make a significant positive impact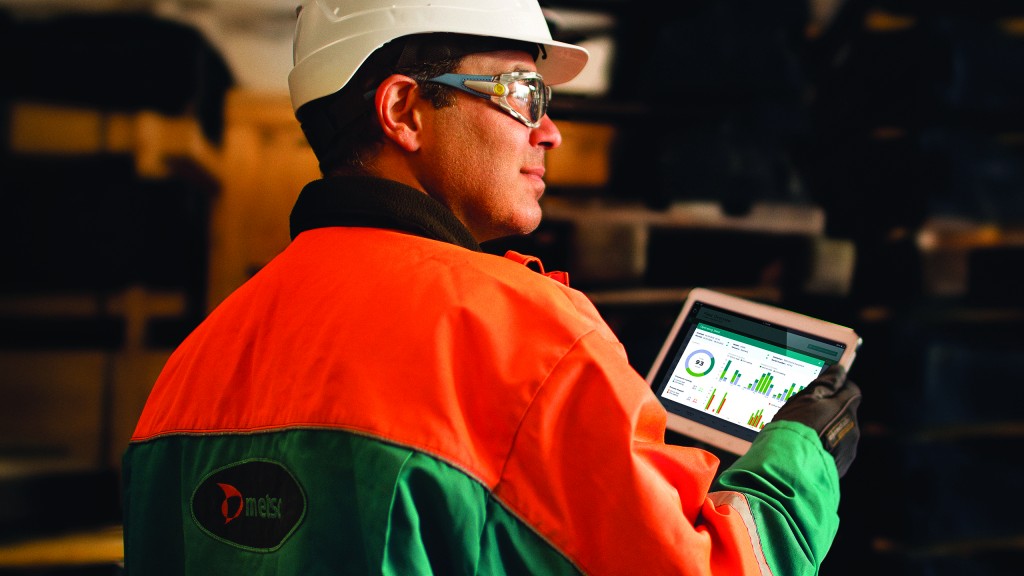 Metso revealed what they are calling "game-changing crushing technology for the aggregates industry" at the CONEXPO-CON/AGG trade show: their new MX crusher.
They also introduced Metso Metrics Services, which gives customers 24/7 access to data and advanced analytics from anywhere in the world via computer or tablet, using a secure, cloud-based platform. It is available for new Metso Lokotrack mobile crushers and screens, including the LT1213S (shown on the cover) - a fully equipped mobile impact crusher with single-deck screen and return conveyor.
In addition, Metso launched an innovative mobile primary plant, the Lokotrack Urban LT106, designed for community-friendly crushing in urban environments.
MX crusher: technology to increase profit
Metso reports that their new MX crusher uses rock crushing technology that provides a leap in profitability, cutting operational costs by 10 percent and enabling 10 percent higher uptime compared to traditional cone crushers.
Designed for the most demanding rock conditions and with a special focus on automated adjustment features, the Metso MX enables extremely cost-effective and safe operations. It also provides a very high reduction ratio with a premium end-product shape and consistency critical in aggregate applications.
"Aggregate producers are facing increasing pressure on efficiency and cost management. In order to meet these demands, we re-thought the crushing basics and combined our long experience in different cone crusher technologies with our extensive engineering knowledge. Two individual crushing methods based on the piston and rotating bowl were conjoined, and as a result, we created the MX Cone with Multi-Action technology," said Jouni Mahonen, VP, Global Sales & Product Support at Metso.

Multi-Action technology optimizes end-product shape and particle size distribution while eliminating waste. End products can be measured 10 times per second and viewed directly from the Metso IC crusher automation display. Operators can easily control and automate parameters such as material cavity level, crusher speed, power, setting and piston pressure.
Metso notes that the MX was designed to be the safest cone crusher to operate and maintain. During the crushing operation, all moving parts are inside the crusher. Lifting devices and hydraulic tools make maintenance simple and safe, and backing resins for liners are no longer needed, something that operators will appreciate.
The Metso MX also provides maximized tramp release distance with high protection against uncrushable objects and overloading.
The crusher can utilize up to 70 percent of the mass of new wear parts - a record-breaking utilization rate. Thanks to the design of the crusher, the quality characteristics of all sized end-product fractions stay consistent throughout the lifetime of the wear parts.
"After 10,000 hours of rigorous testing, we are proud to say the Metso MX meets our targets for increased profitability by allowing 24/7 crushing with minimum downtime," Mahonen concludes.
Metso Metrics for continuous improvement
Metso Metrics is a fleet monitoring and management solution for aggregates producers.
"Making the most out of the assets depends on data you can trust," says Giuseppe Campanelli, Vice President, Service Solutions at Metso. "Having the right information at the right time helps customers make important operational or maintenance decisions to improve uptime, as well as utilization and production rates. Metso Metrics Services is designed to collect and provide this crucial data in one easy-to-use interface. Combined with the expertise of Metso's network for troubleshooting or optional assistance with analysis, the solution provides tools for continuous improvement, both in performance as well as safety and sustainability."
Mobile crushers frequently move between sites, making it challenging to track, monitor and maintain a fleet of equipment for maximum performance. Through a remote communication device mounted on a mobile equipment, Metso Metrics Services provides a dashboard view of critical operational and maintenance data - from utilization rates to production levels and fuel consumption. With secured access, the solution allows for data-driven decisions that impact crushing operations.
Getting the most out of your equipment, resources and crews is important but how do you know if underperformance is driven from machine issues, lack of resources or if there is a need for additional crew training?
Metso Metrics Services helps to identify underperforming assets and training opportunities, as well as control maintenance and inventory costs.
In order to reach peak productivity, you need to see data results that same day, be notified in a timely manner on equipment parameter changes or the need for spare parts.
Looking at the consistency between work shifts also requires you have the right data reported to see what is causing costly downtime, delays and interruptions, which are difficult to distinguish and improve upon. Without timely information, staff may not be working in the most efficient way or in a manner that ensures the safest environment.
Having a program of continuous improvement is the ideal solution as a strategic approach for daily operations.