Richard M. Deister Promoted to Executive Vice President of Deister Machine Company
The family-owned company aligns itself for long-term growth and builds upon its legacy of manufacturing excellence with the next generations of leadership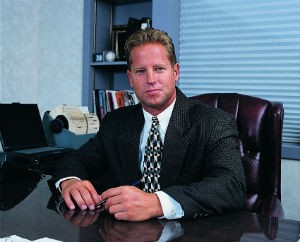 Representing the fourth generation of Deister leadership, Richard (Rich) M. Deister has recently been promoted to Executive Vice President of Deister Machine Company, a leading provider of innovative screening, scalping and feeding solutions for the aggregate and mining industries. "Rich has a proven track record for successfully leading large scale initiatives and driving innovation. His leadership skills are well suited to overseeing all operations of the company. As part of our strategic vision, his promotion to executive vice president will further poise our company for long-term growth; and will build upon our legacy of manufacturing excellence," says Irwin F. Deister, Jr., the company's chairman.
"Our tradition of quality and customer satisfaction began with my great grandfather, Emil Deister, who founded the company in 1912. Each generation of Deister leadership continues to strengthen our performance history and our dedication to high standards," says Rich Deister, who is the son of E. Mark Deister, the company's president. "Our long-term customer relationships, which we have developed over years of support, consultation and service, have resulted in ongoing improvements and innovation in the design, engineering and customization of Deister screening, scalping and feeding equipment," says Rich.
Currently marking 30 years of company service, Rich began his career with Deister by learning the business from the ground up. Following his graduation from Purdue University in 1987, he began as an assembler in the company's machine shop. A few years later, he took to the road as a service technician where he was hands-on in working with producers to install and fine tune each custom-manufactured screen and feeder for use in a variety of applications.
In 1990, Rich became the company's service manager; and in 2002, he was named Director of Customer Relations, Parts and Service, ascending to vice president of that department in 2007. Also, that same year, he joined Deister Machine Company's executive board of directors.
Deister Machine Company supports its industry by being active participants in a variety of key organizations. Rich is a member of the National Stone, Sand and Gravel Association and is the immediate past chair of the Manufacturing and Services Division. Irwin F. Deister, Jr. and E. Mark Deister are life members of the NSSGA board, both having served as chairman of its Manufacturers and Services (M & S) Division.
Five Generations of Leadership
At Deister Machine Company, Richard M. Deister leads the fourth generation as Executive Vice President; and the company is proud to report that its family tradition will continue into the fifth generation of leadership. Max Deister (Rich's son) has recently joined the company as a full-time member. Like his father, he graduated from Purdue University, and had interned with the company since 2012.
Looking back to the founding of the company, founder Emil Deister served as its president and general manager from 1912 until his death in 1961. Enter the second generation: Irwin F. Deister, Sr., son of the founder, joined the company in 1925, eventually succeeding his father as president and chairman until his death in 1988. His brother, Emil Deister, Jr., was with the company from 1926 until his death in 1984, having served as chairman after his father's death. And, enter the third generation: Irwin F. Deister, Jr., son of Irwin, Sr., joined the company in 1951 and is now its chairman and comptroller. E. Mark Deister, son of Emil, Jr., has been active since 1963 and is the current president and treasurer.
Celebrating more than a century of screening, scalping and feeding solutions, the Deister team bases its success upon innovation, customer commitment and a dedication to its industry, its employees and its community.
Related Articles
Searching for the best-performing excavator? Your search ends here. We tested the Volvo EC350E and EC380E against a leading competitor in three different tests: trenching, truck loading and lifting capacity at reach. The results show a 20% difference in cost-per-ton, a 15% difference in tons-per-hour and a 12% difference in both operating costs and lifting capacity. See the results and put an end to your search for the best excavator.