Electronic Logging Device offers drivers an app and telematics integrated with other software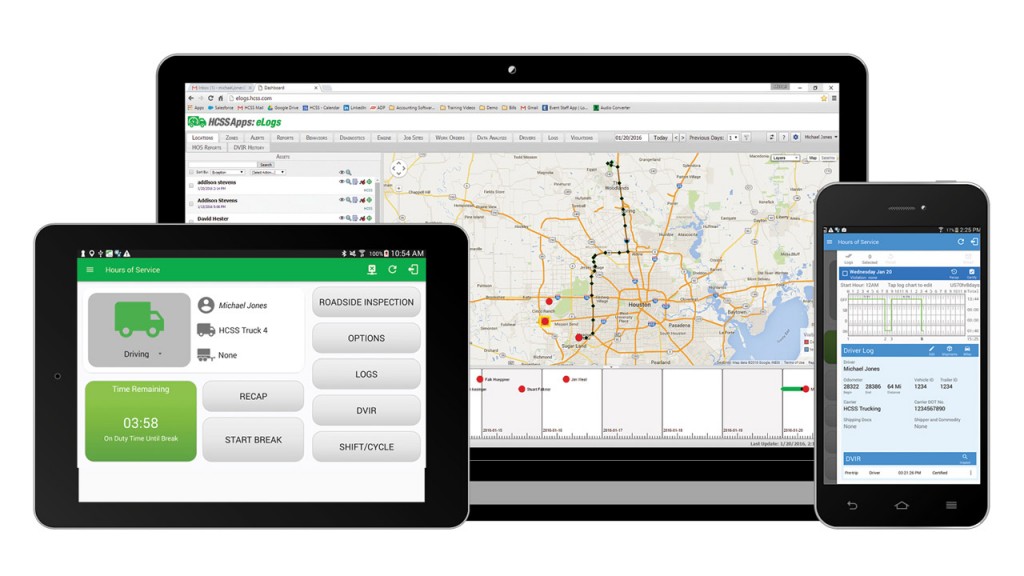 Construction software developer HCSS announces the release of its new electronic logging solution to help construction companies meet the December 2017 deadline to become Federal Motor Carrier Safety Administration (FMCSA) compliant. This mandate requires drivers who currently use Hours of Service (HOS) paper logbooks to switch to electronic logging with approved electronic logging devices (ELDs) by December 18, 2017.
Featuring fast and reliable software connectivity, HCSS eLogs electronically tracks a driver's HOS and automates driving events based on vehicle movements, which is a requirement for compliance. HCSS eLogs includes a driver app for smartphones or tablets and a website where managers can review Driver Vehicle Inspection Reports (DVIRs), driver statuses, shift and cycle time, previous violations, and daily driver logs and comments.
The construction industry is currently being flooded with electronic logging solutions. With the HCSS's in-depth knowledge of contractor needs, the new eLogs program offers features not available with other providers, such as:
Free integration with HCSS Telematics, a solution that tracks a company's fleet location and performance as well as helping to prevent loss and theft. HCSS Telematics interfaces with the HCSS suite of products to help drive operational processes.
Easy connectivity using BLE (Bluetooth Low Energy) that allows for drivers to remain in the application to connect rather than shuffling through settings.
A faster connection and shorter wait time for drivers using software connection compared to common internet/cellular connectivity used by other providers.
Availability on any Android device, with or without cellular or internet connection, allowing your driver to log at any time. The driver simply syncs his logs again when he can connect.
Status change based on vehicle motion and gear, eliminating tedious recording in the app for drivers.
HCSS eLogs provides an intuitive, simple-to-use interface that allows drivers to easily enter data, quickly fill out pre- and post-trip DVIRs, and identify and self-report violations without hassle. Managers receive logs in a timely manner and have access to all driver information in one simple location for easy tracking and reporting, reducing double entry and ensuring accuracy.
The app helps companies to avoid violations and lowers HOS compliance scores by warning drivers about upcoming shift or cycle limits before they occur.
HCSS eLogs easily installs through a simple plug-in device for the truck and a mobile app for the driver's phone or tablet that connects instantly. Drivers aren't required to scroll through phone settings or wait for a Bluetooth pairing. The new app also avoids the need to manually connect with the device for drivers who switch between multiple trucks.
Company info
Related products