Upgrades to John Deere L-Series Skidders Increase Power and Performance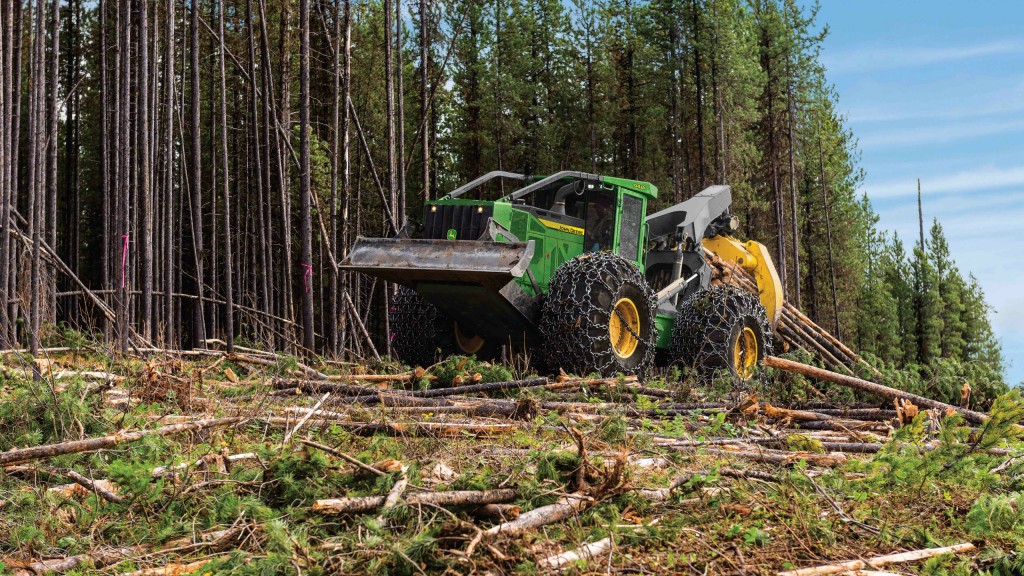 John Deere has updated its full line of L-Series Skidders. The L-Series models now boast best-in-class horsepower, a more impressive power-to-weight ratio, an improved engine aftertreatment system, and new grapple and boom options. Most notable are the upgrades to the engines to increase horsepower, offering customers more pulling power and faster multifunctioning capabilities. The 648L, 748L, 848L, and 948L models offer the maximum horsepower for each size class, with the 300 HP 948L Skidder boasting highest horsepower on the market. Enhancements to the 648L and 748L improve pulling power during skidding activities, and the 848L and 948L have better multifunctioning capabilities for increased handling performance.
"Our L-Series machines were originally designed to set the bar for power and productivity - and in many ways they have," said Brandon O'Neal, Global Product Marketing Manager, John Deere. "With this latest round of upgrades, we're taking it even farther with increases to power, reliability, efficiency and overall productivity of the machines."
The L-Series Skidders now feature a simplified engine aftertreatment system. Redundant temperature sensors have been removed, reducing harness complexity. The updated models now feature a single temperature module, simplifying troubleshooting. Harnesses have been rerouted, improving access and reliability, and have more secured points to reduce rubs. Additionally, the Diesel Particulate Filters regeneration interval levels have been increased from 50 to 100 hours, reducing fuel consumption.
Another key improvement on the L-Series models is an extended boom reach option. Designed for steep or uneven terrain, the longer booms increase lift height and improve rearward and downward reach. The new booms also reduce interference with the arch and fenders during turning and contact of tongs on tires and fenders when rotating the grapple.
The L-Series skidders now offer 17.5 square foot (1.63 square meter) grapple option for all dual function models. Ideal for a variety of skidding applications, the new grapple increases productivity in thinning or heavy load applications. On the 648L the grapple will help to save time and fuel by reducing the amount of trips needed in dry wood and thinning applications. Added based on customer requests, the additional grapple size gives John Deere the most grapple size options and largest range of sizes available in the industry.
The L-Series Skidders feature a best-in-class cab is 25 percent roomier and more than 50 percent quieter, and includes fatigue beating comforts like the efficient HVAC system, ergonomic controls and storage space. An optional rotating seat with joystick steering helps reduce strain on the back and neck.
The L-Series machines are available with the JDLink™, now five years in base, and TimberNavi™. JDLink is designed to remotely connect owners and managers to their equipment and local John Deere dealer, providing alerts and machine information, including location, utilization, performance and maintenance data, to better manage where and how equipment is used. TimberNavi, which is available as a factory-installed option on the L-Series Skidders, is a jobsite mapping solution that increases the operator's spatial understanding of the jobsite. The updated L-Series Skidders are now available in North America.
Company info
Related products
More from Forestry
The all-new CASE TR340B compact track loader — operating at 90 horsepower with a 3,400-pound rated operating capacity — is the most powerful radial-lift CTL in the CASE lineup. Its all-new 8-inch LCD display improves on industry-leading CASE visibility with a new backup camera that is viewable in both forward and reverse operation. The display also showcases critical operating information and "trip" details. All-new electro-hydraulic controls, managed through the display, make it easier than ever for operators to dial CASE CTLs into specific application demands. All new cab controls and joysticks make the new TR340B easy to own and operate.
Industries such as construction, mining, energy, utilities and forestry, face many challenges when it comes to tracking assets and employees. Equipment often has to be transferred between locations, or monitored while it is dormant during off seasons. Lone workers may have to travel long distances or visit multiple sites during the course of their activities. And, all of this is further complicated today with shifting supply chains and economic realities putting further strain on the bottom line.