Perkins names Gill new VP of Global Sales, Marketing, Service and Parts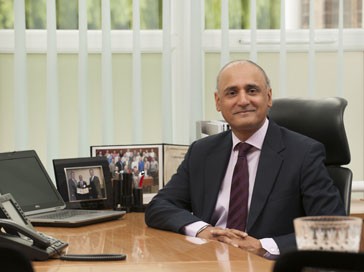 Jaz Gill has been appointed Vice President of Global Sales, Marketing, Service and Aftermarket Parts at Perkins Engines Company Limited. Responsible for global engine sales, parts and customer relationships, Jaz will be based in Peterborough, UK and will have offices in San Antonio, Texas U.S. and Shanghai, China.
Jaz, who joined Perkins in 1988, will lead all commercial activities for Perkins engines, sold both direct to customers and through the global Perkins distribution network, and will own the service and parts group, where he will continue to ensure customers experience consistently exceptional levels of service and support.
"The Perkins team continue to focus on our valued customers and on building long-lasting business relationships, as well as serving them with engines sales, genuine parts and service support," said Perkins President Ramin Younessi. "Jaz is perfectly suited to this role having worked closely with our major global accounts for many years, coupled with his deep expertise and previous leadership across our product support, marketing and distribution development teams."
"This is a wonderful opportunity to lead a truly global customer focused team," said Jaz. "Over the last few months we've released innovative new engine and aftermarket solutions to the market, which have been positively received by our customers and end users. As we celebrate our 85th anniversary we have also put in place a strong foundation for us to build upon. I'm confident these new initiatives will further position the Perkins brand for future success."
Jaz replaces Chris Snodgrass who was recently named Vice President of Caterpillar's newly created Product Support and Logistics Division.