Numa expands US manufacturing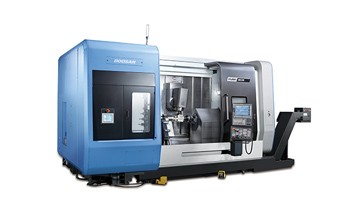 Numa has announced an expansion of manufacturing capabilities at its US plant to keep up with growing demand for its DTH hammers and bits.
Over the past several years, Numa has heavily invested in its manufacturing capabilities to tackle the demands of building the world's leading DTH equipment. The latest addition is a Doosan Puma 3100 which is a composite turning center that combines the functions of both a lathe and a machining center. By integrating the capabilities of multiple machines into one system, the turning center minimizes machining time and the number of machining operations. Complicated parts that previously required multiple machines and setups can now be completed by just one unit and one setup. The new equipment will improve productivity, precision, and ease of operation for the company and further improve its ability to manufacture quality products in a timely manner for its customers.
"The expansion of Numa's manufacturing capabilities supports our vision for growth and puts us in the best position to build the world's leading down hole hammers and bits," said Ralph Leonard, President of Numa, "The new multi-tasking turning center offers higher productivity, greater accuracy, and enhanced user convenience which is instrumental to support the growth of our customers."
Related products