6-axle crane first of its size in the Demag range with a luffing jib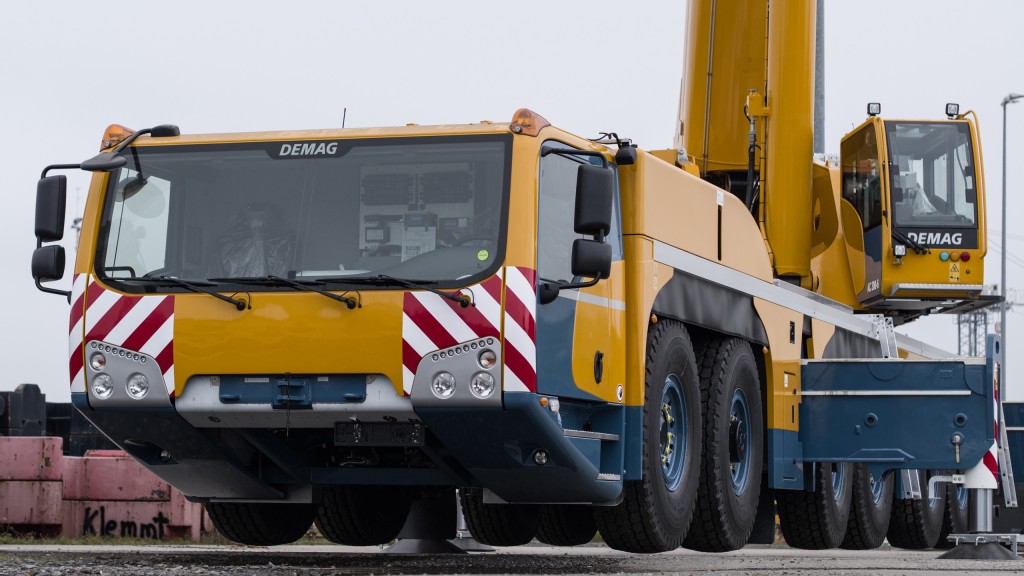 The new 6-axle Demag AC 300-6 all-terrain crane, boasting a 300 t (350 US ton) classification, features an 80 m (262.5 ft) main boom and is the first crane of its size in the Demag range equipped with a luffing jib. This new 6-axle Demag all terrain crane delivers strength, reach and versatility needed for accomplishing the most demanding jobs at lower operational and transporting costs than similar models in its class.
The Demag AC 300-6 all terrain crane combines long reach with a strong load chart to give operators the perfect fit for efficient work at height or on reach. The 80 m (262.5 ft) main boom can perform jobs at heights up to 78 m (255 ft) or 74 m (242 ft) radius without rigging a jib. It is ideal for tower crane erection, with a class leading lifting capacity of 15 t (16.5 US ton) on fully telescoped 80 m main boom. Also, the Demag AC 300-6 is the smallest in the Demag range that can be outfitted with a luffing jib for superior reach and fly-over capabilities, bringing the maximum system length to 118 m (387 ft). The well proven luffing jib rigging system is the same as on the AC 350-6 and AC 1000-9 cranes and provides safe and quick rigging.
Packed with the latest Demag innovations like the IC-1 Plus control system and a single engine concept with an intelligent motor management system, the Demag AC 300-6 enhances productivity to help reduce operating costs. The IC-1 Plus control system provides real time calculation of the lifting capacities and supports operators in safe crane operation. It also allows asymmetric outrigger positioning. This also allows the crane to perform jobs usually reserved for larger machines. The Demag AC 300- 6 is fitted with a single engine, with start and stop function to reduce idle times and total engine hours contributing to the reduction of fuel costs and preserving the crane's residual value.
The Demag AC 300-6 helps maintain a lower stock of spare parts because it uses a high number of interchangeable parts with the Demag 5-axle family all terrain cranes. Furthermore the 21m (68.9 ft) double folding main boom extension of the 5 axle Demag cranes is compatible with the AC 300-6.
The compact design of the Demag AC 300-6 all terrain crane features a carrier length of 15.3 m (50.1 ft) and a width of 3 m (9.8 ft). The crane is easy to position on the jobsite, thanks to its active all-wheel steering that allows excellent maneuverability in tight spaces.
On the road, the Demag AC 300-6 crane meets axle load limits from below 12 t (13.2 US tons) up to 16 t (17.6 US tons) and can travel up to 85 km/h (53 mph). It also has 800 kg (1764 lbs) of extra payload capacity for carrying extra lifting accessories. It includes an axle load monitor, displayed on the dashboard, to help customers drive within the road-legal weight. This model, like all Demag cranes in this product family, can be configured to comply with the variable axle weight limits in most states of North America and many other countries by connecting different types of boom dollies or removing the boom.
Company info
Related products
Related Articles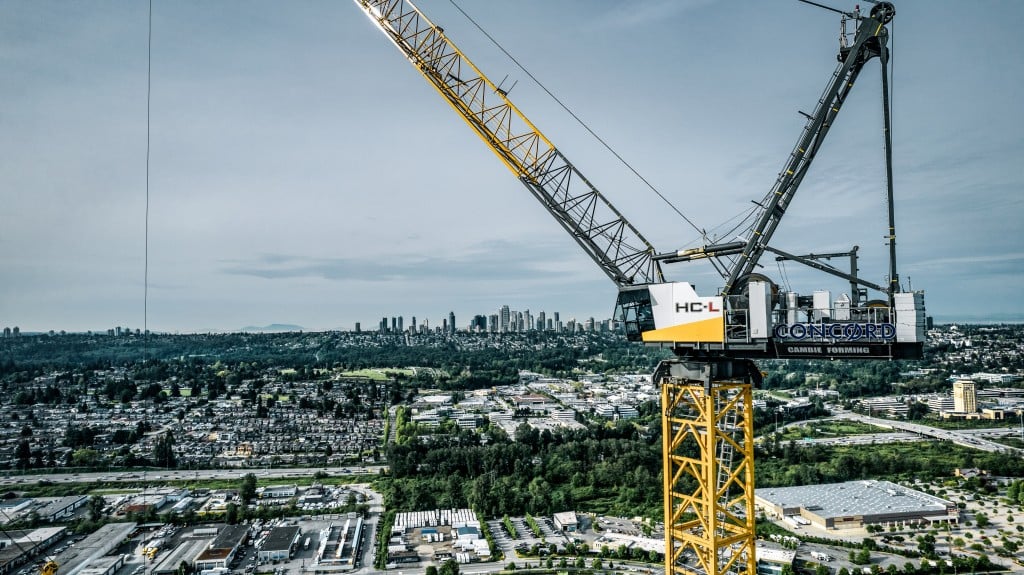 Cambie Forming to build 56-storey Burnaby residential building using newly bought Liebherr tower crane