Handling precast concrete for stadium requires Souris Valley Industries to rewrite playbook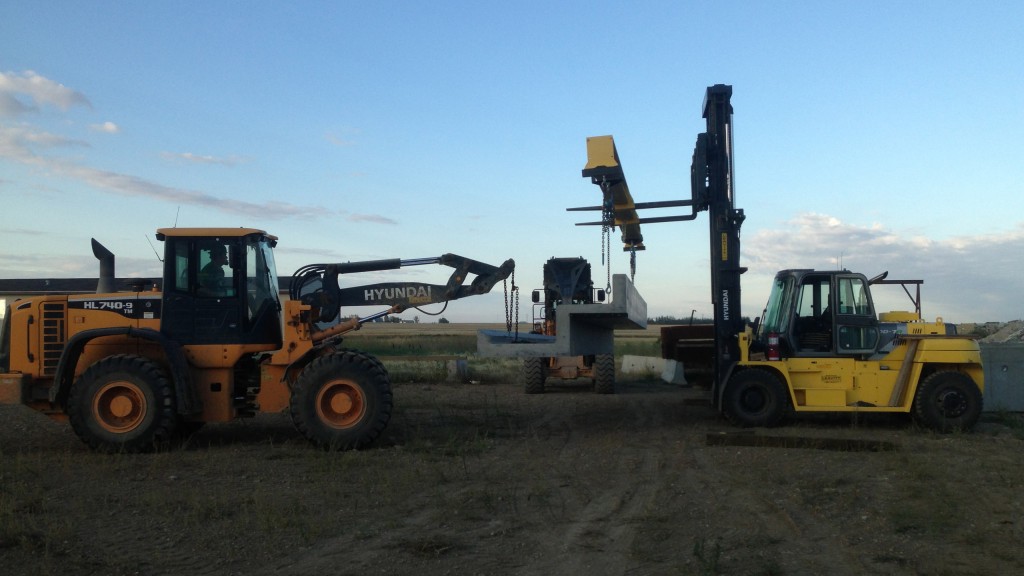 While the CFL Saskatchewan Roughriders and their fans enjoy the first season of games this year in the new state-of-the-art Mosaic Stadium in Regina, the team at Souris Valley Industries can reflect with satisfaction on the company's role in providing all the stadium's precast concrete.
Dustin Bell, general manager of Souris Valley, said the company had to come up with a few new "plays" to tackle this project, including new techniques for loading oversized precast pieces onto trucks for the 120-km (75-mile) drive from its plant in rural Weyburn, Sask., to the stadium construction site in Regina.
"We cast all the required concrete pieces at our facility and staged them in our yard for shipping," Bell recalled. "During most of our work on the project, which lasted from April 2015 to April 2016, we were staging more than 400 precast pieces at any given time on our property.
"The most unusual aspect of the job, apart from its sheer size and duration, was devising systems for loading 50-ft-long (15-m-long) pieces of concrete wall and 40-ft-wide, 10-ton (12-m, 9-mt) bleacher sections onto flatbed trailers," Bell said. "We double-teamed the wall sections, with a Hyundai HL-757-9A wheel loader at each end to pick and load those 50-ft pieces. It takes a couple of good operators to coordinate those lifts, plus a couple of reliable wheel loaders.
"For the 40-foot bleacher pieces, we used our Hyundai 60D-7A diesel forklift, fitted with a 40-foot I-beam and four heavy chains to secure, balance and load each piece. It max'ed out in height on just about every lift. All in all, the forklift and wheel loaders were crucial to getting this job done and keeping our productivity high throughout."
Fitted with material-handling forks, the Hyundai wheel loaders also loaded a range of other precast pieces for the project, including various-sized concrete pipe sections. Trading forks for buckets, the loaders also took their turns feeding sand and stone into Souris Valley's concrete batch plant.
"The wheel loaders and forklift worked 8 to 12 hours a day throughout the project," Bell said. "They proved to be very reliable and up to the task. Other than routine maintenance, I don't recall any unscheduled downtime for any of the mobile equipment."
Teamwork gets the job done
Working as a subcontractor to Edmonton-based PCL Construction, Souris Valley Industries cast nearly 1,500 pieces of concrete for the Mosaic Stadium project. Although Souris Valley usually employs about 35 team members, it beefed up its team to nearly 60 employees to handle the stadium project.
"We had a total team effort on this project from start to finish and from top to bottom," Bell said, crediting operations manager Tanya Dubois and special projects manager Mike Bell with keeping the project on time and on budget, and the team focused on each day's tasks. "Tanya all the truck-loading operations and quality control. My dad (Don Bell) was one of our key equipment operators throughout the project."
Dustin's brothers, Mike and Luk, also played key roles. The Bell brothers and their father, company president Don Bell, have led Souris Valley Industries since the family acquired the business in 2005 from its original owners, who founded the company in 1977.
While the stadium contract was a high-profile project for Souris Valley, the company is well-known and respected throughout western Canada as premier supplier of precast concrete, with average annual production of more than 20,000 metric tons (22,000 U.S. tons).
Most of the firm's output consists of precast concrete pipe and manholes for storm sewers and other underground utilities, as well as concrete boxes, tanks and traffic barriers.
In addition to the wheel loaders and forklift used for the stadium project, Souris Valley owns a third Hyundai wheel loader - a HL-740-9 model - and several telehandlers.
Down on the farm
Souris Valley Industries' operations cover 30 of 200 acres (12 of 80 hectares) that the company owns in Weyburn, a town of 10,000 located in southeastern Saskatchewan. The Bell family farms the remaining acreage.
"We still enjoy farming. And having all this land gives us room to grow the concrete business," Bell said. "We're in a good location to serve our customers, and it's an area where our employees enjoy living and working."
Bell said he and the team at Souris Valley Industries look forward to watching a few Roughriders games at the 33,000-seat, C$278 million Mosaic Stadium in Regina.
"It will be satisfying to sit in that stadium for a game, knowing that we're the ones who supplied the concrete that our seats are attached to. It was definitely an interesting and challenging project, and we're glad to have had the opportunity. We learned a few things and proved to ourselves that we could tackle a project of that size and complexity. But we're happy with the normal scope of our business, and the success we share in serving our customers."
Company info
Related products
Related Articles
Searching for the best-performing excavator? Your search ends here. We tested the Volvo EC350E and EC380E against a leading competitor in three different tests: trenching, truck loading and lifting capacity at reach. The results show a 20% difference in cost-per-ton, a 15% difference in tons-per-hour and a 12% difference in both operating costs and lifting capacity. See the results and put an end to your search for the best excavator.