KOBELCO debuts demolition excavator and car demolisher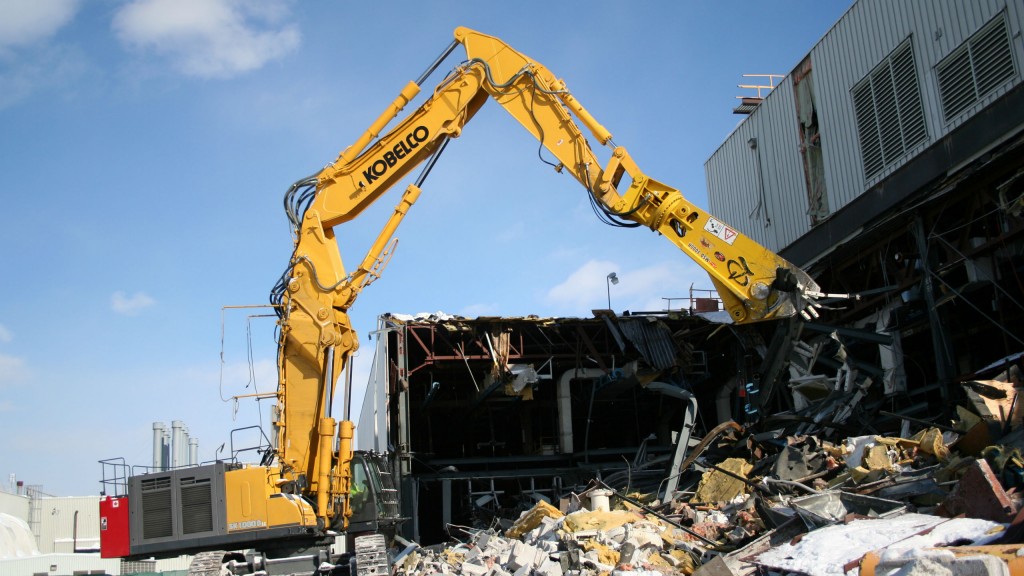 At CONEXPO-CON/AGG 2017 this past March Kobelco Construction Machinery says they hosted their dealer network members along with thousands of attendees at their exhibit, which displayed the company's latest advancements and exclusive technologies along with several new and specialty excavator models and configurations. The Kobelco display included the SK1000DLC large building demolition machine (shown here), as well as the debut of the SK210D-10 Car Demolition Machine and SK350DLC-10 Building Demolition excavator.
The new Kobelco SK210D Car Demolisher is designed to take apart vehicle bodies, engines, and other metal components with precise, safe and efficient operation. The demo unit at CONEXPO 2017, displayed clamping a junked SUV, was equipped with the Kobelco Innovation Clamp Arm, which features a bowl-shaped grip and powerful cutting teeth to enable efficient bending, breaking and tearing.

Two specialized crushers also allow the SK210D to tackle different dismantling tasks. The multi-dismantling crusher is suited for small-scale separating and sorting of various metal products, including small parts such as electrical fittings and harnesses. In addition, an optional vehicle-dismantling crusher offers a powerful grab, increased cutting force and rotational torque powerful enough to cut through a chassis and frame. According to Kobelco, the new SK210D offers a powerful and practical solution to nearly any demolition or dismantling task through the use of rugged design, a comfortable operator cab and controls, energy-efficient hydraulic system and a Tier IV Final engine and hydraulic system.

The new Tier IV Final Kobelco SK350DLC Building Demolition excavator is engineered with practical features to increase jobsite productivity and reduce downtime.

A common-use main boom allows two attachments on the SK350DLC to be easily interchanged, including an ultra-long crusher attachment that enables the SK350DLC to demolish buildings up to seven stories high from the ground, and a 3-ton large front crusher that can be added to the ultra-long attachment for increased power and efficiency while demolishing high floors. The SK350DLC also boasts the revolutionary Kobelco NEXT joint system - each boom and attachment is designed with a block structure that simplifies assembly/disassembly for easy transportability.

The 220,000-pound Kobelco SK1000DLC Large Building Demolition machine offers flexibility with a variety of attachments for job-specific strength and reach capabilities. An available GD ultra-long attachment puts the priority on reaching high places, extending up to 13 stories high with a 2.5-ton crusher, while the HD ultra-long attachment focuses on high-elevation crushing force with a 5-ton crusher and a reach of 100 feet.
Company info
Related products