A world first: JCB TELESKID
Company also enters $8 billion global market for powered access equipment and introduces Hydradig in N.A.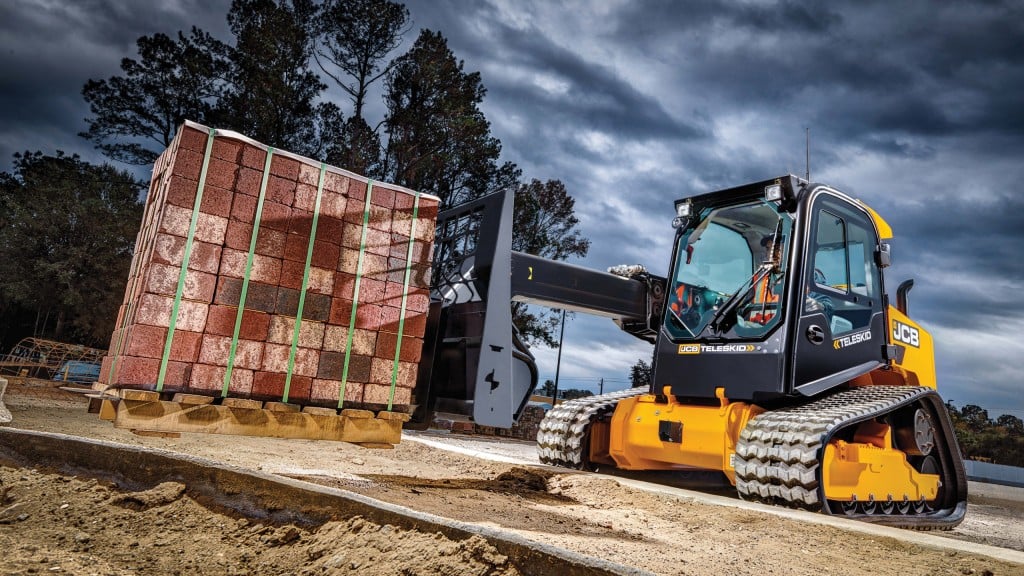 The JCB Teleskid is a new machine that can reach 60 percent further forward than a standard skid steer. It is also the only skid steer in the world that can dig below its chassis to a depth of around one metre.
This innovation received its international debut for the construction industry at CONEXPO 2017.
JCB pioneered telescopic technology with the launch of their Loadall nearly 40 years ago; today it is the biggest selling telescopic handler in the world, the company reports. Then nearly 25 years ago, JCB introduced another innovation: the industry's first single-arm skid steer.
Now the company has combined both technologies into one to produce the JCB Teleskid. It has a forward reach of 2.4 metres and a lift height of four metres, eight percent higher than any other skid steer.
"The JCB Teleskid can do the work of four machines - a telescopic handler, masted forklift, compact loader and a skid steer, all in one easily-serviced machine," said JCB Chief Innovation and Growth Officer, Tim Burnhope. "The telescopic boom will allow operators to load trucks without a ramp, reach over curbing and dig below ground, all with clear visibility of the attachment."
The Teleskid is also the only skid steer on the market which combines vertical and radial lift capability, according to JCB. A bucket-positioning levelling system allows the bucket level to be set and maintained throughout the boom's range of movement.
The fully enclosed cab is 33 percent larger than the industry average, and JCB's myCHOICE software allows control responsiveness and joystick sensitivity to be tailored to suit operator preferences. A 55-kW (74-hp) JCB Ecomax engine delivers high torque at low rpm and ensures compliance with Tier 4 Final emissions standards.
Both tracked and wheeled Teleskid models will be sold in North America.
JCB enters $8-billion powered-access market
JCB made another dramatic announcement at their CONEXPO press conference, stating that they want to become a major player globally in the powered-access market. They have been developing and engineering a line-up of machines in secret for the past two years.
By the end of 2017, the company will offer 27 totally-new access platforms - a range of scissors, articulated and telescopic booms - covering more than 80 percent of the access rental market. All models have been certified by TUV, a world leader in product testing and certification, to ensure the highest quality standards. The machines also comply with the latest ANSI and CSA legislation.
The dealer network has been undergoing full sales and service training to be able to provide backup for the access platform ranges.
JCB's LiveLink telematic system will be incorporated as standard on all booms, and will be available as an option on the scissors, providing customers and rental fleets in particular with a full telematics link to the platforms for increased security and uptime.
Four diesel-powered, articulated boom models will be offered with four-wheel drive and two-wheel steer. They will provide up to 40 percent gradeability and a maximum stowed driving speed of up to 7 km/h. These will be joined by a 13.7-m platform height, electric-powered articulating boom model with two-wheel drive and two-wheel steering, and up to 30 percent gradeability.
An extensive range of 10 diesel-powered telescopic booms will be added throughout 2017. These machines will offer platform heights from 20.6 to 45.6 metres. There will be a high degree of parts commonality between the three model ranges, reducing cost and complexity for customers and dealers.
The scissor lifts have operating weights of between 1,330 kg and 3,366 kg. The two smallest models, the S1530e and S1930e, offer platforms measuring 1.64 metres long by 0.76 metres wide, while the majority of larger models use a 2.5-metre-long platform. The largest model, the S4550E, has a 2.64-metre-long working area. The machines are rated for basket capacities from 227 kg to a maximum of 550 kg and the electric scissors are powered by four 6V or 12V batteries and hydraulic drive. The three diesel models will be introduced later in the year.
JCB Hydradig now in North America
CONEXPO was also the North American launch for JCB's all-wheel-steer Hydradig wheeled tool carrier. The company says that the Hydradig will offer customers unparalleled visibility, stability, maneuverability and mobility. It was introduced to the Euroepan market at the Bauma trade show in Germany last year and reviewed in Heavy Equipment Guide at that time.
The 110W Hydradig has an 81-kW (108-hp) Tier 4 Final JCB EcoMAX diesel engine that uses SCR with DEF additive, resulting in no requirement for a DPF. The engine and transmission are in the lower section of the chassis, which results in the high visibilty from the cab, while the lowered centre of gravity boosts Hydradig's stability.