Cat D6T and D8T dozers
Technological advances and a range of options make work easier, safer and more productive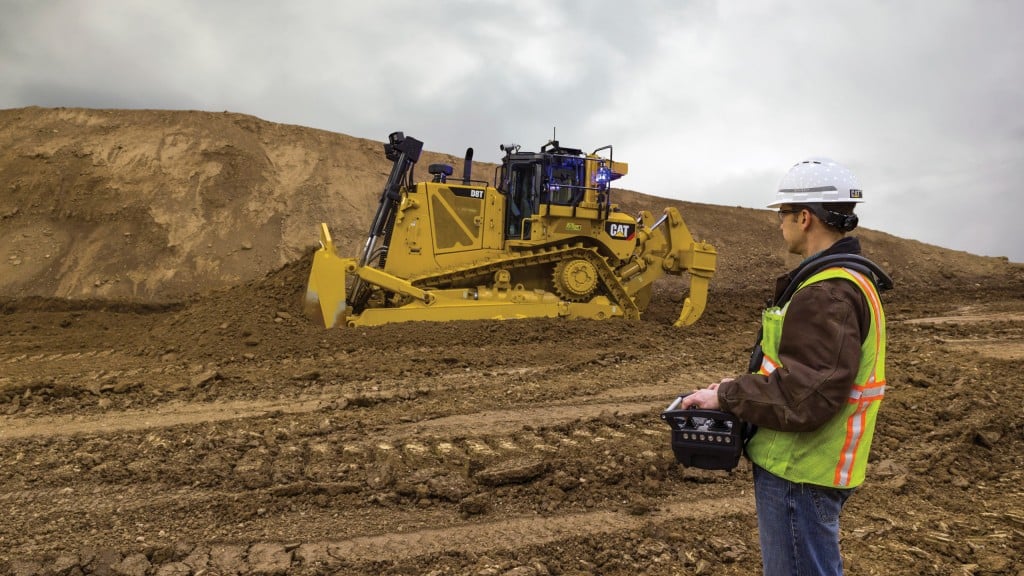 Caterpillar has taken dozer work to new levels with the D6T dozer. These include easier operation, higher performance, a wealth of standard and optional machine-assist and machine-control systems, and significant fuel savings.
The D6T has a new, fully automatic, four-speed transmission. The extra gear between first and second provides smooth shifting and also maintains power to the ground during load changes. This allows the machine to remain in the most efficient mode for a higher percentage of the time and raises productivity by up to 2.5 percent. The operator also experiences an aggressive feel in the dirt.
The four-speed transmission also delivers fuel savings: up to 20 percent in heavy work and as much as 30 percent in light work and finish grading applications.
The D6T is also easier to operate. Just set the desired ground speed and the Auto Shift system smoothly and automatically chooses the optimal gear and engine speed to match operating conditions.
To get the most out of this dozer, there are numerous machine-assist and machine-control systems that come standard or as an option.
Cat Connect GRADE technologies range from simple grade indicators to full factory-integrated GPS, all supported by Caterpillar and Cat dealers.
Cat GRADE with Slope Assist is a new standard feature for the D6T. It automatically maintains pre-established blade position without the need for added hardware or a GPS signal.
Cat Slope Indicate is also standard, and displays machine cross-slope and fore/aft orientation on the primary monitor, assisting operators to work accurately on slopes.
Cat Stable Blade, another standard feature, complements the operator's blade-control input to achieve finish grades faster with less effort.
Cat GRADE with 3D is an available, factory-integrated grade-control system that provides three-dimensional guidance both for production dozing and fine grading. The system features roof-mounted antennas. The Cat AccuGrade Ready Option is included with the system, as is the Cat AutoCarry system that adjusts the blade for optimum load retention.
Cat AccuGrade is a dealer-installed, aftermarket grade-control system that provides the flexibility to scale system features to changing needs. It ranges from lasers for 2D flat-plane and slope work to systems using Global Navigation Satellite System (GNSS) or universal total stations for complex contours and precise finish grading.
AccuGrade Ready Option allows the machine owner to upgrade to an AccuGrade 2D or 3D system as requirements demand.
In addition to grade control technologies, the Cat Product Link telematics system integrated into the D6T provides timely, pertinent data - such as location, hours, fuel usage, productivity, idle time, and diagnostic codes - that is easily accessed through the online VisionLink interface to help achieve more effective asset management, greater productivity and lower operating costs.
The D6T is available in multiple undercarriage configurations and with a wide range of blades to match the machine to the application. Available rear-mounted equipment includes a new high-lift multi-shank ripper.
Powering the new D6T is a Tier 4 Final certified Cat C9.3 ACERT engine with a net power rating (ISO 9249/SAE J1349) of 215 horsepower (161 kW).
Caterpillar's larger D8T dozer has already earned a reputation for productivity and high resale value but now the company is making new options available that can save customers time and money.
New D8T dozers can now be ordered remote-control ready to use Cat Connect COMMAND for Dozing in applications with steep slopes or unstable surfaces where safety of the operator is a concern. The dozer is operated with either an over-the-shoulder operator console for line-of-sight remote-control operation from up to 400 metres away, or from a remote operator station that offers both line-of-sight and non-line-of-sight remote control operation. The latter was demonstrated at CONEXPO, with a D8T dozer in Peoria, Illinois being operated from the Cat booth in Las Vegas, more than half-way across the continent.
A 13.4-cubic-yard Semi-U (SU) blade is available which delivers 19 percent more capacity over the standard D8T blade. It allows the bulldozer to move more material per pass for productivity gains up to 13 percent over the standard blade.
Optional performance cutting edges dig deeper and improve blade control, load retention and traction, increasing blade load mass by up to 25 percent. This option means ripping can be reduced in some cases, and the on-plane system enables finish grading. Offering easier material penetration in moderate rock or hard/frozen ground applications, these edges allow the dozer to work faster and reduce "skating" in difficult-to-penetrate materials.

The optional powered bottom guards on the underside of the D8T open hydraulically once the bolts are removed. This reduces maintenance downtime, improves safety and makes machine clean-out easier.
A new, fully suspended heavy duty extended life undercarriage is an option to reduce undercarriage costs, especially in high abrasion conditions.
Company info
Related products