Remote charging stations allow drones to handle long-range data collection missions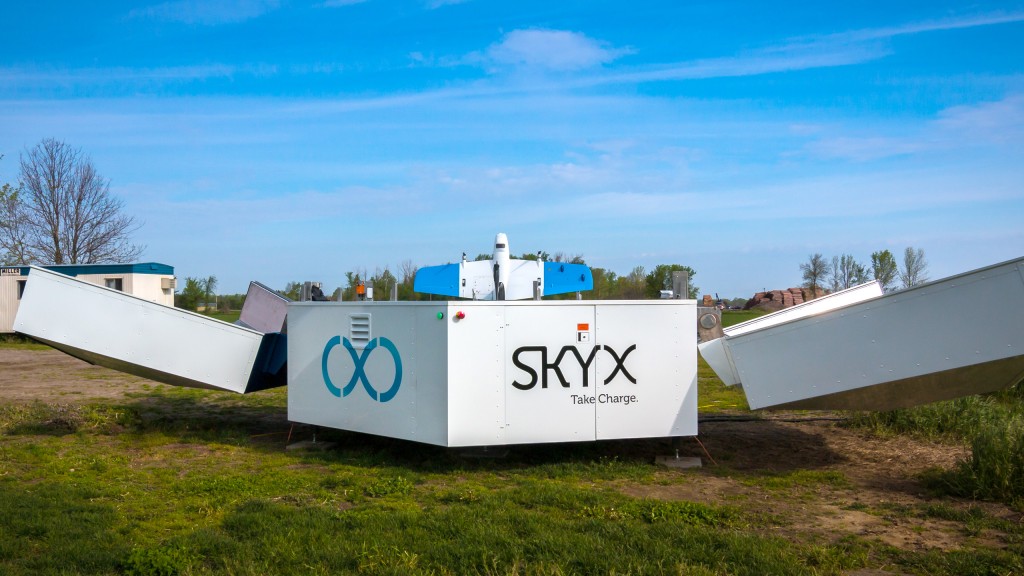 SkyX has installed its first production xStation, a unit that remotely recharges SkyX drones during missions. The xStation is a rugged, all-metal piece of engineering designed to allow the SkyOne drone to remotely recharge while monitoring long-range infrastructure, then continue its mission. By installing multiple xStations along a route, SkyOne can monitor assets like oil and gas pipelines or railroad tracks that stretch hundreds - even thousands - of kilometres.
According to SkyX, it is the only operational Unmanned Aerial Systems company to combine a fixed-wing VTOL aircraft with remote charging stations, giving it a distinct competitive advantage.
"I'm thrilled to see this successful milestone in the SkyX journey," says company CEO and founder Didi Horn. "I'm particularly proud because this unit was invented by our team. From conception to testing to patenting - this is a proprietary SkyX product. It is extremely exciting to see our product coming together as a full service to enhance the efficiency and safety of the oil and gas industry.
The xStation is one of the key differentiators that sets SkyX apart from other competitors in the unmanned world. In combination with the SkyOne Vertical Takeoff and Landing (VTOL) aircraft - which transitions to forward flight to take advantage of the efficiency of its lifting wing - the xStation means SkyX can provide an unmatched solution for long-range infrastructure monitoring and data acquisition. The Sky OS software ties everything together.
For clients, xStations are installed along the route. When algorithms tell SkyOne it's getting close to recharge time, the aircraft autonomously seeks out the next xStation instead of having to return to home base. The clamshell-like station roof opens automatically; SkyOne then transitions to vertical mode and descends like a helicopter onto the xStation landing pad. The roof closes, providing safe harbour while SkyOne recharges and performs a complete systems check before continuing on its mission.
It's a green, efficient and pain-free solution that allows clients, as the SkyX motto states, to "Take Charge."