Compact track loader provides rugged, high-performance results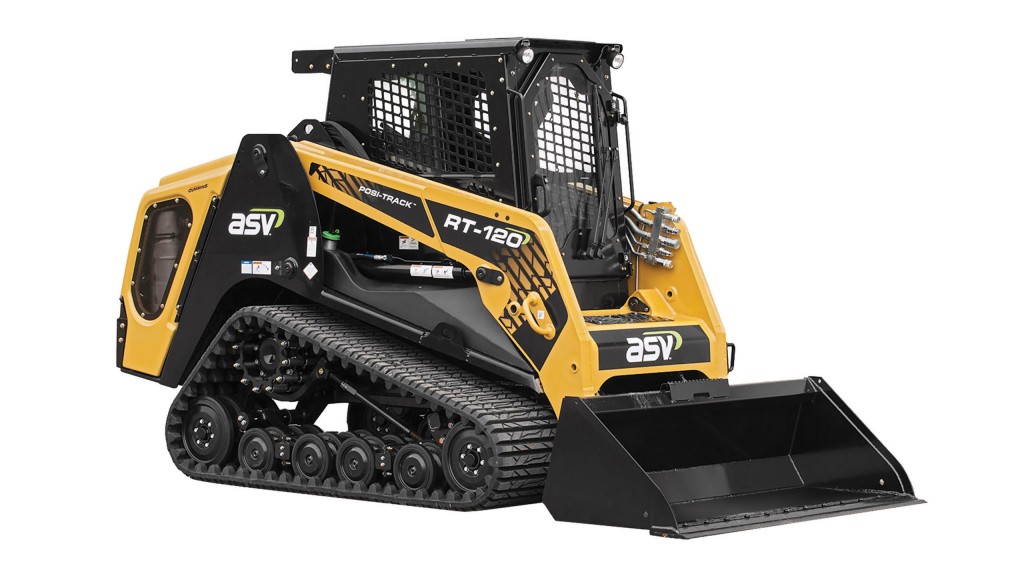 The rugged radial-lift Posi-Track RT-120 from ASV helps operators easily handle tough excavation, mulching and other challenging applications within the aggregates, construction, landscaping, agriculture, forestry and snow removal industries. The RT-120, like all ASV machines, includes superior serviceability, highly efficient hydraulics and innovative, high-capacity cooling systems. These features allow operators to handle the largest attachments for longer without bogging down or overheating. ASV's patented Posi-Track undercarriage provides versatility on all surfaces thanks to the industry's highest ground clearance, lowest ground pressure, best traction and longest track life.
ASV builds all its machines from the ground up, starting with the undercarriage. The RT-120 features the company's patented Posi-Track rubber-track suspension. The dual-level suspension — well known for its smooth ride — includes both suspended wheels and axles, allowing it to achieve faster speeds over all types of terrain. The fully-flexible track and suspended wheels conform to the ground, assuring maximum traction in the roughest conditions. In addition, the multiple wheel contact points and three guide lugs — compared to many machines with only one or two guide lugs — maximize performance on steep slopes. The RT-120 comes standard with 18-inch-wide tracks, resulting in a ground pressure of only 4.4 psi. Buyers can also choose optional 20-inch tracks. The features, combined with the RT-120's 15 inches of ground clearance, allow the unit to work in more places, on more days and more comfortably than competitive machines.
Over the past 10 years, ASV completely transformed its undercarriage from a closed design — similar to those used on competitive steel-embedded undercarriages — to an open-rail and drive-sprocket design. The result is increased sprocket and bogie life and an undercarriage that's easier and faster to clean. All rollers include mechanical face seals that don't require maintenance for the life of the machine. The tracks contain embedded co-polymer cords for extra strength and are produced using a single-cure process, eliminating cure-point weaknesses in the track that can lead to premature breakage. The result is a 1,500- to 2,000-hour track life — 30 percent more than steel-embedded track units. ASV backs that up with an industry-leading two-year, 1,500-hour track warranty.
A Cummins 3.8-litre, turbocharged diesel engine powers the RT-120. The 120-horsepower engine produces 360 foot-pounds of torque — about 8 percent more than the machine's 111-horsepower predecessor, the RT-110. The torque is transferred to the ground through direct-drive hydraulic motors. There is no need for servicing because the RT-120 does not use planetary drives, and highly efficient motors transfer maximum power to the patented internal-drive rollers. Internal rollers prevent friction loss in the undercarriage, allowing all power to be transferred to the track regardless of drive speed. The RT-120 achieves Tier 4 Final compliance using a diesel oxidation catalyst that, unlike DPF systems, requires no additional maintenance or replacement of filters. ASV designed the machine with serviceability in mind, giving operators easy access to the reliable Cummins engine through a three-panel hood and tilting cooler arrangement. The design, paired with sight gauges for both hydraulic oil and coolant, simplify routine inspections of filters, oil and normal service items. The rearward tilting cab provides easy accessibility when further service is required.
Company info
840 Lily Lane
Grand Rapids, MN
US, 55744

Website:
asvi.com
Phone number:
218-327-3434
Read more
Related products