Equipment design & data utilization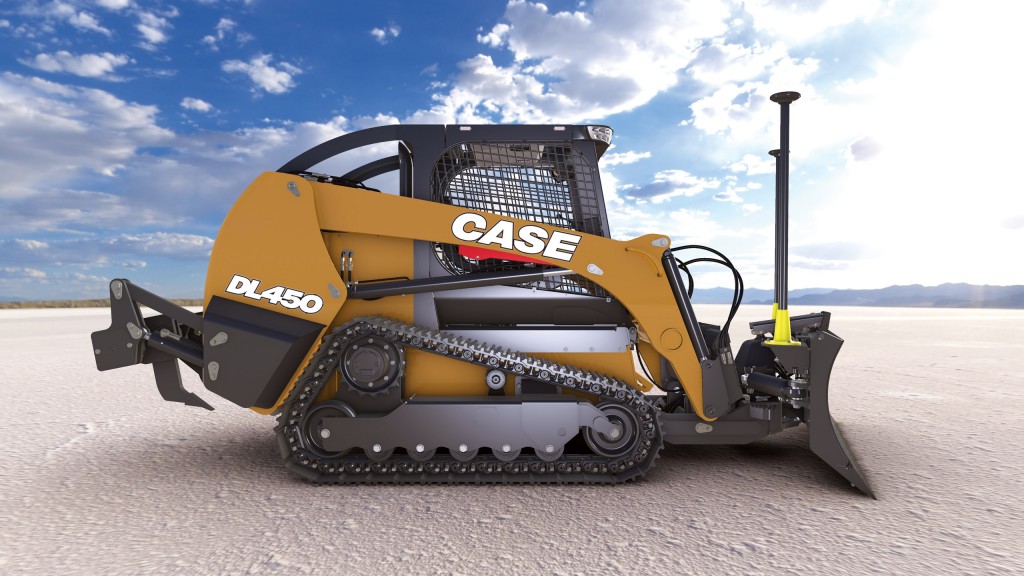 Among all the new machines at CONEXPO-CON/AGG 2017, there were some that stood out for their uniqueness. JCB surprised visitors with the launch of a new machine type, the Teleskid, reviewed in the Compact, Light & Rental section this issue. Some others include a combined dozer and compact track loader from Case Construction Equipment (top photo), John Deere and BMW's future vision for a backhoe loader (below), and a combined compact excavator and track loader from Mecalac, a European company expanding into North America.
There were many other equipment introductions at the show which you will find in this and upcoming issues of Heavy Equipment Guide.
Combination dozer and CTL
The DL450 compact dozer loader from Case Construction Equipment is a first-of-its-kind, fully integrated design that matches the best operating characteristics of a compact track loader (CTL) and a crawler dozer.
With more than 30 new patents pending, the DL450 provides the power and performance of a small dozer in a platform that also serves as a loader and runs all of the attachments that a contractor currently owns for their skid steers and compact track loaders. The core feature of the DL450 is a C-Frame dozer interface that pins directly into the chassis of the machine. This provides the stability and smooth operating plane of a CTL, and ensures that all operating power and stresses are channeled through the machine's chassis and not its loader arms. The C-Frame can be unpinned from the chassis and disconnected like any other attachment, allowing the machine to perform like a standard CTL.
"The problem with dozer attachments common with CTLs and skid steers - while effective in specific operations - is that they channel all operating stress through the coupler and the loader arms, and are really only suitable for groundline work," says John Dotto, brand marketing manager, CASE Construction Equipment. "This affects performance and adds wear/stress to those components. The operator gets true dozing performance with this machine - no arm float, a consistent plane and true 6-way blade performance through the machine's new controls."
The development of the DL450, known as Project Minotaur, is at an advanced stage but a launch/production date has not been confirmed.
Backhoe of the future
John Deere and Designworks, a BMW Group subsidiary, provided a first-hand look at a future vision for a backhoe. Called Fixstern ("fixed star" in German), it symbolizes a focal point for BMW's pioneering research and design, which leverages emerging materials and technology, such as a lightweight metal matrixed exoskeleton and a hybrid powertrain, to dramatically reconfigure the traditional backhoe.
The machine incorporates forward stabilizers, enabling an extended wheelbase with airless radial tires. This improves stability and allows for an expanded operator station, while electric four-wheel steering improves maneuverability in tight areas.
The backhoe is manufactured with intelligent, emerging, lightweight materials that help reduce dig component weight, which translates directly into increased payload. A combination of centre-mount and side-shift capability delivers versatility, while a backhoe "tuck" feature minimizes overall length for better on-road driving experience and a smaller parking footprint.
Unique excavator plus track loader
Mecalac has combined the features of a compact excavator and track loader in one machine, and equipped it with a unique, versatile boom. A simple selector switch lets the operator change from excavator mode to loader mode, and then back again.
The three models are the 6MCR, 8MCR and 10MCR with the model numbers designating approximate weight in tons. They can zip around job sites at speeds up to 6.2 mph, two to three times faster than a mini-excavator. In addition, they have high lift heights (for example, 16 feet on the 8MCR), a compact radius and 360-degree cab rotation while carrying up to 40 percent of their own weight. The unique kinematics of the boom, patented by Mecalac, allows it to fold back and tuck in tight to the machine. This provides the ability to work in extremely tight quarters, provides greater stability and lifting performance, and makes the machine highly compact for transporting.
The CONNECT attachments system means tools can be changed in a few seconds without leaving the cab.
Mecalac entered the U.S. market last year and plans to expand into Canada.

To get the most out of equipment and keep it running productively, manufacturers are making it easier than ever to use telematics.
Data drives informed decisions
"One of the best opportunities for a fleet manager to positively impact their bottom line is to use insights gained from telematics reports to make more informed decisions," said Jim Bretz, director, service and solutions at Volvo Construction Equipment.
To make this simpler for customers, Volvo has launched ActiveCare Direct in North America which provides 24/7 machine monitoring and fleet reporting direct from Volvo, in partnership with dealers. It is overseen by a team of data analysts at the company's new Uptime Center in Pennsylvania.
"When telematics programs first launched, they were inundating customers with fault codes that weren't always necessarily action-required codes," said Bretz. "It gave fleet managers and owners one more thing to do - pulling and deciphering multiple manufacturers' reports. We launched ActiveCare Direct to allow customers to reap all the rewards of a powerful telematics program, but without having to invest the time to analyze reports or decipher alarm codes."
Each month, Volvo generates consolidated fleet reports for the customer, focused on trends in machine utilization and operator behavior. Volvo dealers then work closely with their customers to identify opportunities for improvement.
The monthly report includes fleet utilization data that allows customers to view percentage work time versus idle time by individual machine, by machine type, and by month for historic reference and benchmarking. Reports also compare groups of machines as measured by average hours, average gallons used per hour, and average work and idle percentages. Instances of potential machine abuse are logged in order to identify needs for operator training. These instances include high shift speeds, hot turbo shutdowns, excessive speeds and more. Data is also captured for each individual machine in the fleet - including average gallons used per hour, work and idle percentages, gallons burned in idle, and hours until the next service.
These data points help Volvo, the dealer, and the customer work together to identify actions that can greatly impact profitability. For instance, idle time knowledge can help highlight the opportunity for reconfiguring a machine's path or placement on a jobsite, and consistent underutilization may highlight a need for an entirely different fleet configuration.
"By offering this from an OEM level, we're able to leverage all our technical support knowledge - our parts department and our engineering teams within Volvo - which gives this program added value," said Ryan White, connected service data analyst at Volvo Construction Equipment.
Raising productivity
Caterpillar has added Productivity Services to its portfolio of technology-enabled Cat Connect Services. It bolsters existing services from Cat and their dealers, such as Equipment Management and Safety Services, while helping customers further streamline operations, control costs and reduce risk. It includes seven key offerings.
Utilization Reporting presents performance data for a customer's asset over time by shift, workday or in aggregated fleet views, which shows trends and patterns.
In Geospatial Mapping, unmanned aerial vehicles (drones) capture high resolution images of a jobsite, which then allows specialized analytics software to measure productivity and even evaluate site setup and design.
Benchmark Assessments is provided by dealer experts who use their expertise, shared industry knowledge and assessments of a customer's asset or site operation to establish a baseline that can then be used to gauge future project successes.
Dealer consultants are used for Productivity Monitoring and Productivity Management services. The former relies on utilization data and site information to help customers meet their definition of success by maximizing the performance of assets and operators on a jobsite. The latter helps customers optimize their site designs, fleet strategies and equipment use to meet specific productivity targets.
Two names of the remaining two Productivity Services are self-explanatory: Operator Training and Site Efficiency Training.
Machine health
John Deere's Machine Health Monitoring Center is changing how the manufacturer and its dealers analyze data and proactively support customers through mainstream technology. A similarly named but dealer-driven component of this service is the Machine Monitoring Center.
Within the Machine Health Monitoring Center, specialists with a deep understanding of the equipment and expert analytical capabilities develop solutions that nourish the manufacturer's monitoring services by analyzing aggregated machine data, identifying trends that warrant a closer look and then developing new and improved preventative maintenance and repair protocols.