Improve your fleet management skills at The Work Truck Show 2013
Registration opens Oct. 8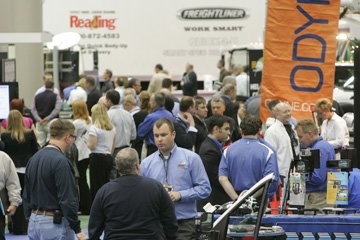 Fleet managers from all industries can learn techniques to improve their operations and themselves at The Work Truck Show 2013, North America's largest work truck event. It starts with the popular day-and-a-half Fleet Management Symposium on March 5-6, and continues through a selection of more than 60 intensive educational sessions covering critical industry topics including truck specification, fleet management and life-cycle costing.
The Work Truck Show 2013 is held at the Indiana Convention Center in Indianapolis, IN, March 6-8, 2013. Educational programming, including the Green Truck Summit and the Fleet Management Symposium, begins March 5. Registration opens Oct. 8 at www.ntea.com.
Offered exclusively to fleet managers, the Fleet Management Symposium focuses on best practices and strategies to dramatically improve fleet performance at all levels.
"Economists anticipate that the next five years will be similar to the last five years due to a number of factors, including low housing starts, high unemployment, tradesperson shortages, credit and bonding capacity crunches, Euro-Zone uncertainty and continued globalization," says presenter Kelly Walker, president of Kelly Walker Associates, (Morristown, NJ). "The Fleet Management Symposium is designed to help fleet managers through these difficult times."
Whether they operate a fleet of 10 or 10,000 vehicles, fleet managers attending the Symposium will learn how to:
• Reduce capital and operating budgets by 25 percent in 12 months.
• Apply 20 benchmarks with more than 100 performance measures.
• Apply 50 asset-funding options for vehicles and equipment.
• Implement new fuel, shop and parts management models.
• Cope effectively with skills shortages.
• Compute the 12-step fully loaded labor rate.
• Calculate optimum fleet staff levels using 18 benchmarks.
• Make optimum fleet business management decisions using a total lifecycle cost analysis.
All Symposium participants receive the FleetWhiz CD ($500 value) designed to help fleet managers make better, quicker and defensible management, purchasing and outsourcing decisions. It incorporates 36 textbooks covering 2,500 topics over 7,500 pages. They also receive the NTEA Vehicle Life-Cycle Cost Analysis CD ($89 value) that helps fleet managers evaluate vehicle acquisition cost scenarios. Additionally, registration for the Symposium includes admission to all remaining Work Truck Show 2013 concurrent educational sessions ($329 value) and the Work Truck Show exhibit hall, as well as lunch Tuesday through Thursday.
Led by Walker and Bob Johnson, NTEA fleet relations director, the Fleet Management Symposium runs from 9:00AM–4:00PM, Tuesday, March 5, and 9:00AM12:00PM on Wednesday, March 6. Advance registration is required.
Additional educational sessions specifically designed for fleet managers include: "Considerations for Developing Optimal Work Truck Body and Equipment Specifications"; "Critical Trailer and Towing Factors for Class 1-4 Trucks"; "Repair or Replace — Finding the Optimum Balance for Your Fleet"; "Establishing an Effective Fleet Replacement Program"; "Making Sure the Truck Chassis Matches the Job Requirements;" and "Is Your Powertrain Spec'd for Ideal Efficiency and Performance?" A full course schedule will be available at www.ntea.com/worktruckshow/schedule/ on Oct. 8.
Exclusive to The Work Truck Show 2013, 16 of the world's leading chassis manufacturers will provide detailed updates on what's new and upcoming with their product lines. The following OEMs are currently scheduled to present Chassis Update sessions: Chevrolet & GMC Commercial Truck; Daimler Vans USA LLC; Ford Commercial Truck; Freightliner Custom Chassis Corporation; Freightliner Trucks; Hino Trucks; International Truck; Isuzu Commercial Truck of America, Inc.; Kenworth Truck Company; Mack Trucks, Inc.; Mitsubishi Fuso Truck of America, Inc.; Nissan North America; Peterbilt Motors Company; Ram Commercial; Smith Electric Vehicles U.S. Corp.; and Western Star Trucks.
After class, Work Truck Show attendees can explore 500,000 square feet of the newest truck chassis, bodies, equipment and components from more than 550 exhibiting companies. It's a unique opportunity to interact with thousands of industry peers, meet with suppliers, and receive unprecedented technical support.
Produced annually by NTEA, The Work Truck Show brings together thousands of work truck professionals, including fleet managers, equipment buyers, maintenance personnel, manufacturers, distributors and dealers.