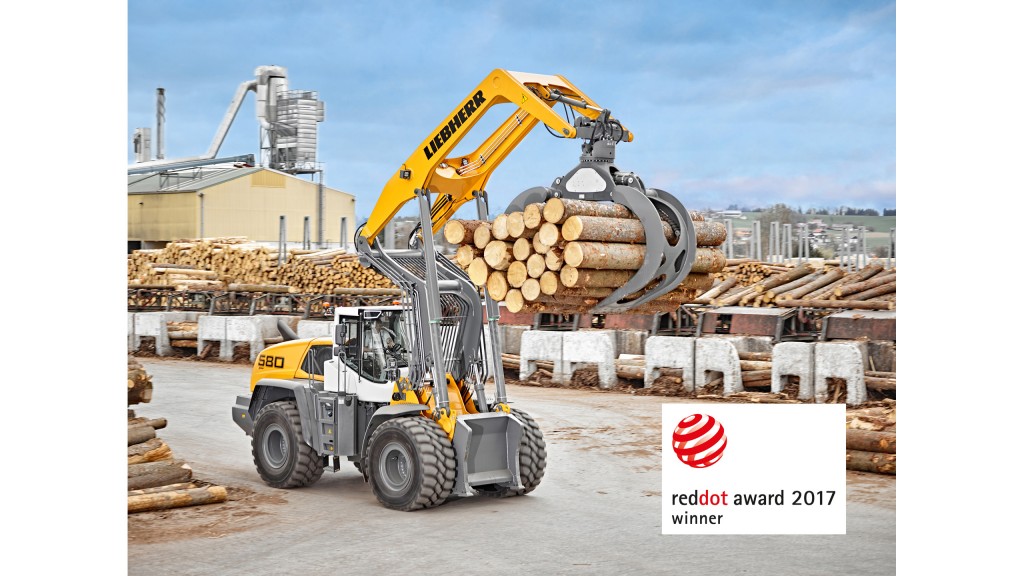 The Liebherr L 580 LogHandler XPower has won the 2017 Red Dot Award in the Product Design category. The jury of eminent experts was impressed by the distinctive lines and powerful lift arm of the L 580 LogHandler XPower.
The Red Dot Design Award is one of the most important international awards in the field of design. In 2017, participants from 54 nations registered about 5,500 products and inventions in the Red Dot award's Product Design category. The acclaimed international Red Dot jury only awards its coveted Red Dot seal to products that clearly stand out due to exceptional design.
The L 580 LogHandler XPower is a specialized log-handling machine. Based on the latest XPower large wheel loaders, Liebherr developed the design and technology needed to meet the specific requirements of the timber industry. The newly-developed hydraulic combi-grab has been designed to pick up logs with considerable ease and handle loads up to 8.7 tonnes. Liebherr's Smooth Speed Reduction system (SSR) also ensures safety and precision when handling logs. The Liebherr XPower driveline guarantees extreme fuel efficiency without sacrificing acceleration and driving speed.
The silhouette of the machine conveys a sense of power and reflects its dynamic driving characteristics. In addition, its compact design allows for easy access for maintenance work. The tapered engine hood and the generous amount of window space provide the driver with ideal visibility and increased safety near the wheel loader. A number of operations can be customized to create a comfortable working environment.
Company info
Related products