New GOMACO GP4 Slipform Paver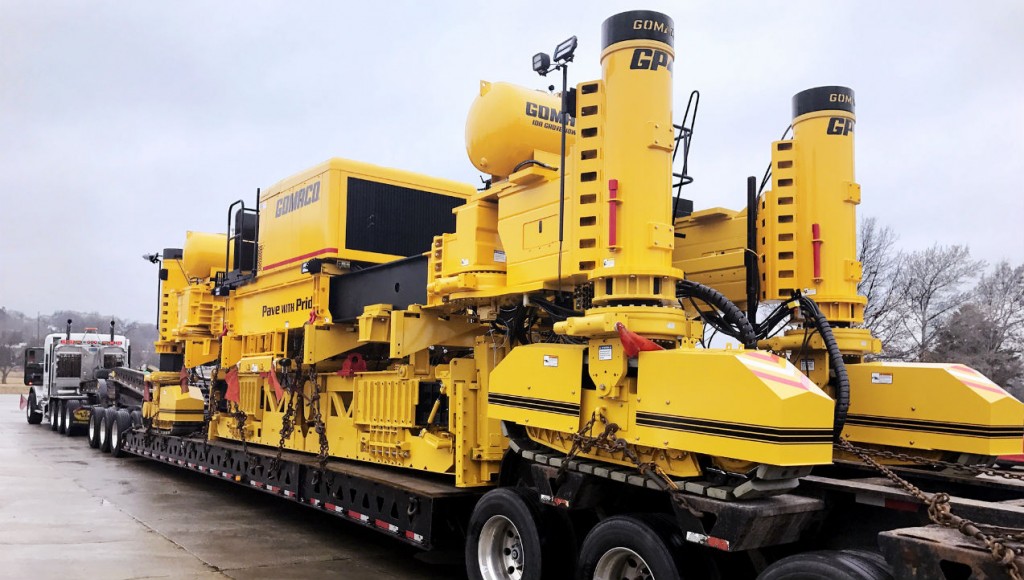 GOMACO successfully introduced the revolutionary GP3 slipform paver with the ability to pave up to 30 feet (9.1 m) wide last year at World of Concrete 2016. It was the first in a totally new line of GOMACO pavers with next generation technology and it has quickly earned the respect of concrete paving professionals. This year, at CONEXPO-CON/AGG 2017, GOMACO introduced the next paver in the series, the GP4, with the ability to pave up to 40 feet (12.2 m) wide. It features all of GOMACO's latest technology with a Smart Telescoping Frame, Smart Pivot Arms, Extreme Steering capabilities, and more. The GP4 was just one of 14 machines GOMACO had on display at CONEXPO-CON/AGG 2017.
The GP4 slipform paver has a dual-telescoping roller frame with Smart Cylinders and Smart Telescoping for accurate frame widening and automatic width reference for easy and accurate steering setup. The modular roller frame telescopes up to seven feet (2.1 m) on each side for a total of 14 feet (4.3 m) of telescoping ability. The GP4 paver is equipped with Smart Pivot Arms for leg positioning, as well as Smart Track Steering technology. It has Extreme Steering capabilities that work together with the paver's G+® control system, so G+ knows each track's location and position. The GP4 is easy to transport. The operator simply puts the paver into Transport Mode by driving the legs around to the transport position with the GP4's full-steer tracks and slew drives on the pivot arms. G+ travel is switched to "Transport" for complete control once the legs are in transport position.
G+ Connect allows all the smart accessories and guidance systems for the GOMACO paver to be easily interfaced. Simply "connect" a 3D guidance system, IDBI, tie bar inserter (TBI), power transition adjuster (PTA), GOMACO Smoothness Indicator (GSI®) and more to the GP4 slipform paver. The GP4 can also feature the latest in telematics and remote diagnostics.
GOMACO Remote Diagnostics (GRD) has been in use in the field now for some time, and was featured at CONEXPO-CON/AGG 2017. GRD is so much more than telematics, giving owners the visibility of how, when, and where their equipment is being used. It's a powerful extension to GOMACO's existing service capabilities. It allows technicians a diagnostic review of a GOMACO machine from their headquarters in Ida Grove, Iowa, USA, at the owner's shop, or on the job site. GRD will transmit G+ settings, configuration and fault history for an immediate and complete diagnosis. It also allows software updates, fleet management, service indicators and so much more.
GOMACO's complete line of equipment was represented at CONEXPO-CON/AGG 2017, including high-production sidewalk paving, the latest curb and gutter advancements and tight radii, bridge deck finishing technology, concrete placing and spreading, barrier and parapet applications, half-width and full-width paving, paving with automatic dowel bar insertion, 2D and 3D innovations, and more.
Company info
Related products