Potain Hup 40-30 Self Erecting Crane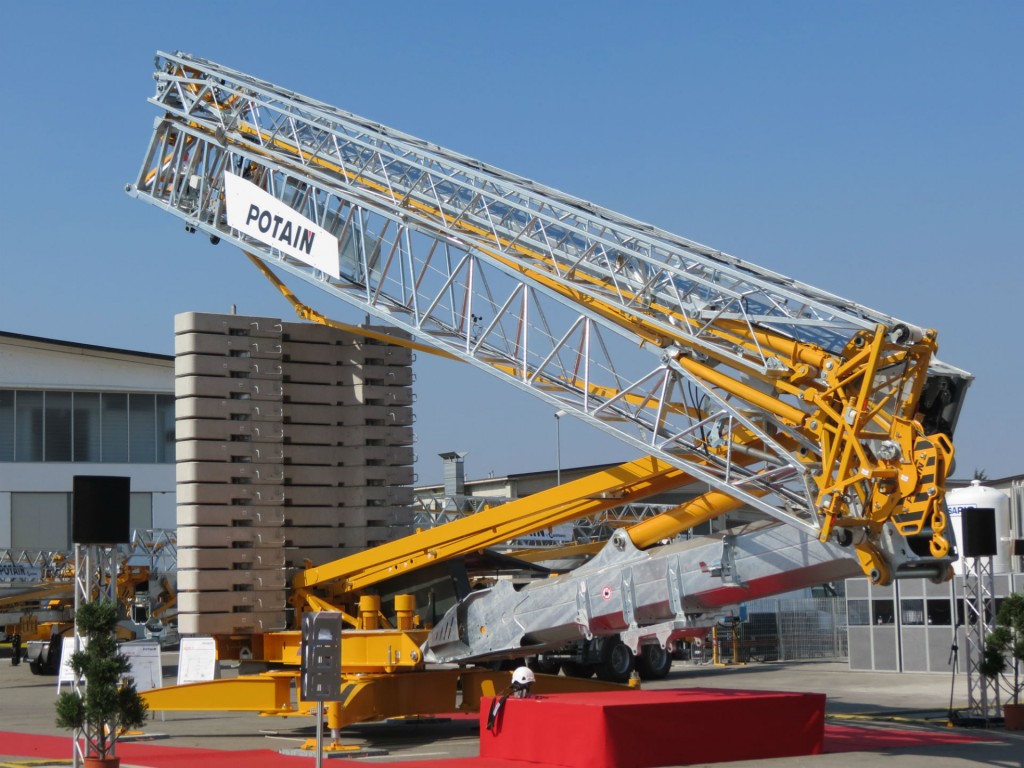 The PotainHup 40-30 self-erecting crane was first previewed as a prototype at Bauma 2016 in Munich, Germany, and officially launched at the Manitowoc factory in Niella Tanaro, Italy in September 2016, it was show in North America at CONEXPO 2017. The Hup 40-30 excels in both versatility and agility, with several configuration options, a high-performance slewing radius and the best transport package ever designed for a self-erecting crane. Its launch follows the introduction of the Hup 32-27 in mid-2016, and it becomes the second model in the innovative new Huprange.
Jean-Pierre Zaffiro, global product director for Potain self-erecting cranes at Manitowoc, said the Hup 40-30 represents a profound transformation in self-erecting crane technology. "Self-erecting crane development has reached a new level of advancement, and our new Hup 40-30 reflects these achievements," he explained. "Speed, efficiency, versatility and compactness have all been increased over previous generations."
The launch of the new Hup 40-30 in North America is significant, as companies in the region are discovering that self-erecting cranes are ideal alternatives too there lifting solutions on many job sites. For example, self-erecting cranes are easy to fit onto most job sites, don't require extensive ground preparation and don't damage job site terrain.
"The use of self-erecting cranes is growing in the region because there are several advantages to using these compact and versatile cranes," Zaffiro said. "Often companies save significant money when using them on a long-term project. And because the new Hup cranes are very versatile, customers can handle a wide range of projects with just one crane. We fully expect the use of the cranes to continue growing in North America."
Unmatched versatility
The Hup 40-30 has a 40 m jib (131 ft) and boasts 16 configurations, which is unique to this category of self-erecting cranes, enabling it to be easily adapted fora range of job site applications. The crane has a maximum capacity of 4 t (4.4USt), while it can lift 1 t (1.1 USt) at its jib end of 40 m (131 ft).
The crane features a telescopic mast for a range of working heights. This new design boosts the height under hook attainable by the crane to 25.6 m (84 ft)in its "low position," and 30 m (98 ft) when extended to its greatest height.The logistics are also improved, as no extra mast is required to install the crane.
Increased versatility is delivered with the crane's luffing jib that offers three positions: horizontal, 10° and 20°. These options give the crane a height under hook range of 20 m (65 ft) to 40 m (131 ft). Shortening or extending the jib isa swift and straightforward operation, with the Hup 40-30 offering convenient configurations for both short and long jib lengths. Agility on the job site was a key consideration in the design of the Hup range. The Hup 40-30 has a high-performance slewing radius that allows it to be positioned closer to buildings. A transport package that is only 14 m (46 ft) long when folded makes it extremely easy to move between job sites, enabling owners to complete more jobs in less time. "The flexibility and adaptability of the Hup 40-30 enables customers to cover a much wider range of job sites with a single self-erecting crane," Zaffiro explained."This is one of the key characteristics of the Hup range. We have designed these cranes so that customers can bid, win and complete a variety of projects with just one unit."
Easier operation
Operator efficiency on the Hup 40-30 is maximized through Manitowoc's remote control unit. The remote features a large, colour screen with easy-to-use navigation and optimized ergonomics for operator comfort. Its new Smart Set Up software delivers on-screen step-by-step information during crane erection and enables automatic folding and unfolding of the crane from its remote.
This new remote system also offers three selectable profiles for operators that vary the working speed of the crane to suit the application: "dynamic," for quick and easy lifting; "standard," for typical lifting applications; and "high precision," for precise load positioning.
The Hup 40-30's hoist unit features Potain's High Performance Lifting (HPL) technology that can deliver unparalleled lifting speeds on the job site. The crane is able to deliver this maximum speed as soon as it's configured on the job site, thanks to its standard four fall rope configuration. The crane's High Performance Slewing (HPS) technology enables load moment optimization, even as the crane swings. Integrated maintenance warning indicators also support crane maintenance throughout its life cycle.
Additionally,the Hup 40-30 features a new Power Control function that enables it to work on a variety of job sites. With this technology, the crane is able to operate via a wide range of power inputs, including from low-level power supplies. This means that the user may not have to provide additional power supplies, which could lower both the costs and preparation for many projects.
The new Potain Hup range replaces existing Igo models of self-erecting cranes, and deliveries of the Hup 40-30 will start in early 2017. "Significant research and development went into the design and engineering of the Hup 40-30,and extensive testing has ensured that this crane will usher in a new era of self-erecting crane technology," Zaffiro said. "This is The Manitowoc Way in action—we are delivering cranes that are generations ahead of the competition, but our focus is on the customer. With this crane the customer wins with efficiency, speed, versatility and return on investment."
Company info
Related products