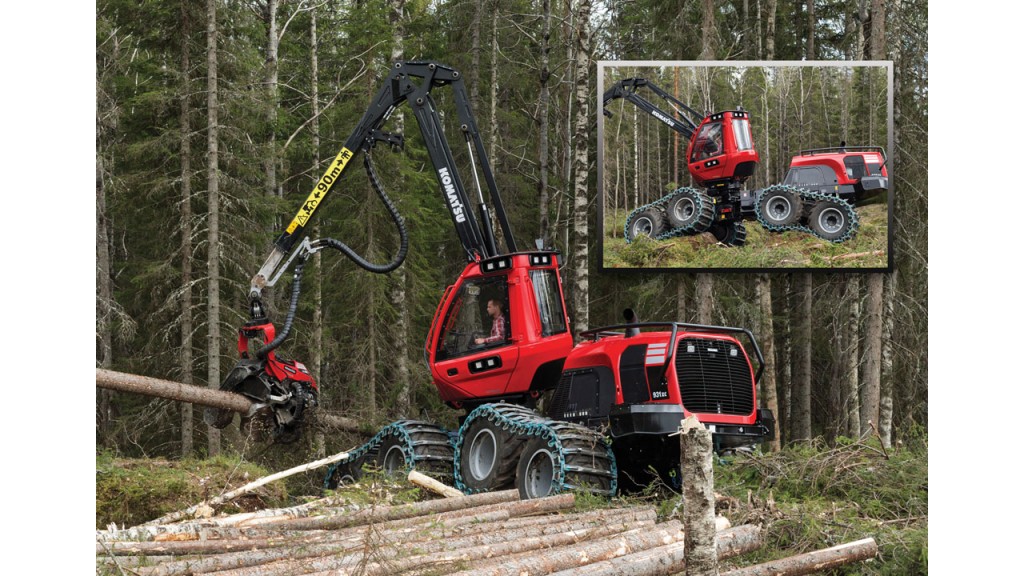 The new 931XC (Xtreme Conditions) 8WD harvester from Komatsu America Corp. delivers superior performance, productivity, operator comfort and convenience, and serviceability in steep, rough or soft terrain harvesting environments.
The Komatsu 931XC has all the features found in Komatsu's proven 931-6WD harvester platform, including the innovative, 3PS three-pump hydraulic system, best-in-class ergonomic cab, 4-way cab/crane leveling, and 360° cab/crane rotation. The Komatsu 931XC now sets the new standard for 8WD harvesters.
What sets the Komatsu 931XC apart from other 8WD harvesters is the unique drive system. The 931XC system starts with Komatsu's well-proven ± 40° articulated frame joint, rear swing axle with ± 16° left/right oscillation, and the high oscillation Komatsu Comfort Bogie front axle.
This trademark Komatsu Comfort Bogie axle is then added to the rear swing axle to provide excellent uphill/downhill and left/right oscillation. This exclusive "double Comfort Bogie" drive system gives the 931XC superior handling characteristics as the machine follows the terrain more closely than competitors' 8WD machines that have a fixed rear-axle design. This new 8WD system also generates 11% more tractive effort.
This new 8WD system dramatically reduces rear ground pressure: 54% lower psi with tracks and 23% lower psi with tires when compared to the 931-6WD model. Combining this unique 8WD system with increased ground clearance and 14% more crane slewing torque, the 931XC becomes an 8WD harvesting powerhouse capable of taking on challenging steep, rough or soft terrain.
The 931XC shares all the same market-leading features as the Komatsu 901, 911, 931 and 951 harvesters. This includes Komatsu's innovative, 3PS three-pump hydraulic system, which provides significantly higher hydraulic working flow at low engine speeds than other systems, for greater productivity and lower fuel consumption. One hydraulic pump and circuit is dedicated solely to the transmission for maneuvering the machine. The other two pumps are for the hydraulic working flow and are split into two circuits that can be operated separately or together, at different pressures, depending on the working function and oil requirements. This allows the operator to simultaneously slew, feed and maneuver for increased productivity. These hydraulic system interactions are
all automatically controlled by Komatsu's state-of-the-art MaxiXplorer control and information system.
Productivity and operator comfort is further enhanced by Komatsu's standard 360° cab/crane rotation and 4-way cab/crane leveling systems. The powerful 230H parallel crane is fast and easy to operate. In combination, these features maximize the size of the working area, enable harvesting more trees per stop, and keep the operator level, with a clear and unobstructed view to the harvesting head at all times.
The powerful, 251 net horsepower, EPA Tier 4 Final certified engine features high torque backup, high capacity cooling systems, low noise level and reduced fuel consumption. A system that heats the batteries, Diesel Exhaust Fluid (DEF), engine coolant and hydraulic oil, to facilitate cold-weather starting is standard.
Company info
Related products