Lubricant supplier expands distribution to include Newfoundland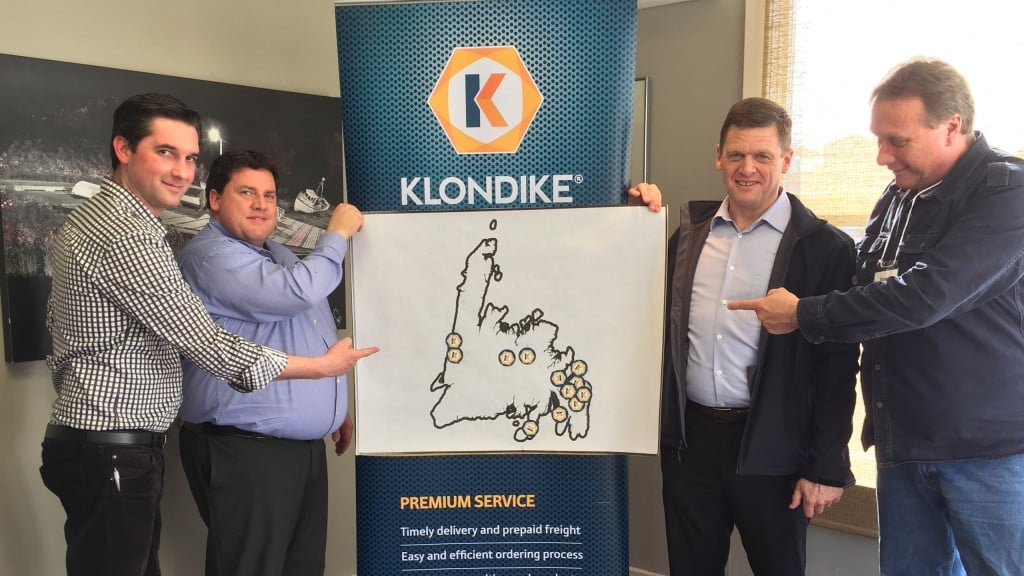 KLONDIKE Lubricants Corporation announced the expansion of their distribution network in Atlantic Canada to include Newfoundland. The company has been growing quickly from its West Coast origins, manufacturing and distributing OEM certified packaged and bulk oils, industrial lubricants and chemicals throughout the Canadian market, through warehousing and distribution centres in Edmonton, AB, Winnipeg, MB, Toronto, ON, and, most recently, Moncton, NB.
The company added its new distribution facility in Moncton in January, 2017 to meet the increasing demand for KLONDIKE lubricating oils and greases. The new warehousing centre immediately enabled faster delivery to dealers and customers in the Atlantic Provinces.
The KLONDIKE product range includes a wide range of formulations for most applications in any climate and condition. The product categories are heavy duty and automotive engine oils, gear lubricants, transmission fluids, hydraulic fluids, industrial and functional oils, greases, and chemicals. With over 270 oils, lubricants and chemicals, KLONDIKE is used every day in the agricultural, automotive, marine, mining and drilling, forestry, construction, road-building, and on-road and off-road transport industries.
"We have been truly excited and delighted by our initial introduction to the Atlantic region." said Brad Mitchell, VP of Sales & Marketing at KLONDIKE Lubricants. "We have met and worked with a dedicated and hard working distributor network that appreciates the KLONDIKE brand, and our technical advancements for the expanding industrial marketplace".
VP of Finance & Operations for KLONDIKE, Phil Jenner, added, "We have seen a significant uptick in orders and activity since opening up the Atlantic market. We were very impressed at how quickly the distributor network was up and running in the Maritimes, and we hope to emulate that same success in Newfoundland".