Cat D8T boasts productivity enhancing options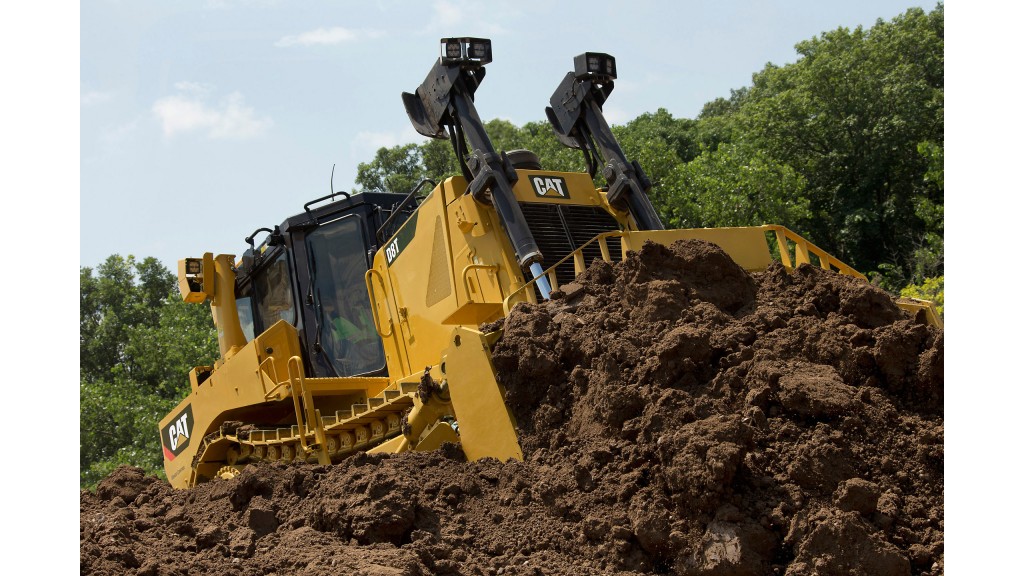 Providing legendary power and performance, the Cat D8T dozer has earned its extensive reputation for delivering unmatched productivity and high resale value. New productivity enhancing options, aimed at saving customers time and money, include a new, larger SU bulldozer blade, Performance Cutting Edges, Extended Life Undercarriage, Powered Bottom Guards and remote control COMMAND for Dozing.
A new, larger 13.4 yd3 (10.3 m3) Semi-U (SU) Blade delivers 19 percent more capacity over the standard D8T blade. The optional blade allows the bulldozer to move more material per pass for productivity gains up to 13 percent over the standard blade.
New patented Performance Cutting Edges deliver a cutting action that increases blade load mass by up to 25 percent, so the machine can move more material per pass. Offering easier material penetration in moderate rock or hard/frozen ground applications, these edges allow the dozer to work faster and more efficiently and reduce "skating" in difficult-to-penetrate materials. Performance cutting edges dig deeper and improve blade control, load retention and traction. Ripping can be reduced in some cases, and the on-plane system enables finish grading for added versatility. Interchangeable with traditional edges, Performance Cutting Edges offer equal wear life/life-cycle costs to standard cutting edges, with no mid-life edge flip or end bit replacement required.
To reduce maintenance downtime, enhance safety and facilitate machine clean-out, contractors can opt for Powered Bottom Guards on the underside of the D8T. After bolts are removed, the doors open hydraulically via a remote switch. The doors can be opened in the center for fast, easy debris clean-out, or from one side for full maintenance access.
New D8T dozers can now be ordered ready for remote control. Substantially increasing operator safety and productivity when working in applications with steep slopes or unstable surfaces, optional Cat Connect COMMAND for Dozing offers remote control machine operation. Choose an over-the-shoulder operator console for line-of-sight remote-control operation from up to 437.4 yd (400 m) away. Or, a remote operator station offers both line-of-sight and non-line-of-sight remote control operation.
A new, fully suspended Heavy Duty Extended Life Undercarriage provides D8T customers with an added option to reduce undercarriage costs, especially in high abrasion conditions. Heavier bushings provide 30 percent more wear life compared to standard bushings. The patented crowned Dura Link is hardened for long life and reduces idler scallop wear for improved ride after 50 percent link wear. Matching component life makes maintenance easier.
Company info
Related products
More from Earthmoving
A bottleneck of haulers waiting to be loaded is inefficient. Idle machines burn unnecessary fuel, increase maintenance costs and decrease resale values when you're ready to trade them in.
When you pair the new Volvo EC950F crawler excavator and A60H articulated hauler, you can load trucks faster. The EC950F can utilize a 10-yard bucket to fill a 60-ton capacity A60H in only four passes — reducing passes lowers fuel consumption and drastically speeds up cycle times to keep your haulers moving. See how the massive EC950F and A60H improve cycle times and more to boost your profitability.