Ariens produces 3 millionth Sno-Thro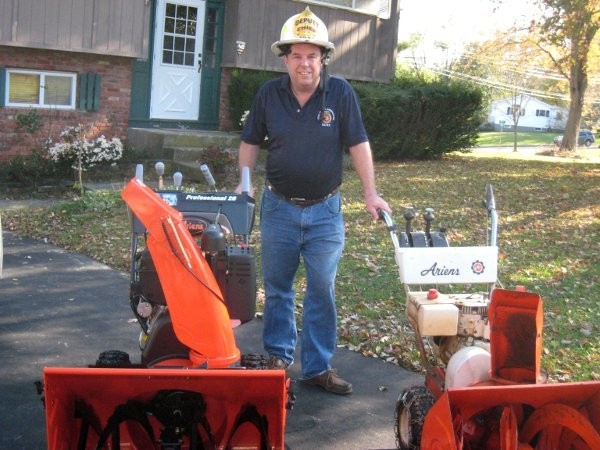 from an article by Emily Matesic (www.wbay.com)
The Ariens Company celebrated a major milestone in September when it rolled its 3,000,000th Sno-Thro off the manufacturing line. The three-millionth Ariens Sno-Thro wasn't the company's signature orange, instead, it is platinum in colour to signify its importance, taking 52 years to reach this point.
"You put pride and skill and dedication into your work, and that's why, that's why you've sold three million snow throwers and why you're going to continue to sell even more at a faster pace," Wisconsin Governor Scott Walker said.
During below-average snowfalls and downturns in the economy, Ariens officials say the company is always looking to the future to survive.
Dan Ariens, president and CEO, said, "When you get to the Ariens Company and what we're doing to rebound from the recession, it's been about innovating with new products. At a time when maybe you're pulling your shirt tails in, we were investing in product and production technique and technology and trying to use the down cycle to try and get more innovative inside our company as well as for our customers."
While Ariens credits innovative thinking for helping with the company's longevity, company officials say its employees add to its success.
"We're very proud of the people that work here at Ariens Company. We're in a small community, we're non-union, we think as one. I really that makes us work better together, and when times are tough we all ask each other what are we going to do to improve in this tough time?"
Ariens, which already employs about a thousand people in Brillion, Wisconsin, says the company is looking to hire about a hundred more people in the near future. ~
Sno-Thro updated Ariens Company announced earlier this year updates for the 2011-2012 line-up of Sno-Thro models, integrating more operator-friendly features, upgrading all models to a cast iron gear case and backing the products with a five-year warranty.
The Compact, Deluxe, Platinum and Pro Series Sno-Thro models feature new dash panels with a high-powered, blue-tinted LED halogen headlight for optimal visibility in snowy conditions. The steel-constructed machines also include new controls and touch points. Ergonomic joystick style knobs on the Quick Turn feature and tapered designed clutch paddles enhance user comfort. The gray-colored touch points are easier to see, enhancing usability, and soft-touch knobs on the chute deflector and speed control are also more user friendly.
A new commercial-duty cast iron gear case for the entire line-up provides durability and strength to withstand harsh conditions during winter storms. The case includes a top-fill feature which lengthens lubrication life and protects against leakage. Industry leading L-3 Synthetic gear lubricant gives superior film strength and reduces maintenance. The heavy-duty case does not contain a center split, preventing lubrication leakage.
The Compact, Deluxe and Platinum Sno-Thro model gear cases are covered by an industry-leading five-year limited warranty and the entire units are covered by a three-year limited consumer warranty and a one-year limited commercial warranty. The Professional Sno-Thro models feature a five-year limited gear case warranty and a three-year limited consumer and commercial warranty.
Additional updates include:
Compact Series:
· Remote chute deflector on Compact 24 model
· Compact 22 includes 208cc Ariens OHV engine by LCT®
· Compact 24 includes 205cc Ariens Polar Force engine by Briggs & Stratton®
Deluxe Series:
· All new Deluxe 24 model with 249cc Ariens Polar Force engine by Briggs & Stratton®
· Handwarmers on Deluxe 30 model
Platinum Series:
· Joystick-style Quick Turn knob
Professional Series:
· 120v Professional models include 420cc Ariens Polar Force Pro engine by Briggs & Stratton®, the largest in its class
· Two 12v models include 342cc Ariens Polar Force engine
· Joystick-style Quick Turn knob
Track Series:
· Includes two models – Deluxe Track 28 and Pro Track 28
· Pro Track 28 model includes 420cc Ariens Polar Force Pro engine by Briggs & Stratton®