Powerful mini skid steer handles variety of projects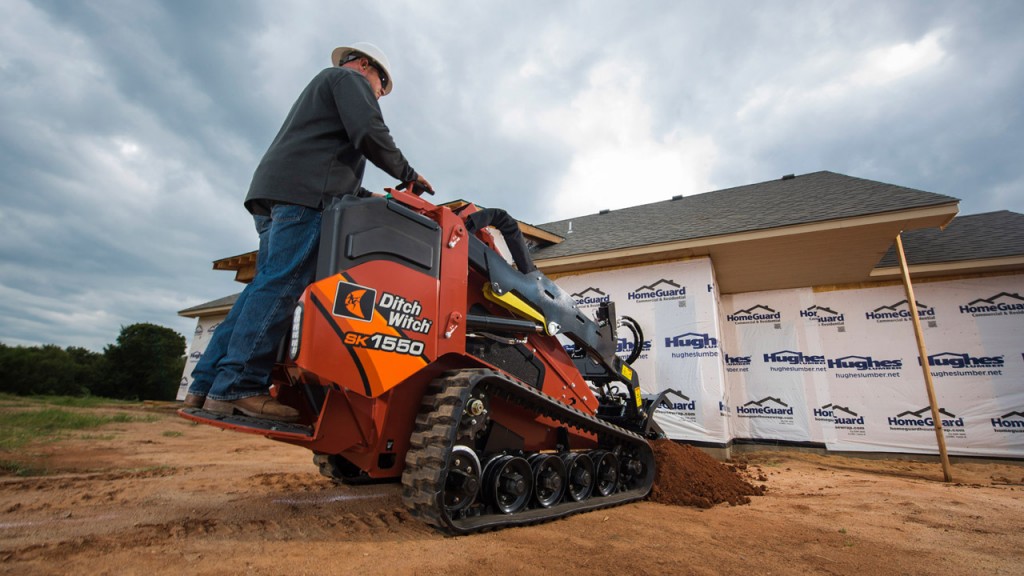 Designed to conquer a variety of complex landscape and irrigation projects, Ditch Witch, a Charles Machine Works Company, introduced the SK1550—the company's largest and most powerful mini skid steer model to date.
The SK1550 is powered by a 44-hp (32.8-kW) Tier 4 Yanmar diesel engine and directs 34.5 hp (25.7 kW) to the attachment, allowing the machine to complete tasks typically suited for traditional skid steer loaders, including tree handling and sod transfer. Equipped with an available auxiliary flow control with low, medium and high settings, operators can make adjustments to attachment flow and easily run attachments at their most efficient rate, regardless of the project.
"We continually listen to our customers and seek to expand our product lines to fill specific industry gaps and meet unique market needs, and the SK1550 does exactly that," said Chris Thompson, Ditch Witch product manager, compact equipment. "As the largest and most powerful mini skid steer in our lineup to date, the SK1550 helps operators tackle heavy-duty landscaping jobs efficiently with a smaller jobsite footprint than a traditional skid steer loader."
The machine offers a leading, 1,558-lb (708-kg) rated operating capacity to lift heavier loads—more than 50 percent higher capacity than all other mini skid steers in its size class. Equipped with a 94-inch (2.4-m) hinge-pin height, the SK1550 also provides operators flexibility for loading and unloading material on a wide range of dump sites.
The advanced and durable design provides the smoothest ride in the industry, with superior maneuverability and stability on rough terrains while carrying heavy loads. The SK1550 is equipped with a 4.7-mph (7.6-km/h) ground drive speed, in forward and reverse, for increased jobsite cycle times. Optional dual-auxiliary connections help operators utilize advanced attachments for better productivity when handling heavier loads, such as logs, trees and sod.
Company info
Related products
More from Light Equipment
A bottleneck of haulers waiting to be loaded is inefficient. Idle machines burn unnecessary fuel, increase maintenance costs and decrease resale values when you're ready to trade them in.
When you pair the new Volvo EC950F crawler excavator and A60H articulated hauler, you can load trucks faster. The EC950F can utilize a 10-yard bucket to fill a 60-ton capacity A60H in only four passes — reducing passes lowers fuel consumption and drastically speeds up cycle times to keep your haulers moving. See how the massive EC950F and A60H improve cycle times and more to boost your profitability.