​SNORKEL expands product line with new material lifts, telescopic mast lifts and telehandlers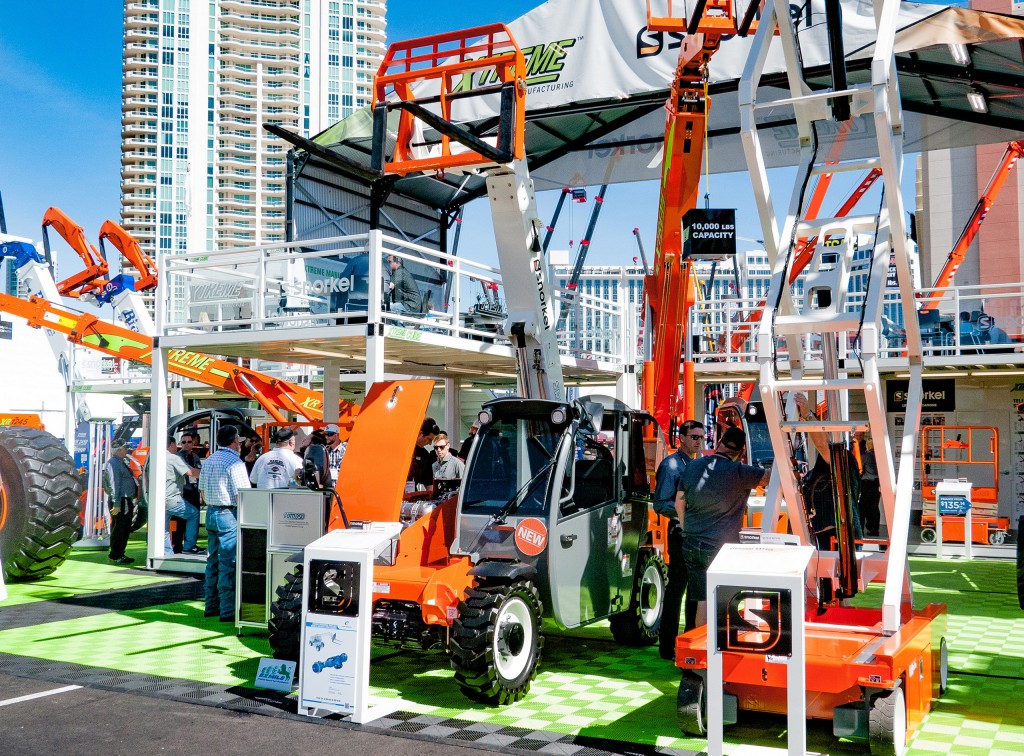 Snorkel, a leading global manufacturer of aerial lifts, unveiled a new line of six material lifts at ConExpo 2017, along with the first Snorkel telehandler and a new self-propelled telescopic mast lift. In addition, the company showcased a prototype electric drive slab scissor lift.

Following the introduction of the electric drive, 12-ft. (3.6m) self-propelled telescopic mast lift, TM12E, at The Rental Show 2017 at the end of February, Snorkel unveiled a 16-ft. (4.87m) version of the lift at ConExpo. The Snorkel TM16E features an efficient electric drive system that delivers longer duty cycles, a zero inside turning radius, and an electric braking system, consistent with the TM12E. Capable of lifting up to 500 lbs. (227kg) to a platform height of up to 16 ft. (4.87m), the TM16E includes a roll-out deck extension as standard, plus an upper control box with an integrated power to platform outlet, that is common with Snorkel's electric slab scissor lift family.

First Telehandler for Snorkel
At ConExpo 2017, Snorkel also unveiled its first ever telehandler. The Snorkel SR5519 can lift a load capacity of up to 5,500 lbs. (2,494kg) and can reach heights of up to 19-ft. (5.79m). Although designed to be competitive, the SR5519 is still rich on features, including a spacious cab and a large touchscreen interface in the cab for accessing load charts and manuals.
Snorkel Expands Product Line With Range of Material Lifts
Following the official launch at The Rental Show 2017, Snorkel showed off the Snorkel ML18C material lift at ConExpo, part of its new line of six material lifts. Delivering best-in-class load capacities, the new material lifts all feature a dual-handle, shift-on-the-fly, two-speed winch for increased productivity when lifting loads, up to twice as fast as other material lifts on the market.
Prototype Electric Drive Slab Scissor Lift
Providing a glimpse of what is still to come from Snorkel, the company displayed a prototype design of its next generation electric slab scissor lifts at ConExpo. The Snorkel S3019E is a brand new, ground-up design slab scissor lift, that features a low step-in height thanks to the sunken scissor stack that stows inside the chassis. The all-electric lift uses no hydraulic hoses, achieved through electric drive and electric steer. The Snorkel S3019E can lift up to 500 lbs. (227kg) to a platform height of up to 19 ft. (5.79m), and weighs in at 3,200 lbs (1,451kg).
Company info
Related products