John Deere Expands E-Series ADT Family With Addition of 260E and 310E Haulers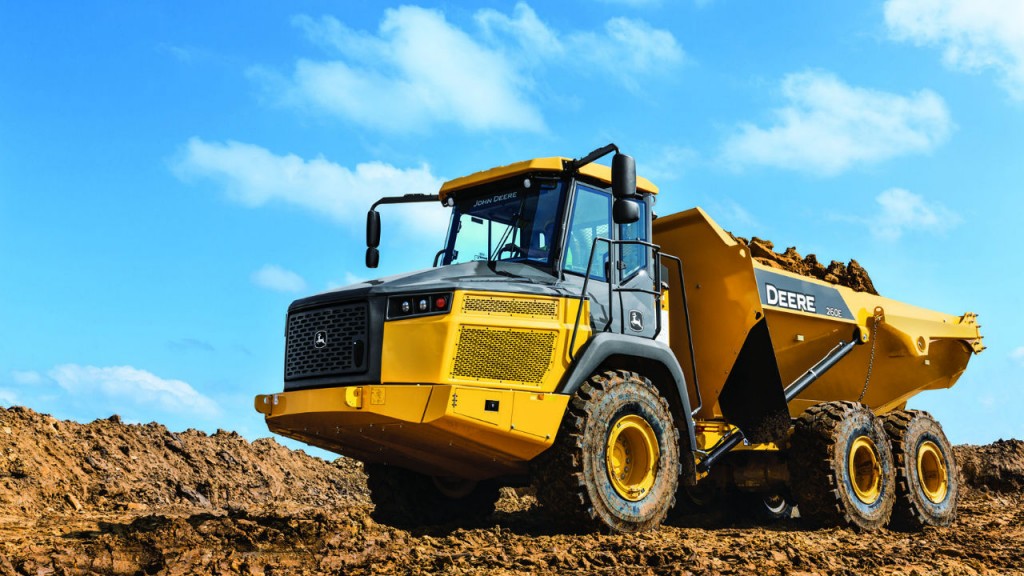 Taking performance, productivity and durability to the next level, John Deere introduces two new models to its articulated dump truck (ADT) lineup. The 260E and 310E are designed and built from the ground up in Davenport, Iowa, and they boast updated styling, new cabs, frames and axles compared to their D-Series predecessors.
"Our customers in the field expressed interest in the features that launched with the larger E-Series models — including increased hauling capacity; a larger, quieter cab; convenient ground-level daily service and increased travel speeds," said Maryanne Graves, ADT product marketing manager, John Deere Construction & Forestry. "We worked closely with road builders, site developers and the mining, quarry and aggregate segments to develop trucks that are purpose-built and feature the performance, productivity and durability they expect from a John Deere machine."
The 26-ton 260E (321 horsepower) and 31-ton 310E (354 horsepower) boast a John Deere PowerTech™ 9.0 Liter Final Tier 4 engine. A purpose-built ZF transmission includes a high-capacity retarder, eight forward gears and four reverse gears. Compared to previous models, these trucks have a 125 percent increase in retardation capacity. A new automatic differential lock provides both cross-axle differential lock and inter-axle differential lock options that can power the ADTs through soft underfoot conditions or steep terrains. In addition, the new John Deere hauler axles are designed for heavy-duty applications, and an optional cooling package is available for extreme conditions. The addition of hydraulically actuated wet disc brakes in all three axles provides the durability and uptime customers expect from an ADT.
The updated ADT models incorporate high-strength materials to provide durable, long-lasting structures while still keeping a strong focus on overall weight and distribution. The machines provide excellent power-to-weight ratios and hauling efficiencies. A newly designed stay-tight oscillation joint, standard adaptive front suspension and balanced weight distribution also provide the agility and ability to navigate hostile terrain. To minimize the risk of rollover while unloading, the dump body can be restricted from rising when the rear chassis exceeds a predetermined slope angle.
Inside the haulers, John Deere reduced decibel (dBA) levels by 50 percent with the addition of sound abatement and improved floor mat design, providing operators with a fatigue-resistant working environment. When in the operator's seat, the cab monitor provides an easy-to-read LCD screen with onboard diagnostics, digital gauges and vital system indicators. Two ergonomically positioned sealed switch modules simplify operation and convenience controls. The auto shutdown feature can turn off the engine after an owner-determined period of inactivity to help save fuel while reducing emissions, idle time operation and subsequent wear on the power train and hydraulics.
Operators will attain new levels of productivity with standard features, such as auto dump, descent control, shuttle shifting, hill hold and load assist. The 260E and 310E both feature centralized, true ground-level servicing to simplify daily maintenance and overall serviceability.
Fleet managers looking to get the most out of their 260E and 310E can rely on their John Deere dealers to provide Ultimate Uptime, featuring John Deere WorkSight. With Ultimate Uptime, owners receive predelivery and follow-up inspections that include five years of JDLink™ telematics, machine health prognostics, remote diagnostics, programming capabilities and the ability to add dealer-provided uptime solutions to a customized package.
Company info
Related products