John Deere 30G to Make Sizeable Impact on Compact Excavator Line-up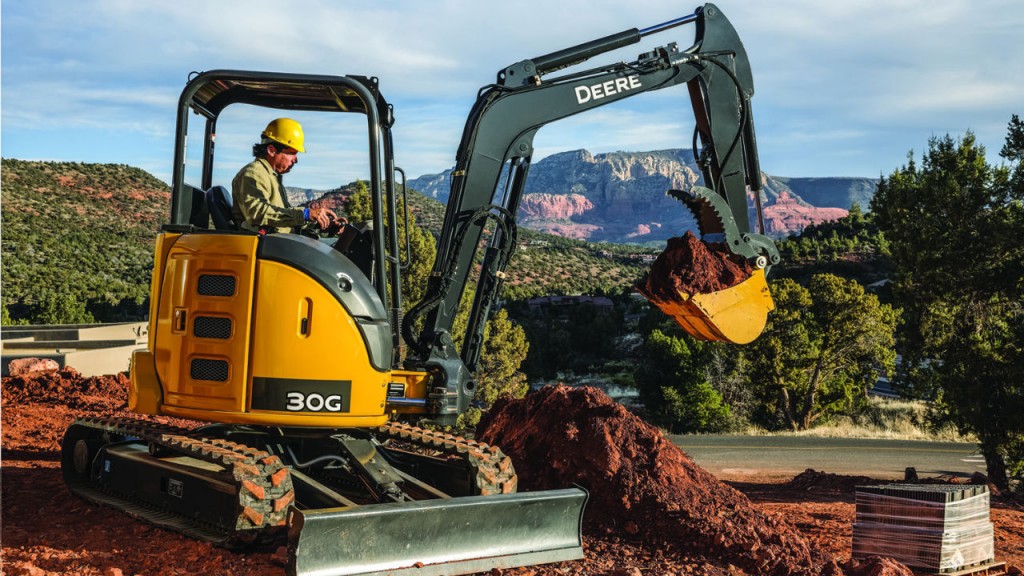 John Deere continues to upgrade its G-Series excavator lineup with the introduction of the 30G compact excavator, filling a portfolio gap for customers looking for a solution in the three to four metric ton class. This new model will offer numerous outstanding performance features, such as increased lift capacity and improved breakout forces. The 30G will also incorporate all current G-Series features — including the standard pattern changer and standard hand-controlled proportional auxiliary hydraulics — as well as the reliability and durability customers expect from John Deere.
"The compact excavator market continues to grow, and John Deere is growing with it," said Mark Wall, product marketing manager, excavators, John Deere Construction & Forestry. "With each new addition to the G-Series lineup, our goal remains the same — responding to customer demand for excavating equipment that can fit in small spaces, without sacrificing the power of larger-scale models. Over the years, John Deere has worked to improve the muscle, control and productivity in each new model, and the 30G is the perfect complement to meet the varying performance needs of our customers."
The 30G will provide customers with an additional model in the popular three to four metric ton size class of compact excavators. It also provides an updated model to the 27D with similar, albeit improved operation specifications and features, such as:
• A 22 percent increase in bucket force (compared to 27D)
• An 11 percent increase in arm force (compared to 27D and 26G)
• A 17 percent increase in net engine horsepower (compared to 26G) without the use of aftertreatment (similar to 26G)
• A 16 percent increase in auxiliary hydraulic flow (compared to 27D) and a 32 percent increase compared to 26G
• A nine-foot, two-inch dig depth, which is an eight-inch increase (compared to 27D and 26G)
To provide better return on investment and higher utilization, the 30G will utilize 27D/26G buckets and attachments that customers may already be using in their fleet. The 30G will come equipped with all the standard G-Series features customers have come to expect, including mechanical pattern changers, quick couplers and proportional auxiliary hydraulics plumbed to the end of the boom. The 30G also utilizes many components that are common to the 35G. This will simplify parts tracking and maintenance as well as provide the reliability and durability John Deere excavators have already demonstrated in the market.
The new compact model features a redesigned cab with heat and air-conditioning for ultimate operator comfort in any climate. Within the operator station, a new seat with adjustable wrist rests for daylong comfort was added, and a suspension seat is standard. The foldable travel pedals are positioned to provide efficient operation by maximizing foot room and providing low-effort pilot controls that deliver exceptionally smooth, combined-function performance.
Like other G-Series models, the 30G has several features for increased uptime. John Deere included a third service door to provide improved access to the cooling core and other daily checkpoints. The cores were positioned side by side rather than being stacked inline to permit easier access. Extended fluid and lubrication intervals and sight gauges help keep maintenance and expenses at a minimum. The absence of aftertreatment to meet emissions regulations provides continued operation without interruption.
Those operators looking to expand their equipment utilization, as well as their bottom line, can look no further than John Deere's Worksite Pro™ attachments. A manual wedge-style quick-coupler speeds switchover, going from buckets to other attachments in minutes.
Company info
Related products