Generac XC Professional Series portable generators built to take a beating on the jobsite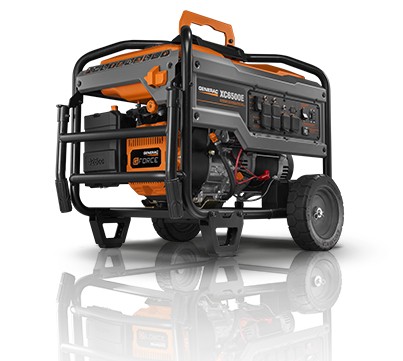 Construction sites are tough places. That's why Generac Power Systems designed the new XC Professional Series for the most extreme environments.
"Construction sites are hard on a generators," said Jeffrey Magedanz, marketing manager, Generac Power Systems. "The generators run longer. They get knocked around more, so they need to be tough. What's more, they need to be moved easily around the jobsite – both by hand and with material handling equipment. We challenged our engineers to create a portable generator tough enough to meet the demands of the hardest working pros in America."
The result is Generac's new XC Professional Series 6500- and 8000-watt portable generators, which the company unveiled at CONEXPO.
At the heart of the XC Professional Series is Generac's new 426 cc G-Force engine. This engine utilizes full pressure lubrication, reducing engine component wear for longer life. The engine's full-response air intake and targeted heat dispersal design ensure effective cooling, optimizing the G-Force engine for extended generator use on construction sites.
The XC models feature a heavy-duty, fully wrapped, 12-gauge steel tube X Frame that protects the engine, alternator and fuel tank from damage on unforgiving jobsites. "Construction professionals told us that making the generator easy for a telehandler to lift would be a real benefit on the jobsite," Magedanz said.
Instead of a lifting eye that is susceptible to slipping, the XC Professional Series units offer a steel lifting pocket that is designed to fit most forklift and telehandler blades. The steel lifting pocket makes it easier to lift and transport the generator on a construction site. Additionally, the impact-resistant fuel tank design features recessed tank edges and a dedicated rocker zone that allows the generator to sway as it is transported by a forklift or telehandler without damaging the unit. For manual transport, the dual-grip folding handle offers a locking mechanism that can be operated with one hand, while never-flat wheels with steel hubs make transport around the job site easy and efficient.
"Hard work means wearing gloves, so every touchpoint on the gen-set – the fuel valve, choke lever and rocker switches, for example – is oversized so that they can be easily operated when wearing work gloves," Magedanz said.
Safety is always a priority. The generator's Occupational Safety and Health Administration (OSHA)-compliant control panel features full-panel ground fault circuit interrupter (GFCI) protection. Covered outlets protect the control panel from dirt as well as the elements. Idle control conserves fuel and reduces noise.
To ease on-site serviceability, routine maintenance items, such as filters and spark plugs, are accessible without removing the fuel tank or the side panels. A service decal lists the most common service parts necessary for routine maintenance, so there are no questions on the construction site and no unexpected downtime.