John Deere 844K Series-III and 844K Series-III Aggregate Handler Configuration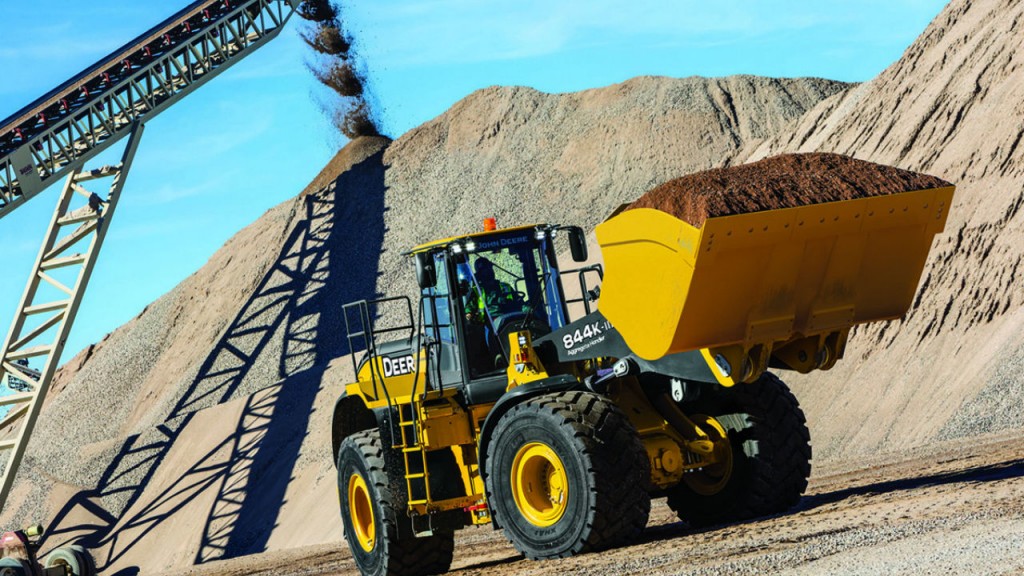 A pillar in mining and quarrying operations, the John Deere wheel loader family welcomes the addition of the 844K Series-III and the 844K Series-III Aggregate Handler configuration.

"The 844K-III is designed to take on the toughest aggregate and material-moving applications in the world. We worked closely with our customers to design these productive machines to be even more rugged and reliable," said John Chesterman, product marketing manager, production class four-wheel drive loaders, John Deere Construction & Forestry. "The Aggregate Handler configuration of the 844K-III can load out 24 short tons of non-heaping, lower-density processed matter in just two passes into on-road dump trucks. Heavier heaping materials achieving 12-plus tons is not a problem."

The new wheel loaders offer a 13.5-litre John Deere PowerTech Final Tier 4 diesel engine that delivers exceptional power at 380 horsepower for the 844K-III and 401 horsepower for the Aggregate Handler configuration. The models are equipped with a standard five-speed transmission with torque-converter lockup in gears two through five. This feature increases acceleration, speeds and cycles, and optimizes power and fuel efficiency during transport, roading, and ramp climbing.

Other Series-III updates include more robust plumbing with additional bulkheads, which improves service and uptime by minimizing hose rubs. Over three dozen steel tubes replace 81 feet of hoses.

The Aggregate Handler configuration is purpose built for two-pass loading with increased power, larger tilt cylinders, higher hydraulic pressure and increased counterweighing to handle bigger material-handling buckets (9.3 or 9.8 cubic yards), reduce fill time in processed aggregates and ultimately conserve fuel in applications. New performance buckets boast a narrower integrated spill guard and curved side cutters to improve load visibility and load retention. The Aggregate Handler option cuts loading time by 30 percent, reducing fuel consumption by eliminating that third pass.

The new models retain everything the industry values about the K-Series, including the Quad-Cool System with reversing fan, which provides wide-open access to both sides of the coolers for easy cleanout. John Deere's exclusive, integrated tire monitoring system reports pressures and temperatures clearly on the monitor and remotely through JDLink Ultimate. This information helps reduce tire wear and expensive replacement.

In the operator station, standard productivity-enhancing features include joystick steering with integral forward/neutral/reverse, advanced LCD colour monitor, sealed-switch module, ride control and hydraulic controls integrated into the deluxe heated seat.
Company info
Related products