John Deere unveils next generation engine to set new industry standard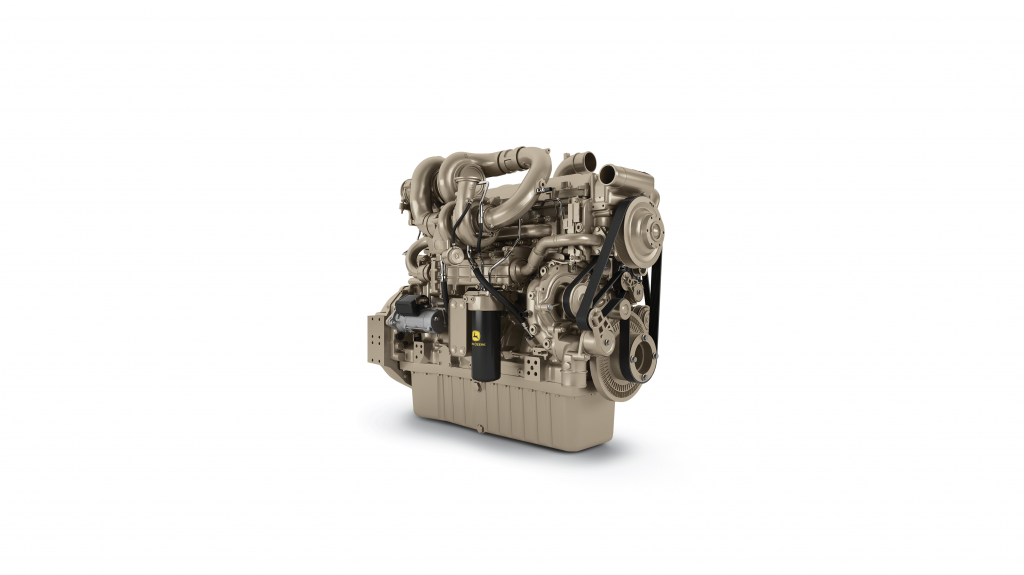 John Deere Power Systems revealed its new 13.6L engine, the first of its next generation engines, at the 2017 CONEXPO-CON/AGG trade show. The engine is designed to meet the future needs of global markets by offering customers increased efficiency, installation flexibility and power in a more compact package.
As a leader in the design and manufacture of engines for off-highway applications, John Deere developed the 13.6L engine to meet the needs of both its internal applications and global OEMs. "Our engineers developed the new 13.6L engine to meet the power and packaging needs for a wide array of heavy-duty applications," said John Piasecki, director of marketing, sales and customer support for John Deere Power Systems.
"The 13.6L engine demonstrates our ongoing commitment to recognizing and exceeding our customer's expectations. John Deere dedicated extensive internal resources to the cleansheet design of this engine to provide our customers with a power solution that surpasses standards in reliability and durability," added Piasecki.
John Deere has long been recognized as an industry leader in fluid economy in the off-highway industrial engine market, and the 13.6L engine continues this tradition. Equipped with an integrated high-pressure common-rail fuel system, the 13.6L engine offers an impressive reduction in diesel fuel consumption at rated speed. In addition, diesel exhaust fluid (DEF) consumption has been reduced through design enhancements that improved the combustion process resulting in an engine that offers world-class fluid economy.
John Deere made it a goal to increase the power of the 13.6L engine, but not the size, so it could offer customers a simpler, more compact package. The 13.6L engine offers a significant reduction in size and weight compared to other engines in this power range.
The 13.6L engine offers a maximum variable speed power rating over 500 kW (684 hp) and employs the same proven technologies as other engines in the John Deere lineup, particularly full-authority electronic controls, cooled exhaust gas recirculation (EGR) and a high-pressure common-rail fuel system. Single and dual turbocharger configurations offer OEM customers improved packaging and greater application flexibility. "These technologies are the key to our ability to meet emission requirements and still live up to our customers' power and packaging expectations," said Piasecki.
Equipped with a rear gear train, the 13.6L engine offers a reduction in noise compared to previous models, combining robust power with exceptionally smooth, quiet operation. John Deere engineers were also able to enhance operational flexibility. The 13.6L engine offers full power from the front and rear of the engine while providing the capability to add more pumps with an integrated power take-off (PTO). It comes with multiple aux drive
connections and is available in single and dual turbo configurations to maximize packaging flexibility.
Cost and ease of maintenance are also enhanced, with improvements in service cost and hours between servicing intervals. The 13.6L engine was designed with hydraulic lash adjusters (HLA) to offer optimum valve train performance, less noise and lower wear, while all but eliminating valve lash maintenance.
John Deere plans to offer two Integrated Emissions Control system sizes for the 13.6L engine, which can be mounted horizontally or vertically, providing greater packaging and integration flexibility to OEM customers. The inline packaging also provides improved integration, reduced connection points, resulting in robust thermal management. In addition, John Deere plans to offer future Integrated Emissions Control system configurations for the engine to help OEM customers meet different levels of global emissions standards.
Piasecki said John Deere is fully committed to supporting its customers around the world with solutions to meet their unique needs. "OEMs, regardless of location, are best served through timely and strategic preparation, and John Deere is ready to help them meet the increasingly challenging machine design goals they face."
The 13.6L engine will be manufactured at the John Deere Engine Works plant in Waterloo, Iowa. Production of the 13.6L is planned to begin in 2020.
Company info
Related products