Manitowoc GRT655 rough-terrain crane with four-section, full-power boom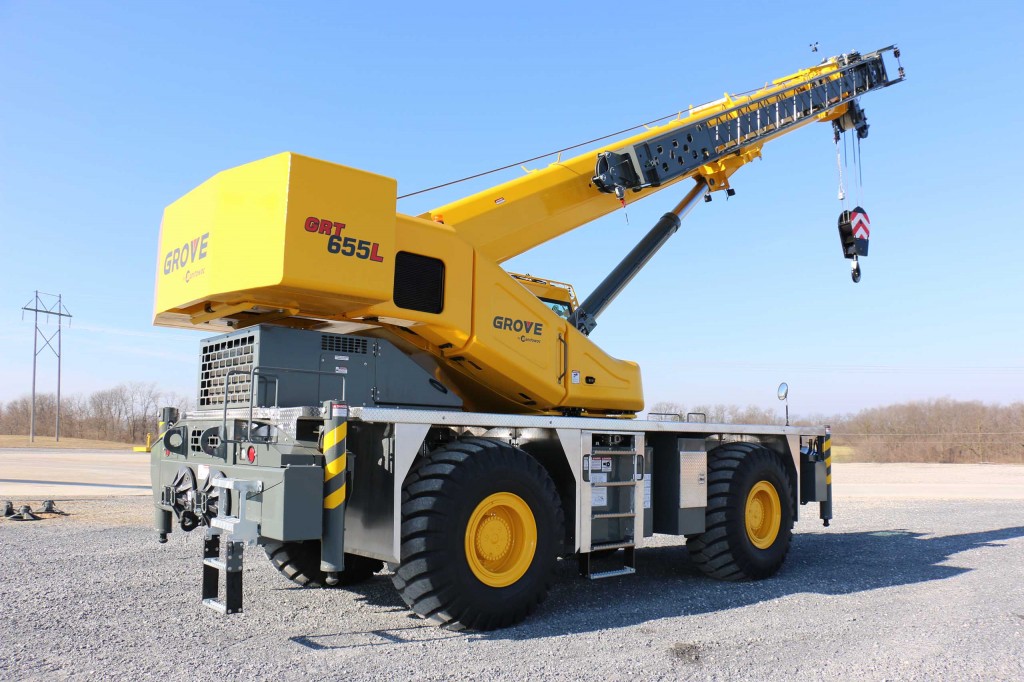 The Grove GRT655 is the latest update to Manitowoc's range of next-generation rough-terrain cranes and has a host of features that will help companies increase efficiency and return on investment.
The GRT655 is ideal for rental customers who require a reliable, general purpose rough-terrain crane in the 50 t (55 USt) class. The exceptional chart capacities, maneuverability and longer main boom length of the GRT655 – combined with its 3 x 12.8 m (9.83 x 41.9 ft) footprint – make it ideal for rental houses where versatility and flexibility are at a premium.
Manitowoc designed the crane based on extensive voice-of-the-customer research, which involved in-depth discussions with rental companies, owners and end-users.
Paul Cutchall, product manager for rough-terrain cranes at Manitowoc, said the GRT655 represents advances in Grove technology, along with several features that have been developed specifically in response to customer demand.
"We have loaded the GRT655 with features that companies usually see on cranes in larger capacity classes," he explained. "This will help lifters to bid for and complete more jobs with a single crane, increasing both their capabilities and return on investment in the crane."
Leading-edge features
The GRT655 is a 50 t (55 USt) capacity crane that features a 34.8 m (114.3 ft) four-section, full-power boom. As an added benefit to customers, the boom is greaseless, which helps reduce maintenance costs. The bottom wear pads that support the boom sections consist of a continuous, flexible sheet of oil-impregnated pad material and are arranged in a segmented, "Kit-Kat" style, providing greater support than previous boom designs.
The long-boom version of the crane, the GRT655L, is on display at Manitowoc's CONEXPO booth, and it boasts a 43 m (141.2 ft) five-section, greaseless boom, giving it a reach advantage of 8.32 m (27.3 ft) over the closest competing model. This longer boom gives it a maximum working radius of 36 m (120 ft), and a 3 percent greater chart capacity than competing cranes at that radius. Both the GRT655 and GRT655L offer up to 12 percent stronger chart capacities than competing cranes in this class, further reinforcing the cranes' strength for the rental market.
As a standard feature on both the GRT655 and GRT655L will be polymer outrigger pads that are nearly 50 percent lighter than traditional steel pads. The decreased weight – 15 kg (33 lbs) per polymer pad compared with 26 kg (58 lbs) per steel pad – will enable crane operators to stow the pads more easily, saving time and effort on the jobsite.
Innovative smart-length-sensing extension cylinders are used to monitor the crane's outrigger beam positions, which gives the GRT655 an edge over competing rough-terrains that depend on traditional string pots. The sensor technology in each cylinder enables operators to get an accurate, repeatable measurement during outrigger deployment. It's a new benchmark for reliability, made possible by enhanced life cycle testing.
Adding to the crane's value is its best-in-class hoisting capabilities. The GRT655 offers equal line pull on both the main and auxiliary hoist, allowing for a maximum first layer pull of 7,556 kg (16,658 lbs), a 16 percent increase over the nearest competing crane. Increased line pull capacities equate to fewer segments of line required to lift loads, which keeps expenses low and productivity high on the jobsite.
The GRT655 runs on a Cummins QSB 6.7 L diesel engine that delivers 164 bhp and complies with all EPA Tier 4F emission standards. Dual calipers on both front drive hubs come standard to improve braking, while remote-mounted oil filters and easy-access transmission filters help to speed up routine maintenance. The crane has a GVW of only 36,004 kg (79,376 lbs), which keeps transport costs low, increasing its appeal to rental houses across all regions.
Comfort and efficiency come standard
The GRT655 is the only 50 t (55 USt) rough-terrain crane on the market with a 20-degree tilting cab, offering operators maximum comfort and convenience. Other significant cab improvements over previous generations include an updated heating and cooling system, and an improved door design that provides 8.25 cm (3.25 in) of additional width for improved ingress and egress of the cab when the door is opened.
Manitowoc's Crane Control System (CCS) comes standard on the GRT655. CCS improves operator familiarity for lifting companies since the same ergonomic controls and intuitive displays are used across many of Manitowoc's cranes. It also improves parts and maintenance needs, with components working across several crane ranges. Other CCS features include an ECO function that has been designed to reduce fuel consumption and engine noise, as well as a Working Range Limiter that benefits operators by delivering real-time lift parameters that are easily read onscreen.
Company info
Related products
Related Articles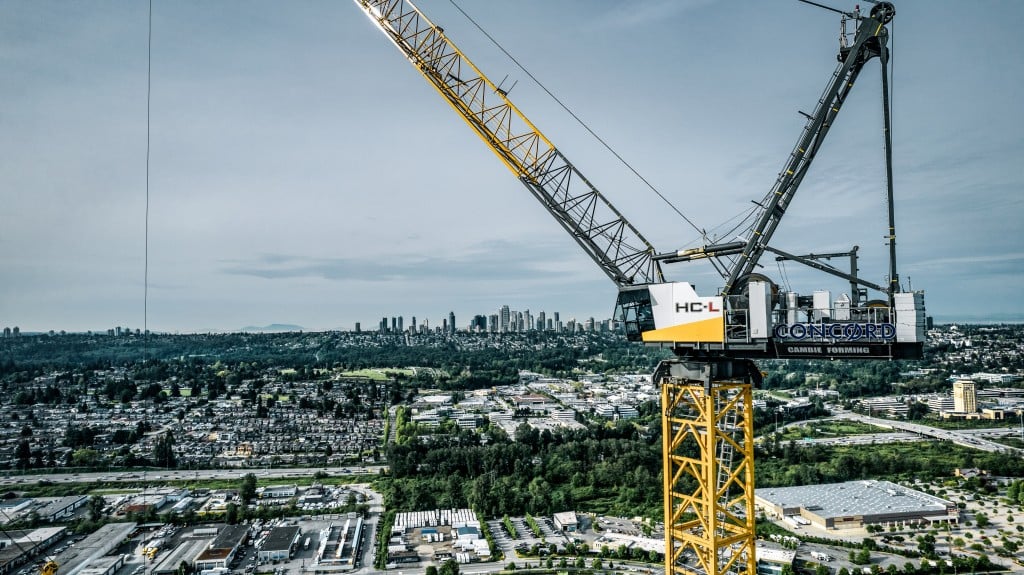 Cambie Forming to build 56-storey Burnaby residential building using newly bought Liebherr tower crane