Manitowoc expands line of telescopic crawler cranes with new Grove GHC30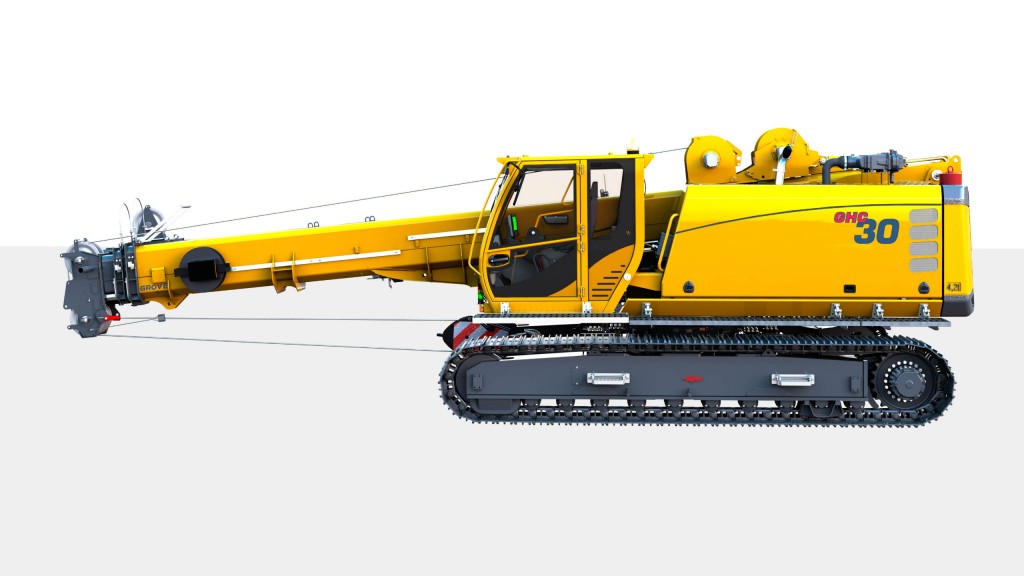 Manitowoc has announced the newest addition to its line of Grove Hydraulic Crawler (GHC) cranes: the Grove GHC30. The new 30 t (30 USt) crane is the smallest in the GHC line and its compact dimensions will enable exceptional maneuverability.
As with previous models in the series, the GHC30 is the result of a partnership with Germany's SENNEBOGEN Maschinenfabrik. The other models in the range include the GHC50, GHC55, GHC75 and GHC130.
John Bair, Manitowoc's product manager for GHC cranes, said that customer feedback played an important role in the production of the GHC30, reflecting Grove's commitment to The Manitowoc Way, a manufacturing philosophy that, among other strategies, incorporates customer needs into the design of new products.
"We talked to a number of dealers and customers about the telescoping crawler line and about how we could expand the range to benefit certain applications," he explained. "Customers that are engaged in utility, energy, construction and barge-mounted work, for example, indicated that a crane with a smaller footprint would help them increase maneuverability and efficiency on many job sites."
The GHC30, like others in its range, offers the ability to pick-and-carry at 100 percent of its load chart on inclinations up to 4°, and it can swing loads a full 360°. It has a compact footprint of 10.6 m (34.7 ft) x 3 m (9.8 ft) x 3 m (10 ft), and a tail swing of only 3.3 m (10.8 ft). Being the smallest of the GHC cranes, it can work on job sites with tighter working quarters that require precise movement, all while providing the same powerful lifting performance that customers have come to expect from GHC cranes.
Companies with applications in utility work, alternative energy applications, tunnel construction, barge work and storage tank construction will find the crane especially useful, as it fits easily onto a variety of job sites. With its full-power, three-section 25.2 m (83 ft) telescoping boom, operators can easily handle a variety of lifts at various radii without setting up on outriggers like traditional hydraulic boom cranes. This saves time on the job and provides a better return on investment for the customer.
The GHC30's crawler tracks easily navigate tough job site conditions, such as swampy or mountainous terrain. The undercarriage is driven by powerful, two-stage hydraulic traction motors that provide best-in-class gradeability and mobility. The track side frames can be hydraulically extended and retracted, providing three track spans with lifting capabilities at each span. This provides added versatility to find the best combination of crane width and lifting capacity.
Additionally, the GHC30 will save time and money for lifters before jobs even begin. The crane transports easily in one load, and once it reaches the job site, it can roll off the truck and immediately begin work with minimal setup. In-cab amenities include a large, air suspension heated seat; a climate control system for added comfort; a 178mm (7 in) screen for viewing the hoist, rear and right side camera feeds; an intuitive graphical RCL system; and precise load-sensing joystick controls. A 15-degree tilting cab is another added benefit not often seen on cranes in this capacity class, providing added comfort when doing high-boom angle work.
The crane can be outfitted with one of two engine options: a 173 hp Cummins QSB 4.5 L Tier 4 Final or a 160 hp Tier 3 model. Both engines provide strong and reliable power, and they meet all current EPA requirements. ECO and Auto Idle modes help maximize fuel efficiency, and the engine compartment is fitted with sound foam insulation to lessen engine noise and improve communication on the jobsite.
A variety of attachments are also available for the crane, including an offsettable, swingaway boom extension that is available in lengths that range from 6.5 m (21.3 ft) to 13 m (42.7 ft). When equipped with the boom extension, a maximum tip height of 40.2 m (132 ft) is possible. In addition, a two-person work platform, a boom-mounted hydraulic auger attachment and a pole claw are also available. Companies working on power line projects, for example, will be able to drill holes with the auger and then use the claw to lift and position the poles with only one crane. Contractors can keep overall project costs to a minimum, as they no longer need multiple pieces of equipment to complete the job.
"With minimal transport reuirements, 100 percent pick-and-carry ability and a robust, full-power telescoping boom, the GHC30 will prove nimble in both getting to and navigating job sites," Bair said. "For many companies, this compact GHC crane will increase their efficiency and return on investment. We're seeing the popularity of this style of crane grow in North and Latin America due to its maneuverability and versatility, and the addition of the GHC30 should further this trend."
Offered exclusively in North and Latin America as part of a long-term strategic partnership between Manitowoc and Sennebogen, Grove GHC Series cranes are fully supported by Manitowoc Crane Care service. Deliveries of the crane are scheduled to begin during the second quarter of 2017.
Company info
Related products