Weir Minerals to show latest products and launchextensive range of process equipment at Conexpo-Con/Agg 2017.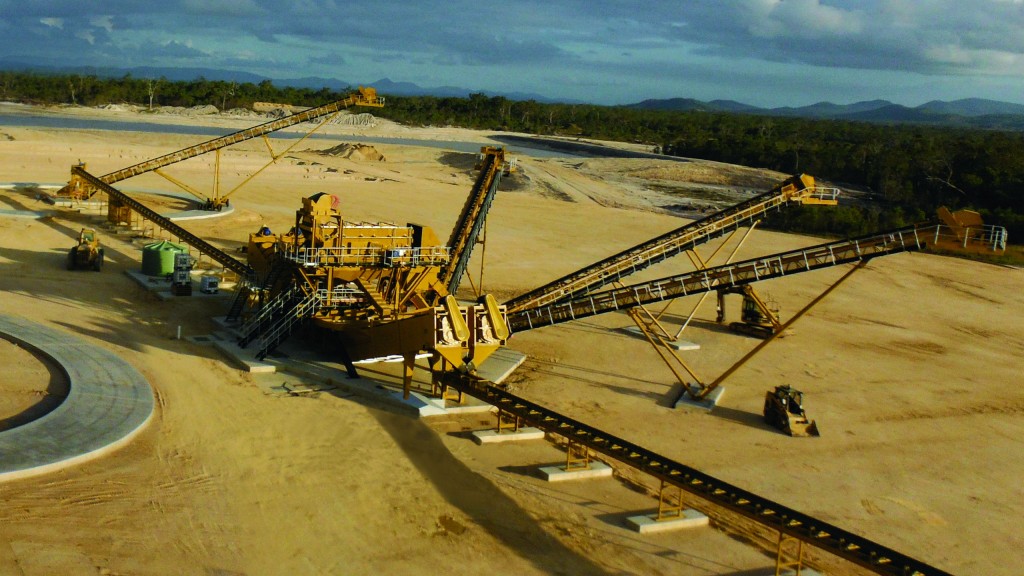 Weir Minerals will be launching its latest solution for sand production and fines recovery - the Ultra Fines Recovery (UFR) plant shown through virtual reality, and a display of the all new Trio® TP cone crusher series at CONEXPO-CON/AGG. The focal point at the booth will be the new Weir Minerals Ultra Fines Recovery (UFR) plant, which will be brought to life through virtual reality glasses for visitors to enjoy. This immersive experience will enable visitors to explore and interact with the plant from the booth. The viewing incorporates the best in equipment technology and engineering excellence from Weir Minerals, including the Trio® vibrating screen, Enduron® dewatering screens, Warman® slurry pump, and Cavex® hydrocyclone to classify and produce highly saleable manufactured sand.
"The Weir Minerals UFR plant is specifically engineered to provide an immediate, positive impact to operations utilizing settling or tailings ponds," states Kurt O'Bryan, Global Product Manager for Crushing and Screening at Weir Minerals. "The potential to drastically reduce pond cleaning costs and turn a once considered waste material into a marketable, profitable product are just a few advantages of the Weir Minerals UFR plant. The product demonstrates engineering expertise and our commitment to maximising customer operations."
In addition to this new product launch, Weir Minerals will feature the Trio® TP260 cone crusher, part of the Trio® TP cone crusher series launched globally last year. These compact, robust crushers are built with advanced cone crusher automation technology to offer continuous high performance and application versatility. All Trio® TP cone crushers feature a steep crushing chamber angle, a large crushing stroke and optimum speed to deliver fine product through high inter-particle comminution.
A global leader in innovation and design
Weir Minerals engineering experts will showcase the unique range of Trio® equipment and tailored plant designs, known worldwide for innovation and manufacturing expertise. The booth will feature a variety of Trio® equipment including Trio® crushers, screens, washers, and conveyors.
The Weir Minerals team has extensive experience in the construction aggregates market and are able to counsel, design and supply customised solutions from single Trio® machines to stationary or portable plants, including turnkey projects, to best suit customers' requirements. Multiple animations featuring project solutions and the scope of design from Trio® equipment will be on display at Weir Minerals' booth to demonstrate our extensive capabilities.
Maximising plant productivity
A daily highlight at the booth will be educational workshops hosted by Weir Minerals experts. The workshops will focus on recommendations to maximise the performance of crushing, screening, washing equipment and wear protection.
Attendees of these workshops can enter in a draw to win two Dale Earnhardt Terrace tickets to the NASCAR race on Sunday, March 12th at Las Vegas Motor Speedway.
A full portfolio of Process Solutions
Weir Minerals will also feature other key products widely used in the aggregate industry during this five day event. These include Linatex® rubber wear linings, Linatex® hose, Delta Industrial™ knife gate valves, Isogate® valves, Cavex® hydrocyclone, Warman® pumps and more.
The Weir Minerals booth will be staffed by a team of experts with a wide range of industry and process knowledge to answer visitors' questions and demonstrate products. The booth will also be staffed with experts from Latin America and around the globe who speak multiple languages.
Randy Tietz, Regional Managing Director of Weir Minerals North America, states, "Over the last few years, we have invested heavily in product development and expansion to become a competitive player in the construction aggregates market and provide our customers with a more complete solution. We are very excited about showcasing our latest products at Conexpo-Con/Agg and look forward to welcoming you all at booth C31416."