Grove unveils TMS9000-2 truck crane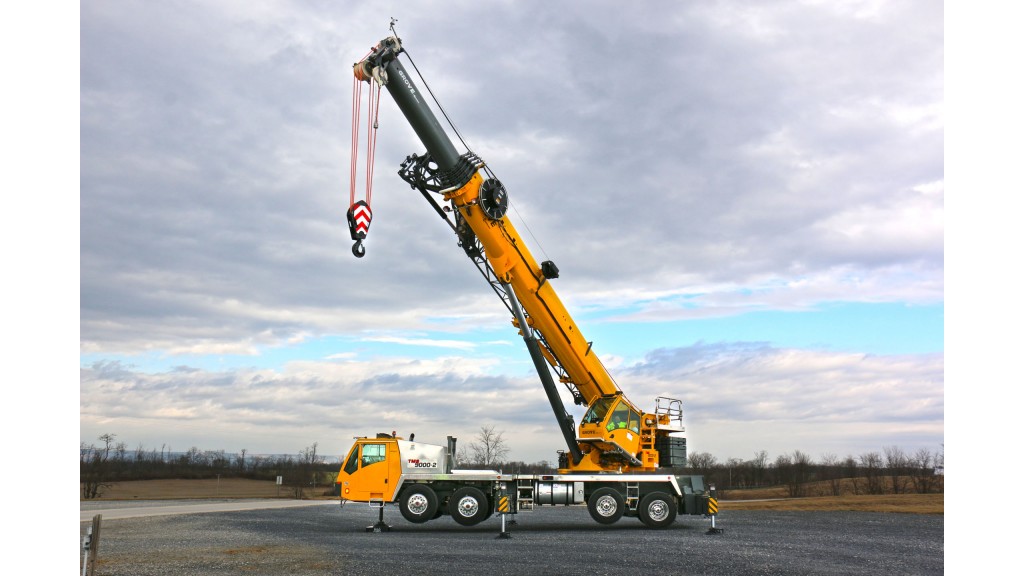 Lighter, longer, stronger. This was the mantra as Grove developed the TMS9000-2, its next-generation truck crane, which has just been unveiled.
The new 100 t (115 USt) capacity truck crane features a number of improvements over previous models that will enable owners to increase their utilization and lifting capabilities. It's lighter, which increases roadability and helps customers meet North American gross vehicle weight requirements. It has a longer boom, which increases reach and enables lifters to complete a wider variety of applications. And the crane is stronger, with best-in-class load charts for all counterweight configurations.
"The Grove TMS9000-2 is a clear example of The Manitowoc Way in action," said Harrison Hipple, product manager for truck-mounted cranes at Manitowoc. "We brought our customers in at the earliest stages of designing this crane to ensure we made a product that fits their lifting needs. It was engineered with one goal in mind: to increase utilization rates for customers and increase their return on investment in a truck crane."
Lighter, longer, stronger
The TMS9000-2 is approximately 363 kg (800 lbs) lighter than its predecessor, the TMS9000E. Its reduced, best-in-class gross vehicle weight enables a wider range of flexibility in carrying counterweight, cribbing and other items, which will help lifters optimize the crane for a variety of applications. The optimized truck crane will meet a diverse range of roading regulations across North America.
Though the TMS9000-2 is lighter, it's boom length and capacity have both increased. The crane features a new, 51.6 m (169.3 ft), six-section MEGAFORM boom that utilizes Grove's Twin-Lock pinning system. It's a greaseless boom, which reduces maintenance for owners. The improved reach will enable customers to complete a wider variety of applications with the crane, but from a compact chassis [width: 2.6 m (8.5 ft); length: 13.4 m (43.8 ft)]. The crane will offer manual or hydraulic swingaways, along with additional inserts, to provide further reach options.
And with this increased reach comes increased capacity across all load charts. The crane's 100 t (115 USt) capacity makes it the strongest four-axle truck crane on the market with the best load charts in its class. Both the boom and chassis are stronger on the TMS9000-2 than previous cranes, so there is more capacity across all radii. On average, load charts with maximum counterweight have improved by approximately 5% over its predecessor.
The new model also shares the same counterweight system as the TMS9000E, so owners can interchange counterweights and wing weights from the previous-generation crane, giving them flexibility in configurations across an entire fleet. In essence, the leading GVW enables owners to win and complete more jobs at a lower cost, improving their return on investment.
Feature laden

Overall operational efficiency is improved with the inclusion of the Crane Control System (CCS), Manitowoc's standardized operating system that works across several crane brands and models. The TMS9000-2 not only offers six simple predefined boom sequences to maximize crane utilization, it incorporates powerful features found in CCS-equipped Grove all-terrain products. This includes a highly intuitive Boom Configurator Mode that makes it quick and easy to select the optimum boom position and length for a specific lift, maximizing the cranes capabilities. The operator simply inputs lift parameters and the system calculates the best configuration.
Along with CCS, the crane's cab has other improvements, such as a new air-conditioning system and ergonomic controls. A series of cameras on the TMS9000-2 assist operators while driving the crane or lifting. Reverse and passenger-side blind spot cameras ensure operators can maneuver the crane with ease. And when lifting, a hoist camera provides convenient visibility of the hoists.
A new outrigger system gives the TMS9000-2 added flexibility to position the crane on the job site. While previous-generation truck cranes had only three configurations, the new model has four: 0%, 33%, 66% and 100%. The new system is also 0.3 m (1 ft) slimmer, measuring only 7 m (23 ft) at full span, making the crane more compact on the jobsite.
The crane is powered by a Cummins ISX12 powertrain, an on-highway, EPA-certified engine that features 336 kW (450 bhp) at 1800 rpm, and a maximum 2102 Nm (1550 lb-ft) torque. The engine is required in North America and fits even the strictest environmental requirements, such as those found in California. The TMS9000-2's drivetrain, air suspension, brake and wheel systems are similar to those found on the TMS9000E. Customers also now have the choice of either a manual or an automated manual transmission.
Company info
Related products