United Rentals Launches Online Portal for Used Equipment Sales
Offers Six Months Free Service Contract with Purchase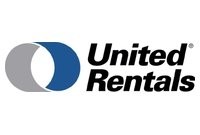 GREENWICH, Conn. February 23, 2010 United Rentals, Inc. today announced the launch of a used equipment portal that offers thousands of quality items for sale from the world¹s leading equipment rental fleet. The range of construction and industrial listings in more than 40 categories makes www.unitedrentals.com/usedsales one of the largest sources of pre-owned rental equipment sold direct by owner.
Michael Kneeland, chief executive officer of United Rentals, said, By creating a secure channel for a large volume of online inventory, we have taken the uncertainty out of remote equipment purchases. Buyers have confidence in United Rentals. Our used equipment is an excellent option for anyone who wants to own a reliable, productive machine without the cost of purchasing it new.
The new portal uses an e-commerce platform that is convenient and easy to access worldwide. All items are value-priced, with hundreds of deeper discounts located in a Special Values section. Listings are refreshed in real-time, and are searchable by category, keyword, model year, manufacturer and location. Shoppers can download images, specs, prices and contact information by converting a search into a product sheet with one click.
As an incentive to try the new site, United Rentals is offering six months of free United Guard warranty coverage with every online equipment purchase through March 31, 2010. United Guard provides free equipment inspections and service, covering the cost of labor and parts for most repairs. The portal at www.unitedrentals.com/usedsales is open to buyers worldwide, with delivery and financing available in the United States and Canada.
About United Rentals United Rentals, Inc. is the largest equipment rental company in the world, with an integrated network of approximately 568 rental locations in 48 states, 10 Canadian provinces and Mexico. The company¹s approximately 8,000 employees serve construction and industrial customers, utilities, municipalities, homeowners and others. The company offers for rent approximately 3,000 classes of rental equipment with a total original cost of $3.8 billion. United Rentals is a member of the Standard & Poor¹s MidCap 400 Index and the Russell 2000 Index® and is headquartered in Greenwich, Conn. Additional information about United Rentals is available at unitedrentals.com.