Backhoe Loaders: Product Gallery
JCB's 3CX Compact Backhoe is designed for confined jobsites. Its 6-foot-wide by 9-foot-high footprint makes it 35 percent smaller than JCB's standard 3CX backhoe model without sacrificing performance and durability. Pod-mounted, ergonomically designed excavator pilot controls are standard. It has a 74-hp Tier 4 Final engine, three-speed hydrostatic transmission, 25-mph top speed and four equal-size tires with four-wheel steering.

Both the rental market 3CX and the popular 3CX-14 model are powered by a 74-hp Ecomax engine, with no DPF or exhaust after-treatment. For the first time, the 3CX-14 is offered with the option of a powershift transmission and JCB's Advanced Easy Control (AEC) servo levers.

The 3CX Super is offered with a 91- or 109-hp engine, while the range-topping 4CX Super comes standard with the 109-hp engine, all using SCR with DEF. Both the 3CX Super and 4CX Super models come with a standard 11,000-pound lifting eye on the backhoe. They have eight automation features, including Auto Smoothride System. Auto Boomlock and Auto Up stabilizers are standard on servo models, Additional systems include auto return to idle, auto drive, auto throttle, automatic daily checks and automatic engine and cab pre-heat.
Case N Series Backhoes include the new 580N EP – a lower-horsepower version of the company's popular 580N backhoe – that maintains the same backhoe lift capacity and breakout force but with greater fuel efficiency and a maintenance-free Tier 4 Final solution. All Case N Series backhoes come standard with SiteWatch telematics, and can be outfitted with a variety of industry-exclusive standards/options such as Power Lift, Ride Control, Comfort Steer, ProControl, Easy Flex side lights, and a mechanical, universal, backhoe-bucket coupler that allows contractors to use attachments from competitive machines on their Case backhoe. Each machine is also available in the proven Case Extendahoe configuration for extended digging and reach capabilities.

N Series backhoes feature the company's exclusive over-centre design, which transfers weight to the front of the machine for smooth roading and better traction, and allows the operator to dig closer to the machine. Each N Series machine also comes standard with Adjustable SmartClutch, which lets operators customize the feel of forward-to-reverse transitions (smooth, moderate or aggressive) to their preference. The N Series backhoes also feature the SmartFit bucket tooth system, which features heavy-duty, self-sharpening teeth and a hammerless fastener system for easy installation.
The new Cat 415F2 Industrial Loader Tractor combines the basic design of the Cat 415F2 backhoe-loader – including most of the frame, engine, transmission and axles - with purpose-built components designed specifically for industrial-loader applications, such as new pilot controls, three-point hitch and an available box blade scraper developed for the skip-loader market.
It uses a Cat C3.4B engine, rated at 72 net peak horsepower (56 kW), that meets Tier 4 Final emissions standards with an under-hood diesel particulate filter and diesel oxidation catalyst; diesel exhaust fluid is not required.

The new model is equipped with a standard-shift, four-speed transmission with a quick-reversing, power-shuttle feature. Also standard is a four-wheel-drive system (mechanical front drive) that can be used in two-wheel drive with four-wheel braking, which reduces tire wear and drivetrain wear. Brakes are wet multi-disc.

Front counterweights are available in 255-, 530-, and 1,015-pound configurations, and an optional rear counterweight weighs 198 pounds.

The new model is available in canopy or cab configurations, standard five-function rear valve and three-function loader valve, dual location differential lock, low-effort pilot-type controls for the box blade scraper, and sealed storage compartment. An available security key pad disables the engine, transmission and hydraulic systems at machine start-up until a pass-code is entered (25 pass-code capacity).
The John Deere 310L EP, 310L, 310SL, 310SL HL, 315SL and 410L L-Series models range from 70- to 113-hp. The 410L and 310SL HL (heavy-lift) can deliver up to 25 percent more backhoe-lift capacity under normal conditions than comparable K-Series models. The new 710L offers a 17-foot 3-inch dig depth, the largest in the John Deere portfolio and is powered by a Tier 4 Final, 148-hp (110 kW) engine.

A new "palm-on-top" loader-control grip enables control of clutch disconnect, quick shift, auxiliary proportional roller and momentary front-wheel drive. In addition, the L-Series boasts improved diagnostics with a state-of-the-art multi-language monitor. Operators can program a multitude of time-specific functions such as auto shutdown and auto idle.
An optional Auto Ride control field kit is based on an adjustable ground speed setting for the 310SL, 310SL HL, 315SL and 410L. It automatically engages or disengages the machine's loader hydraulics to act as a shock absorber, creating a smoother ride for the operator and reducing spillage from the loader bucket.

L-Series models have extra legroom and a more comfortable seat, redesigned pilot towers with fingertip electrohydraulic (EH) controls. Economy mode saves fuel in many applications.
Company info
Related products
Related Articles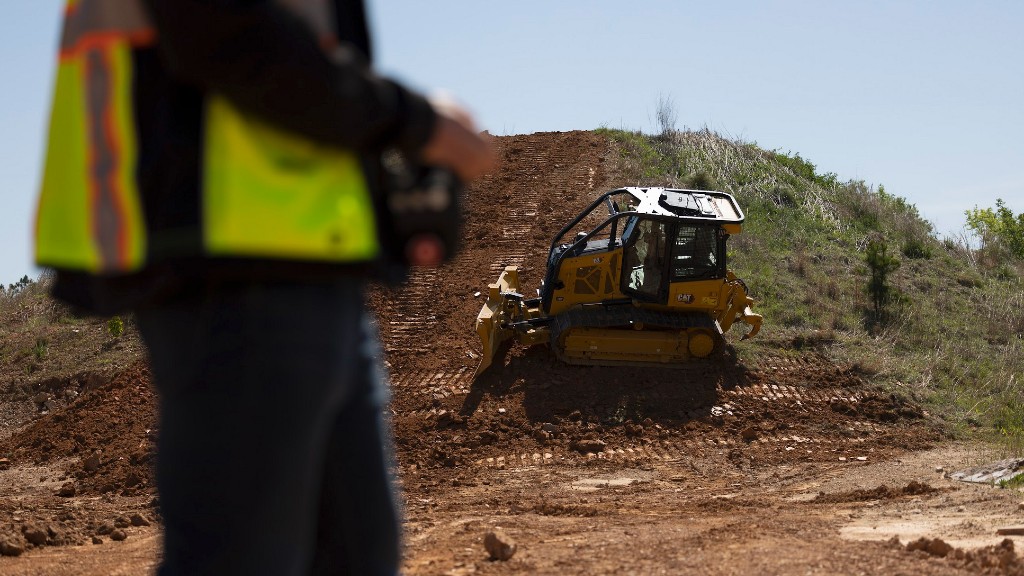 Cat dozers increase productivity with expanded operator assist and remote operation features