Spotlight on concrete formwork
With a vast number of concrete building construction jobs underway, we take a look at some recent projects and the formwork products that were used successfully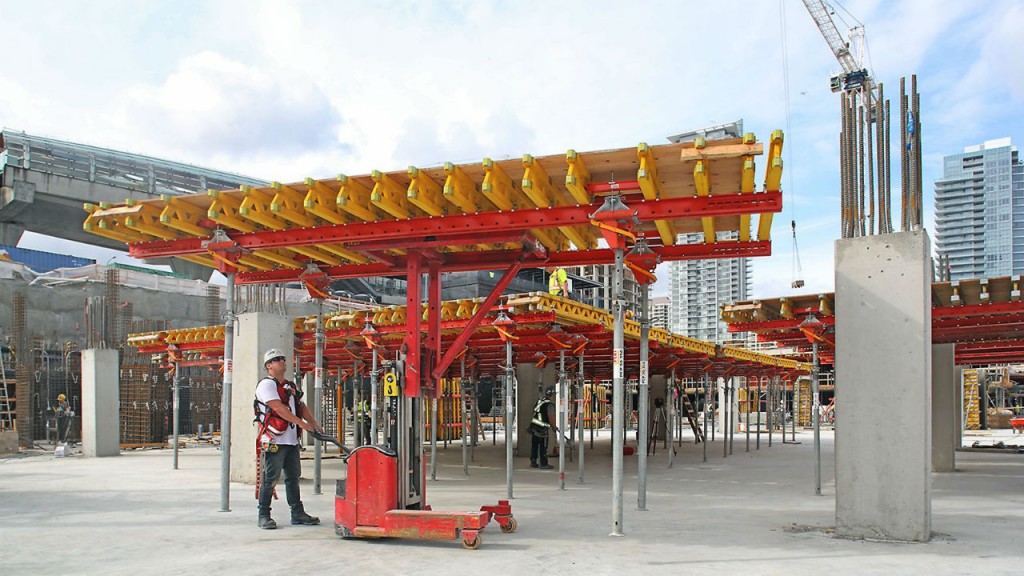 Toronto's Ten York project is a residential highrise building that will soar 65 storeys and contain 694 units when complete. Located at the busy intersection of York and Harbour, near the waterfront and overlooking the Gardiner Expressway, there are a number of challenges to be faced for concrete work. In this case, the use of traditional truss tables was not permitted because of the nearness to the Gardiner. Crews had limited space on the ground for staging and storing of material, shear wall construction restricted movement of shoring material through the building, and a ten-foot deep transfer slab is suspended 40 feet above the floor below.
Doka, an international supplier of formwork and associated products, from forms to screening and work platforms, was selected as the formwork supplier. Doka has demonstrated a track record on projects such as this one, and offered economical and practical solutions in regards to formwork used. Pre-fabricated panels made for ease of assembly and installation onsite. The company supplied Framax Xlife formwork for shear walls, Protection Screen Xclimb 60 with integral loading platforms for the facade, and its load-bearing tower Staxo 100 for shoring.

A 16-foot projection from the building allowed shoring tables to be easily cycled, and the perimeter was fully protected at the working level. Preassembled units unfolded and pinned together easily for quick assembly.

Support frame STB 450 on YMCA project in London, Ontario
The City of London, YMCA of Western Ontario and the London Public Library embarked on a large-scale construction project to create a new community centre with multipurpose community space, indoor pool and gymnasium, double pad arena, YMCA fitness facility and Library branch. Contractor Horizon Contracting from Kitchener, Ontario, chose MEVA formwork solutions for all concrete works including high retaining walls in the basement.

The STB 300 support frame achieves pour heights up to 11 feet. The larger STB 450 allows for pour heights up to 16 feet and can be extended in increments of 5 feet for pour heights up to 38 feet. No time-consuming assembly and disassembly is required for the height extensions. The STB 450 was used in combination with MEVA's flagship wall system, the Imperial, to master singlesided works. The fast pours rely on the system's high load capacity of 2,025 psf.

The MEVA clamp aligns and securely links panels with just a few hammer blows, saving time, labour, effort and consumables. Multifunction profiles with welded-in DW nuts allow for easy attachment of accessories and use the same standard flange nut. Taper ties and other thru rods and she-bolts can also be used. For environmental reasons, the new generation Imperial frame is hot-dip galvanized on the inside and out. This and the special coating technique offers optimum corrosion protection while minimizing concrete adhesion. Panels of the new generation Imperial are being used on the current site.
Mix of residential, retail requires selection of formwork and support
Brentwood Mall in Burnaby, B.C. is being redeveloped as a mixture of retail, office and high-rise residential buildings. PERI designed and supplied a modified version of the new VARIODECK system, a table form system utilizing SRU Walers as main beams. The GT 24 Girder was used as a secondary beam instead of the VT 20; the greater strength of the GT 24 reduced deflections and offered the client greater reutilization opportunities on future VARIO wall projects. Concrete work on the first level included a shoring height of nearly 7 metres. PERI VARIODECK tables were supported by a combination of stacked MULTIPROPS and PERI UP scaffolding. The simple stacking of components allowed the same VARIODECK formwork to be used across multiple levels of the structure.

For infill areas between tables, the use of small runs of SKYDECK meant that additional plywood, and the high cost of labour associated with custom fabrication, were kept to an absolute minimum. This, coupled with the quick-strike mechanism of the SKYDECK Drophead and the VARIODECK Table solution, allowed for quick cycling between pours.

PERI supplied loose material for the contractor to assemble on site. If available space is limited, PERI offers an assembly service for the VARIODECK system whereby tables are pre-assembled before delivery. As the system uses the UNIPORTAL head, props are fixed into position and folded flat for transportation. Upon arrival on-site, the tables can be offloaded, props unfolded and tables positioned very quickly. Table tops can be supported by only four MULTIPROPS or PEP Ergo props.