Drone Revolution In Aggregates and Asphalt Industries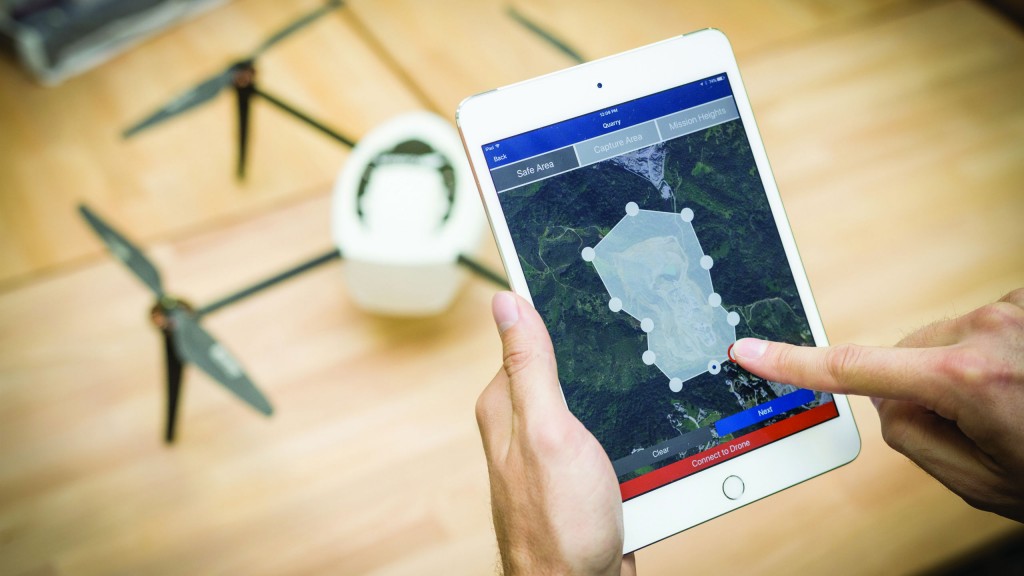 While the commercial use of drones, or unmanned aerial vehicles (UAVs), has been regulated in Canada since 2007, this burgeoning technology is just beginning to be adopted by the asphalt/aggregate industry. From managing stockpiles more effectively and reducing second party verification costs, to monitoring construction projects and enhancing visual documentation for communications and planning, drones offer enormous benefits in time and cost savings. As the technology becomes more sophisticated and applications expand, companies can expect new and exciting uses for drones to make their operations more efficient for an improved bottom line.

Originally designed for military applications, drone services have been widely used by companies within the resource sectors such as mining, forestry and pipelines. Early adoption in the asphalt industry includes using drones for a bird's-eye view of a site to gain a better understanding of the scope of a project, provided the location is not in a populated area. High resolution photos, collected frequently and inexpensively, document the progression of work and can be used both internally and for client presentations.

"We have three entry-level drones that we use for pictures, videos and progress reports," says Mark Taylor, contracts manager for Aecon. "A drone in a pre-planned flight path gives you big picture shots, versus a still camera attached to a hydro pole that takes ground level, time lapse pictures. If it's a new-build highway with water crossings and swamps, you can send a drone out and it gives you a good look at a project, especially if access is an issue."
The Crupi Group has also purchased a drone in the last year to provide overhead aerial shots of the company's yards for planning of operations and for submitting applications to the Ministry of the Environment and Climate Change. The off-the-shelf model hasn't the capabilities to take volumetric measurements of stockpiles, but has been an effective tool in assessing stockyard inventories and replaces yard diagrams with clear snapshots for reporting purposes.

Regulatory and licensing parameters as set out by Transport Canada mandate that commercial drones can be no more than 90 metres above ground and that they cannot fly over built-up areas, such as live highways. Operators must also have a visual of their aircrafts at all times.
In April, The Crupi Group had an opportunity to take drone shots of maintenance work on the Don Valley Parkway when the highway was shut down for two days. At the end of May, the company began work on a new Canadian Tire distribution centre in Bolton. The facility requires over 100,000 tonnes of asphalt paving and drone aerial shots are helping to document the work by The Crupi Group crews.

"The drone pictures show us what the whole job entails and the scale of the project," says Dominic Crupi, vice president of The Crupi Group. "It shows our guys how a job looks while they are doing the work, and we have better documents for our records. Before and after shots also provide the customer with a visual of the project. It's a great tool for communicating with staff and customers, and for keeping accurate records of the work that we do."
In the U.S., approvals for commercial drone use didn't come into effect until September 2014 and, since then, new companies have moved into this space to offer a full suite of services. Founded in 2014, Michigan-based, DroneView Technologies is a full service company that provides turnkey solutions in data acquisition and processing, volumetric reporting and data storage. For aggregate customers, DroneView Technologies uses its fleet of drones for computing stockpile volumes and mapping topography faster, more safely and significantly cheaper than traditional surveying methods.

Drones offer cost savings
Compared to field surveys or aerial flyovers by planes, stockpile inspection by drones is 40 to 50 percent less expensive. Drone surveys also collect more points of data for a higher degree of accuracy in volumetrics and, at the same time, provide highly detailed digital surface models. All work, including drone operation and data processing, is performed by DroneView Technologies staff, and reports are provided to customers within 24 hours of inspection.

"Our customers have a wide range of schedules; some want stockpile inspections annually, while other prefer monthly reports," says DroneView Technologies CEO Michael Singer. "We find, though, that people are requesting more frequent reporting, because they are getting a lot of value from the findings. People can make better decisions faster. Through volumemetric reports and imaging, our customers can see more so that they can make changes to their operations and become more efficient."

In the construction bidding process, some tender documents are not based on actual field surveys because of the cost to deploy survey crews. As a result, cost estimates are skewed, which can lead to cautionary, inflated bids or bids that are too low but that add cost over-runs as the project progresses. Drones take away the guesswork by replacing the need for survey crews to assess actual site grades. Excavation and grading measurements are accurate and aligned with project costs for a better tendering/bidding process.

Another option in drone services is the Kespry Automated Drone System which is more sophisticated than entry level commercial drones, enabling stockpile operators, as well as those in general construction, to operate their own drones in collecting data. Based in California, Kespry was founded in 2013 and caters to aggregates, sand and gravel operations. Clients include the Colas Group of companies, which has 25 drones under lease for its subsidiaries, including operations in Alberta and Quebec.

The user-friendly Kespry drone has no joy stick and doesn't require pilot training to operate. On an iPad, with a Google Map image, the user identifies the area to be measured, drawing a circle around specified piles. The drone measures the perimeter, area, volume, and cut-and-fill sizes for each identified stockpile and the data is sent to the Kespry Cloud for processing. It takes less than 20 minutes to fly a 40 acre site with 30 to 50 stockpiles, and it takes one to three hours of server processing time before the aerial model is ready.

"The Kespry drone offers a level of autonomy that doesn't require computer skills to collect volumetric data," says Adam Rice, business development director for Kespry. "Customers lease our equipment, which ensures that they have the latest and greatest, with guaranteed maintenance. The technology is changing so quickly that it doesn't make economic sense to pay $50,000 or more for something that will be obsolete in a few years, so a lease is better for our customers. We've had an overwhelming response by people in the asphalt industry. Operators find that they can do their jobs easier, faster and, more importantly, safer."

Whitaker Contracting Corporation in Alabama is an asphalt/aggregate company that has used the Kespry drone for a year to measure its stockpiles, monitor the movement of materials on construction sites, and have a snapshot of what is in production in real time. The company estimates that Kespry drones are saving them 22 percent per year on costs. Stockpiles are measured twice as often, but the process takes four times less time overall.

"These drones save time, but they also show you how to be more efficient," says John Davenport, construction surveyor for Whitaker Contracting Corporation. "If you've got 10,000 cubic yards of material and you're only going to sell 3,000 cubic yards, why would you pay personnel to keep producing that? Up-to-date information lets you save on employee costs and production costs.

"One of the biggest benefits is improved safety in measuring stockpiles. By using drones, the risk of falling has been taken right out of the job. I used to have an assistant for all inventory work, but that's no longer necessary, which is another cost savings."
While user-friendly drone systems offer autonomy and convenience, the current technology allows for limited applications. Projects that call for custom, in-depth analysis require more sophisticated hardware and software, as well as the expertise of geospatial specialists.




Extracting and processing data
"The drone is only a small part of the process, and is primarily used to collect the geographic data that you need for surveys and volumetrics," says Murray Hunt, president of HighEye Aerial Imaging Inc. in Wasaga Beach, Ontario. "The real work is in extracting and processing the data so that it has value to our customers."

HighEye Aerial Imaging operates across Ontario, with 50 percent of its customer base in the aggregate industry. The company does work for the Ontario Aggregate Resources Corporation, providing topographical surveys that are used for the rehabilitation of former aggregate sites. Services include providing imaging surveys and volumetrics for aggregate operations, as well as earth-moving construction projects. Murray and his staff hold Complex Special Flight Operation Certificates (SFOC), which is the highest level of certification issued by Transport Canada.

"Canada is ahead of the U.S. in commercial applications, but in the next year Transport Canada will be issuing more stringent regulations, such as requiring drone pilots to demonstrate knowledge of piloting and airspace," Hunt says. "This will make it more difficult for the average person to be certified, which will help to professionalize the industry."

The MTO is exploring the benefits of incorporating drones into ministry operations, including the ability to obtain an overview of bridge construction and bridge condition. Of particular interest is a recent demonstration by Queen's University which examined the effectiveness of using drones in rock slope assessment. The findings have confirmed that this technology can be used to monitor rock slopes, quickly and safely, and to identify and prioritize areas of high rock movement that may require mitigation work.

"Queen's University has developed the protocol and method to analyze potential slope movement of rock using time lapse video images of the same rock slope, and we are looking at acquiring similar software," says Stephen Lee, head of Pavements and Foundations for MTO. "Some drones are equipped with photo capabilities, and others with laser imaging technology that is able to penetrate through plant or organic matter and get a profile of the rock slope. Drones can go into areas that are difficult or risky to reach. With superimposed pictures, we can predict rock slope movement and take the steps necessary to mitigate the impact of rock slope failure."

With a few hundred quarries as part of its assets, the MTO also stands to benefit from the increased efficiencies afforded by drone aerial images. This summer, trial use of drones to assess inventories and condition of select quarries will be used to assist in planning the supply of materials for upcoming projects. While the MTO doesn't currently own its own drone systems, staff is actively researching the capabilities of current hardware, software and processing services to determine the best option available.

"We will be presenting an article about drone applications at the Transportation Association of Canada spring 2017 Pavement Standing Committee meeting," Lee says. "This is an emerging technology, and there is a lot of interest by transportation organizations across the country."

As confidence in the accuracy, safety and cost effectiveness of drone services increases, adoption of the technology will become mainstream. An internal study by DroneView Technologies estimates that approximately 3 to 5 percent of the asphalt aggregates industry has adopted drone data collection and photogrammetric processing to compute stockpile volumes. Within three years, that figure is projected to increase to 60 to 70 percent of all of the aggregate industry's stockpiles on a global basis.

"People have explored using drones in various ways, but adoption in the asphalt stockpile arena has really taken off in the last 18 months," Singer says. "We're at the tipping point right now. You'll find that once large companies embrace the technology, many other companies will follow suit. The value is significant enough that there will be widespread adoption fairly soon."