Keestrack "full-hybrid" drive technology generates impressive results
Full-electric combination machines were demonstrated at a dealer event last fall and showed both high production and low diesel consumption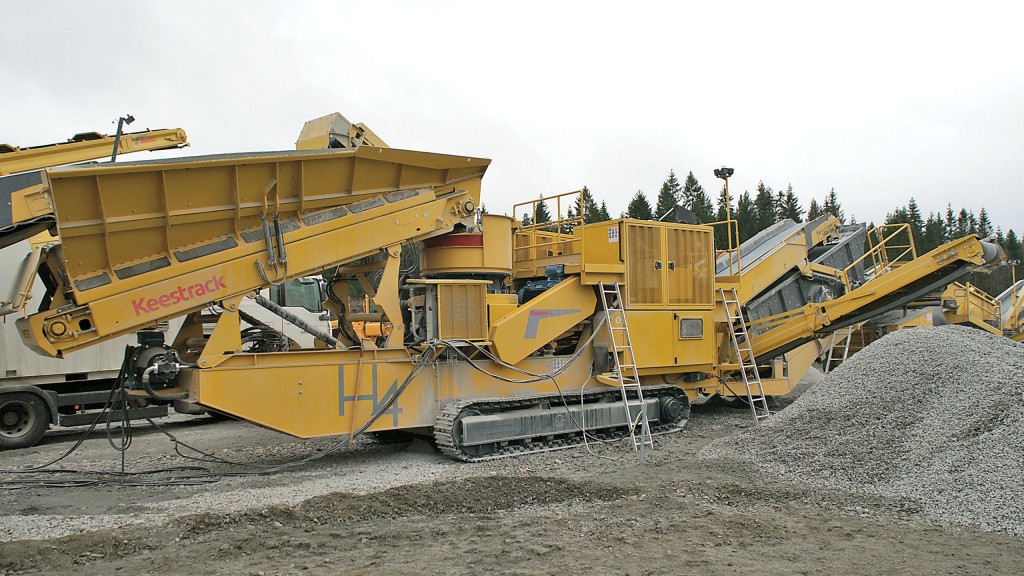 Keestrack mobile crushing and screening plants generated impressive results during a test run last fall - generating five end products at a production capacity of 180 tph and total diesel consumption of 60 litres per hour.
The tests were conducted during Norwegian Keestrack dealer Fredheim Maskin's traditional "Fredheim Demo Days," and formed part of the premiere of Keestrack's "full-hybrid" drive technology. Debuting within the full-electric combination powered by an external gen set were the all-new jaw crusher B4e and the mobile cone H4e – both with new drive systems, using diesel power only when needed.
More than 20 working plants were on display in a granite quarry during the Fredheim demonstration, including the full-electric tracked processing line including the Keestrack B4e jaw crusher with stacker S5e (for 0/20 pre-screen), the H4e cone with 3-deck-afterscreen module and the final 2-deck-classifier K3e for five end product fractions. With a feed size of 600 mm and different sets of end products, the combination reached a maximum production of 180 t/h. Without activating their onboard diesels, all machines were powered through a single 500-kVA external gen set. Consumption analyses over several days gave average values of under 60 litres per hour.
"We were surprised by these results," states Keestrack President Kees Hoogendoorn. "Even if these values are quite specific, they clearly reflect the high economic potential of our full-hybrid technology. Applied in a mobile multi-stage processing line, as presented here for the first time, it offers great advantages for the contractor, not only in daily practice, but specifically in long-term evaluation if we consider lower maintenance costs and longer service life."
At Keestrack the new "Full-hybrids" stand in a row with the early introduction of modern load-sensing systems in diesel hydraulic drives and the partial electrification of crushing and screening plants through the wide use of electric motors on conveyors and separator components.
"Every new level in development brought important savings in diesel consumption," explains Hoogendoorn, referring to the 20 to 30% improvement steps made through modern hydraulics, diesel-electric components and the external "plug-in" operation, available throughout all Keestrack plant technologies. "With their substantially smaller hydraulic circuits our hybrid systems provide advantages in maintenance, availability and safety – especially when working in environmentally sensitive areas."
While the screeners and conveyors on hybrid Keestrack classifiers and stackers are operated electrically – the diesel driven hydraulics only supplies hydraulic cylinders and crawlers – all Keestrack crushing units were up to now only powered directly through the on-board diesel engine. "Electric drives supplied via external gen sets or mains certainly offer high saving potentials, but without compromising the plants' mobility, crushing performance and productivity, which depends today also on optional modules with high power demands," Hoogendoorn said regarding the challenges in development.
As a result of these changing technologies, Keestrack presented the track mobile cone crusher H4 with 345 kW/330 KVA diesel/generator module, 132 kW electric drive for the crusher and extensively electrified conveyors and screening components at the last Bauma event. Despite its comprehensive equipment, including an optional 3-deck after-screen with oversize conveyor, the compact, transport friendly plant weighs only 46 tonnes and can be operated "plug-in." Keestrack presented in Norway the full-hybrid model H4e, featuring an additional electric motor/hydro pump unit to supply all installed hydraulic functions (feeder, hydraulic cylinders, tracks) via external current without starting the diesel engine.
The all-new Keestrack B4/B4e jaw crusher is optionally available with conventional diesel-hydraulic drive or as a full-hybrid "e-version." With active 2-deck pre-screening and the re-designed 1100x700mm jaw crusher featuring the patented N.S.S. overload protection. The new model follows on the successful Apollo/B4 for flexible recycling applications or medium-sized quarry operations with capacities up to 300 t/h. Completely equipped with new options, like the 1-deck afterscreen module with oversize conveyor, the new designed frame incorporating elements of high-strength Domex steel guarantees low transport weights (max. 49 tonnes). The full-hybrid Keestrack B4e is equipped with a 242 kW diesel engine and a 225 kVA on-board generator. The latter supplies the 110 kW electric crusher motor, all other electric drives on conveyors and screens and the separate 55 kW electric motor/hydro pump unit for all installed hydro drives (cylinders, tracks). During "plug-in" operation (external gen set/mains) the diesel engine doesn't have to be started; the whole energy management is controlled automatically including the electric supply of a secondary unit (screen, stacker).
Company info
Related products