Chicago Pneumatic Introduces RX12 Light Hydraulic Breaker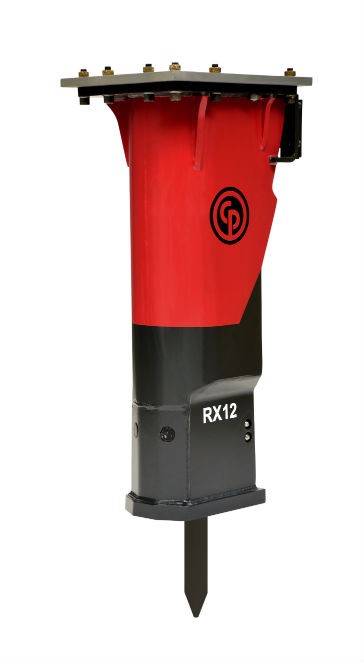 Chicago Pneumatic Construction Equipment (CP) has launched the RX12, the newest addition to the innovative RX line of rig mounted, medium hydraulic breakers.
Featuring a service weight of 1,380 pounds, the RX12 is ideal for a wide range of applications including demolition, building renovation, road construction, and rock excavation and quarrying. With an impact rate of up to 950 blows per minute, the breaker delivers dependable power and performance. The RX12 is specified for carriers with a capacity of 19,800 to 33,000 pounds.
The entire RX line is incredibly powerful and durable and the same can be said about the new RX12. The RX line features a monoblock design, which increases reliability and eases in servicing the breaker.
Built on the proven RX platform, the RX12 was engineered with durability and product longevity in mind. It also features innovative hybrid gas / oil technology and fewer moving parts contributing to overall reduced maintenance costs when compared to some competitive hydraulic breakers.
The RX breakers feature a two-in-one design, as the cylinder and tool holder are one piece, monobody, eliminating strain and risk of seizures. A one-piece floating wear bushing ensures maximum uptime and fast, easy field replacement, and a central lubrication point makes for quick and easy lubrication. There is also an optional CP lube that can be added to automatically lubricate the working tool, during operation.
The RX lineup also incorporates noise and vibration dampening technology, which assists in making these among the quietest breakers. These breakers also incorporate an internal control valve and the design makes them one of the most efficient breakers on the market.
The RX12 is the smallest in CP's medium hydraulic class, joining the RX14, RX18 and RX22. CP also features a light and heavy hydraulic breaker class, which are compatible with carrier weight classes from 1.5 to 70 tons.
Company info
Related products