Allmand Expands Into Portable Air Compressor Market, Launches Maxi-Air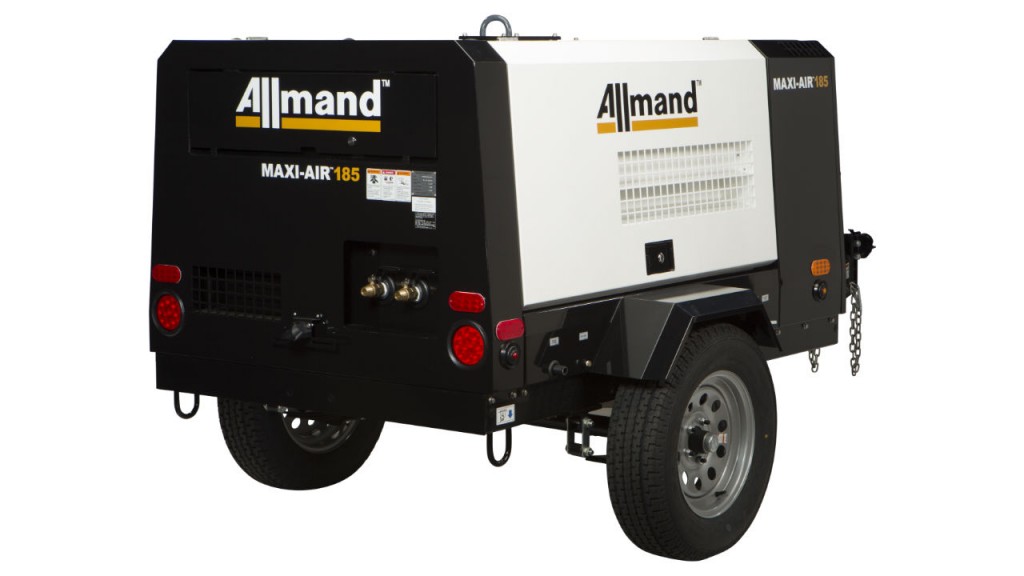 Allmand Bros. Inc., a long-time manufacturer of high-performance portable equipment, has expanded its product offerings into the portable air compressor market. The Maxi-Air™ Portable Air Compressor's heavy-duty, over-sized rotary screw air end provides consistent, high-pressure air volumes at low RPMs for enhanced fuel efficiency. The Maxi-Air comes in two models, the MA185 and MA400, with free air delivery of 185 scfm and 400 scfm, respectively. Both models achieve a maximum working pressure of 120 psi.
"The Maxi-Air portable air compressors were designed for maximum performance," said Brian Northway, Allmand Product Manager. "Like all Allmand products, reliability was our top priority in developing this line. The units incorporate features for fast and easy maintenance as well as a long service intervals, ensuring these compressors are built to last."
Both Maxi-Air models incorporate features for easy starting and quiet use. A high-capacity cold start battery increases cold-cranking amperage to ensure easy starting in any weather. Two ¾-inch Chicago-style fittings enhance usability by providing high air output. Plus, the sound-attenuated airflow reduces operating noise to a mere 63 decibels — about the same level as human voices. Maxi-Air compressors are designed with a focus on uptime. A large-capacity fuel tank only requires fueling once every 8 hours for maximum productivity. Should the unit run out of diesel, the electric fuel primer and air-bleed (EFPA) pump allow for easy restarting without requiring service for
priming.
The Maxi-Air compressor includes numerous features that enhance convenience and lessen maintenance time. All fluids are plumbed to the curbside edge of the compressor's enclosure for easy access for maintenance. In addition, each unit features an externally mounted water separator filter and a conveniently positioned radiator for easy accessibility. Also, the fiber gear coupler requires no maintenance.

Beyond easy use and maintenance, the Maxi-Air compressors' rugged design ensures years of use. A heavy-duty steel enclosure with powder-coat paint and stainless steel hardware resists corrosion in the harshest environments. Even the undercarriage frame features powder-coat paint protection
to stand up to tough jobsite conditions.
The need for easy portability also contributed to the compressors' design, from the long-wearing 15-inch tires to the adjustable coupler channel that allows an operator to easily tow the trailer level to the ground. The MA185 runs on a 48-horsepower Tier 4 Final Yanmar engine and delivers 185 scfm of air. It features a 24-gallon tank and consumes just 2.4 gallons per hour at full load capacity. Its operating weight comes in at 2,450 pounds, and it uses a 12-volt electrical system. Canadian customers also have the option of the 400-scfm MA400 compressor. It runs on a Tier 3 Isuzu engine and 24-volt electrical system and weighs 5,000 pounds.
Company info
Related products