New five-section truck-mounted boom pump introduced at World of Concrete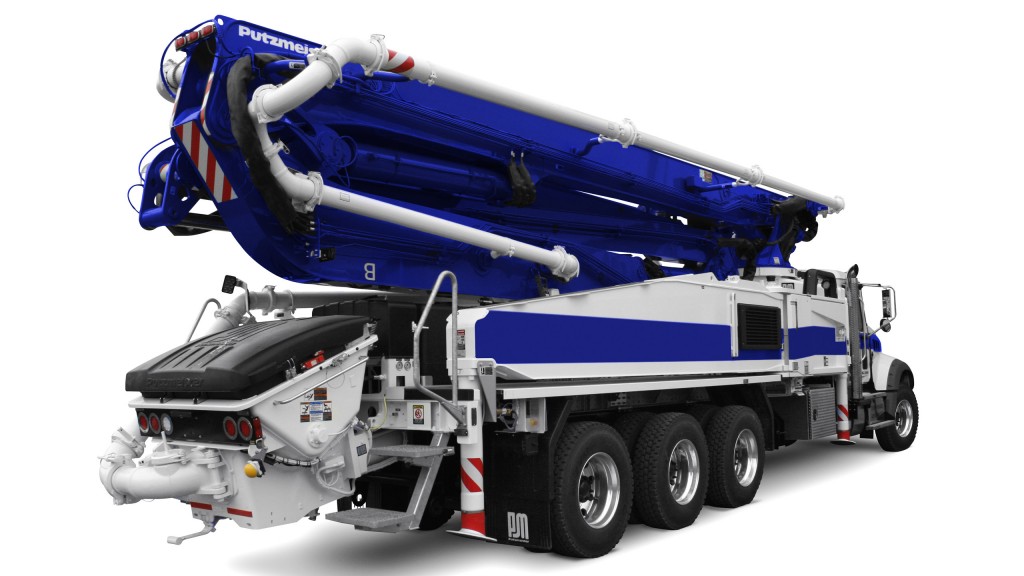 Putzmeister America, Inc. introduced the new 47Z-Meter Truck-Mounted Concrete Boom Pump at the World of Concrete trade show in January 2017. The innovative pump features a new design for its pedestal and five-section boom for increased maneuverability, reduced overall weight, and a more user-friendly design. It is also the first Putzmeister pump to feature the brand new Ergonic 2.0 Control System, which includes numerous design enhancements for improved operator experience and greater flexibility. Additionally, the updated model is easier and more affordable to service, and offers a variety of new options for custom enhancements.
The five-section boom on the new 47Z-Meter provides increased flexibility and a boom reach of 134 feet 10 inches (41.1 m) horizontal, 151 feet 3 inches (46.1 m) vertical. As an added safety precaution, a new boom rest switch will help ensure the boom is fully stowed prior to driving.
"The 47Z is one of our more popular models because it can adapt to both large and small jobs," said Bill Dwyer, vice president of sales and marketing for Putzmeister. "We're excited to offer customers the latest innovations on this machine, which now incorporates many of the same improvements we've made to the other boom pumps in our next generation of engineering."
The new design also features a more robust pedestal with a sub-frame that has bolted connections, allowing for greater flexibility. By adjusting to torsion from the force of the pump, the life of the pump is increased, while the chance for downtime is reduced. Although the frame is more robust, the gross vehicle weight has been reduced to less than 70,000 pounds (31,752 kg), enabling easier road permitting throughout North America. Also allowing for improved maneuverability on the job, the 47Z wheelbase has been reduced by 19 inches, and the turning radius has been reduced by three feet.
Another significant change in the design of the new 47Z is an improved pipe layout and an increased parts commonality between components of the pipe system. As with other models in Putzmeister's line of next generation boom pumps, the 47Z incorporates multiple outrigger leg improvements, including four identical screwed-on support cylinders with maintenance-free leg bolts that can be replaced in the field. Its manual outrigger control valves have also been re-orientated for more ergonomic horizontal operation.
Company info
Related products