Wacker Neuson offers new ride-on trowel model with EFI technology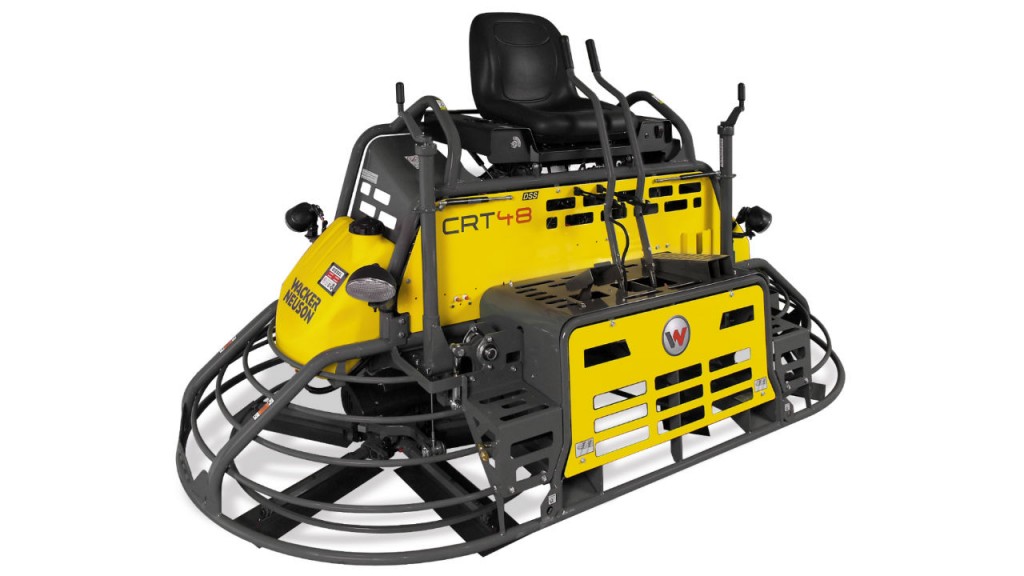 Wacker Neuson has paired its popular 48-inch (eight-foot) ride-on trowel with a new electronic fuel injection (EFI) engine that offers added power, speed and fuel economy. The mechanical steer CRT48-37V and power steer model CRT48-37V-PS are both powered by a 37-hp Briggs and Stratton Vanguard air-cooled gasoline engine with the latest EFI technology. The engine features an automotive-style EFI system that delivers fuel more efficiently where and when it is needed, resulting in an easy starting, quicker throttle response, high blade speed capability, as well as improved fuel economy. Add this new engine to Wacker Neuson's proven trowels designed for high productivity and operator comfort, and concrete contractors receive a winning combination to achieve high quality professionally finished slabs and floors.
The CRT 48-37V mechanical steer is available with a patented torsional assist steering system that is easy to operate and reduces operator fatigue. A rigid, heavy-duty frame leads to more responsive steering and excellent feedback from the concrete condition. Optimum maneuverability is achieved due to the balanced power-to-weight ratio and ergonomic twin lever controls.
The CRT38-37-PS model uses a patented electronic steering system that combines hydraulics and electronics to create a true power steer unit. The CRT-PS system was designed to produce the results of a hydrostatic machine matched with the responsiveness of a mechanical steer while improving operator comfort. Using simple joystick controls, the CRT-PS handles and performs like a lightweight finishing machine and at the end of the day, the operator sees superior finishing results without fatigue.
Company info
Related products