Liebherr premieres rough-terrain cranes, wheel loaders and more for CONEXPO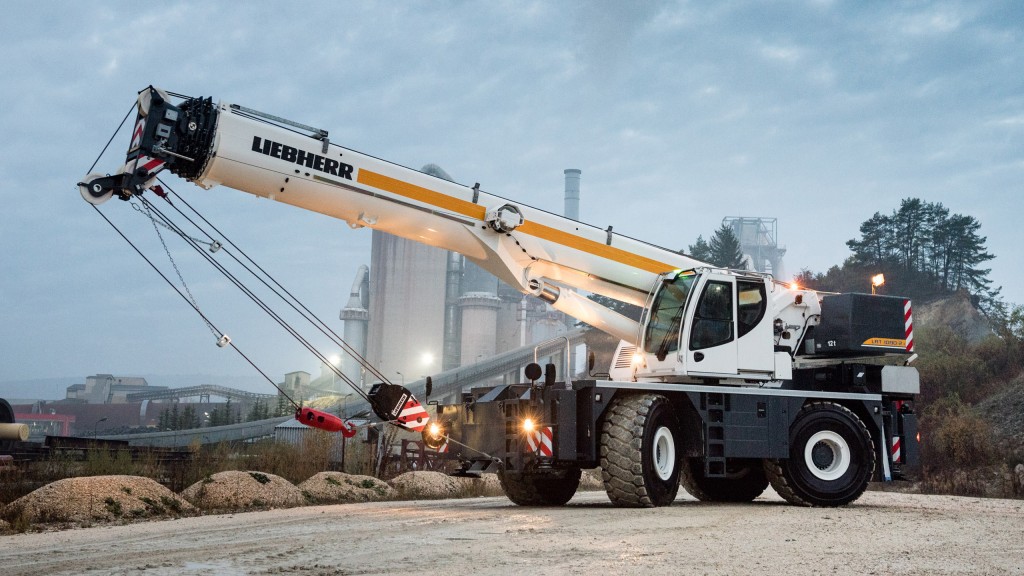 During Conexpo Con/Agg 2017, Liebherr will present an extensive selection of its Earthmoving, Material Handling and Construction Equipment product range. The Liebherr outdoor booth will be located at the Las Vegas Convention Center, Gold lot G4637.
From March 7-11 2017, more than 25 pieces of Liebherr equipment will be presented at Conexpo Con/Agg. Liebherr's outdoor booth covers 50,000 square feet and will provide room for hydraulic excavators, wheel loaders, crawler loaders and dozers, deep foundation equipment, material handlers, tower cranes, mobile and crawler cranes as well as a concrete pump. Liebherr's product range of components for the mechanical, hydraulic and electric drive systems will also be on display in the south hall of the Las Vegas Convention Center, Booth S84230.
Highlights of the show will include:
World premiere rough-terrain cranes
Liebherr has extended its mobile crane product range with an additional series of rough-terrain cranes in the 100 USt (90-metric ton) and 110 USt (100-metric ton) classes. They feature high performance, safety and comfort. High safety levels in every respect were the main priority for the design of the new Liebherr LRT cranes. Both new crane models feature an outrigger monitoring system as standard. The support status, on tires or outriggers, is detected automatically and saved to the crane controller. The attachment of the ballast to the turntable and the installation of the optional double folding jib, including its angle adjustment, are also recorded and monitored.
The VarioBase variable support base developed by Liebherr as standard on the new LRT cranes makes an important contribution to enhancing safety. VarioBase also provides greater performance and flexibility on site. Safety is also enhanced by providing greater comfort for the crane operator. For example, the crane cabin is 220 mm (8.5") wider than other standard cabins on the market. It can be tilted backwards to provide greater comfort when hoisting loads to great heights. Clear, self-explanatory controls make the crane easy to handle.
The 110 USt (100-metric ton) LRT 1100-2.1 has a 164 ft (50 m) telescopic boom with a "Telematik" telescoping system on which the various telescoping sections can be extended independently with a single cylinder and then pinned to the telescopic section above. The 30,800 lbs. (14-metric ton) of counterweights ensure high stability. The lifting capacity of the LRT 1100-2.1 is around 15% higher than that of the 100 USt (90-metric ton) model which features 26,500 lbs. (12-metric ton) of counterweights. The LRT 1090-2.1 features a 154 ft (47 m) telescopic boom. Its telescoping system consists of a two-stage hydraulic cylinder with a rope extension mechanism.
XPower wheel loaders
XPower is an integrated, innovative machine concept for the large series of wheel loaders with operating weight from 39,020 lbs. – 71,870 lbs. (L550-L586). The new concept sets new standards in terms of fuel efficiency, performance, robust design and comfort. The core of the XPower is the Tier 4 Final/Euro Stage IV power-split driveline installed as standard. It combines hydrostatic drive, which is ideal for short loading cycles and mechanical drive for long distances and when driving on slopes. The combination of these two drive types in a single wheel loader ensures maximum efficiency and outstanding fuel savings in multiple applications. Liebherr XPower wheel loaders deliver standard power-split transmission and 30 percent fuel savings.
New Litronic excavator models
Remarkable high lift capacities, top digging performance and excellent travel of the A 918 excavator are truly impressive, while at the same time fuel consumption is substantially reduced. With an operating weight between 38,800 and 43,600 lbs and an engine output of 161 HP (120 kW) the A 918 is the ideal machine for classic earthmoving, road construction or water infrastructure and pipeline works. The new Liebherr cab with a standard air-suspension heated driver's seat and automatic air-conditioning ensures a pleasant atmosphere, offering machine operators with the best working conditions to fully focus on the actual task and be productive all day. The A918 excavator design promotes short servicing times, thus minimizing maintenance costs due to the time it saves. All maintenance points are easily accessible from the ground and easy to reach due to the large, wide-opening service doors.
The new Liebherr R 920 Compact crawler excavator has an operating weight between 42,000 and 47,000 lbs. It is powered by a Tier 4 Final/Stage IV engine with 136 HP (100 kW) and has a SCR system with urea injection and oxidation catalyst. The particulate filters are optionally available. The R 920 Compact combines the properties of a standard crawler excavator, such as high performance and versatility of a compact machine. With a short tail swing of only 6' radius, the machine can be operated effectively on construction sites where space is limited. The dimensions of the R 920 Compact ensure unrestricted movement around the jobsite and easy transportation from one site to another.
In addition, Liebherr will display material handlers, demolition excavators, tower cranes and much more.
Company info
Related products