Wide range of Doosan products to be displayed at CONEXPO-CON/AGG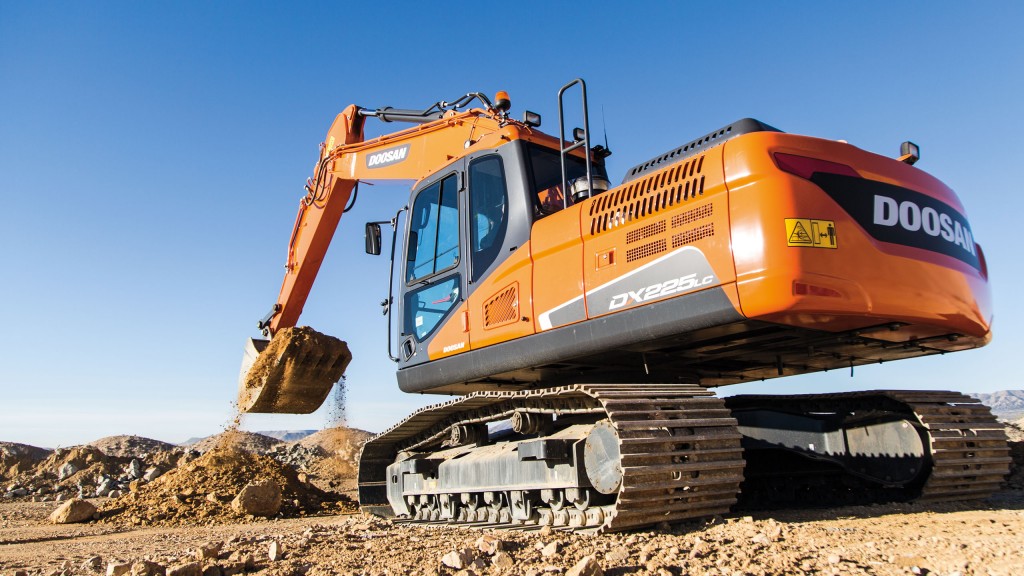 Doosan Construction Equipment will display a variety of machines in two booths — G4476 and G4876 — located in the Gold Lot at the Las Vegas Convention Center during CONEXPO-CON/AGG in Las Vegas, March 7 – 11, 2017.
Durable, reliable and productive Doosan earthmoving equipment designed for general construction contractors will be on display. Doosan products on exhibit will include crawler and wheel excavators, wheel loaders, articulated dump trucks (ADTs), as well as DX225LL-5 and DX380LL-5 log loaders and a variety of attachments for use with excavators and wheel loaders.
Doosan offers a full line of dependable and durable excavators to choose from, including 13 crawler excavator models — three are available with super-long reach — and three wheel excavator models. Doosan excavators range from the 6-metric-ton DX63-3 to the largest model, the 54-metric-ton DX530LC-5, to best match customer needs. Each excavator model provides operators with optimal performance, reliability, fuel efficiency and simple maintenance. Two Doosan models are designed with reduced tail swing for operation on confined jobsites. Wheel excavators are manufactured with rubber tires, making them a popular choice when working on improved surfaces such as finished concrete or asphalt, where the excavators can operate with minimal ground disturbance as well as traverse jobsites more quickly.
Doosan wheel loaders excel in digging, loading and lifting applications. Each of the 10 models offer outstanding performance, reliability, fuel efficiency, operator comfort and ease of serviceability. In addition, many models are available with a high-lift configuration for extra reach and dump height. Doosan offers two lift-arm designs: A Z-bar loader linkage and parallel lift arm. Two tool carrier models ― the DL200TC-5 and DL250TC-5 ― are designed with the parallel lift arm to provide added versatility and multiple attachment capabilities. An optional quick coupler makes changing attachments fast and easy. Hydrostatic transmissions have been incorporated in two smaller Doosan wheel loader models ― the DL200-5 and DL200TC-5 ― for improved fuel efficiency and precise operation. Key features of the hydrostatic drive include dynamic braking and speed management. The latter is beneficial when operating attachments that require high auxiliary hydraulic flow at slow travel speeds.
Moving more material in less time is just one of the benefits of the dash-5 Doosan ADTs. The two models ― the DA30-5 and DA40-5 ― offer excellent load capacities coupled with superior power and traction. The machine is designed to maintain tire contact with the ground at all times due to the machine's tandem rear bogie, front-mounted turning ring, sloping rear frame and front suspension. Doosan ADTs offer permanent, six-wheel drive that provides excellent traction in all applications.
Company info
Related products